Tour 10 Modern Log Cabin Hybrid Structures

In the most wide-sweepingly simple conclusion, it is generally accepted that modern architecture is credited to German-born architect, Mies van der Rohe. Known for his openly contrary and deliberately provocative instinct, he discovered the 20th century's most formative, revolutionary building type ("skin-and-bones" glass and steel architecture) and prognosticator: proclaiming the slogan for modern architecture "less is more," or "god is in the details." Mies not only invented, promoted, and disseminated a new "International Style" aesthetic, but also new ways of handling space to accommodate the values and way of life in the tides of a changing landscape between both world wars.

Mies delivered modern architecture to a world that was not yet ready for it by achieving deeper recognition and awareness amongst a modern audience of business, development, commerce, and culture by mastering the art of image-making. Establishing his own identity and reputation, image and reproduction became as essential to modern architecture as the materials. Images capturing Miesian architectural elements, like glass and steel, allowed the public to more quickly associate with it. Faithfully followed, frequently emulated, constantly critiqued, and ultimately relentlessly copied, his buildings and furnishings became synonymous with the definition of modern architecture and interiors.

Architects have continued to look to Mies for almost a century now. Like a Freudian slip, we continue to see a bit of Mies in contemporary contexts. Perhaps because Villa Tugendhat and the Farnsworth house were both enveloped in lush natural surrounding landscapes, there seems to be a recurring theme of rural buildings that take a hybrid form somewhere in between Villa Tugendhat, the Farnsworth house, and the vernacular log cabin. This collection explores some of the different ways tropes of "skin-and-bones" architecture — like reinforced concrete, iron framework, glass and exposed structural steel elements, horizontal roofs, and elevated bases — are making their way into these new hybrid forms. The extensive use of glass in these projects allow the outside to come in: from a more or less steel-framed glass wall, the natural surroundings become hyper-real.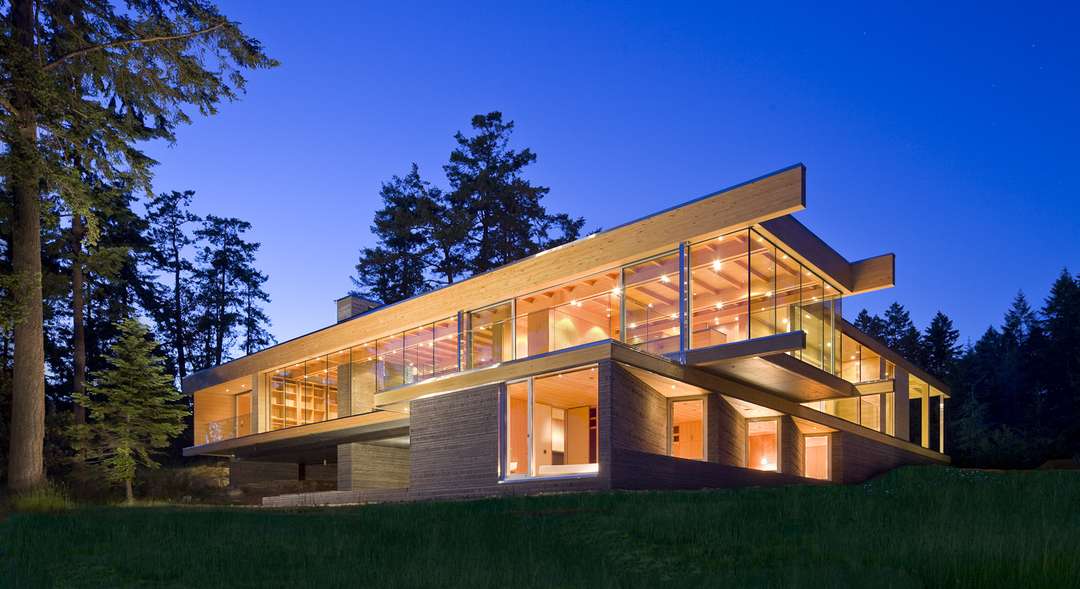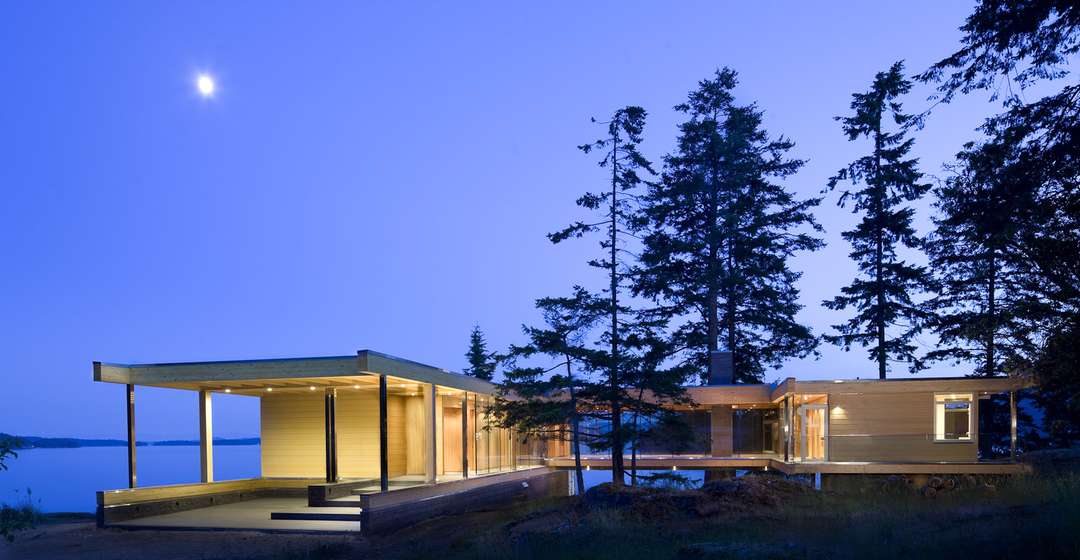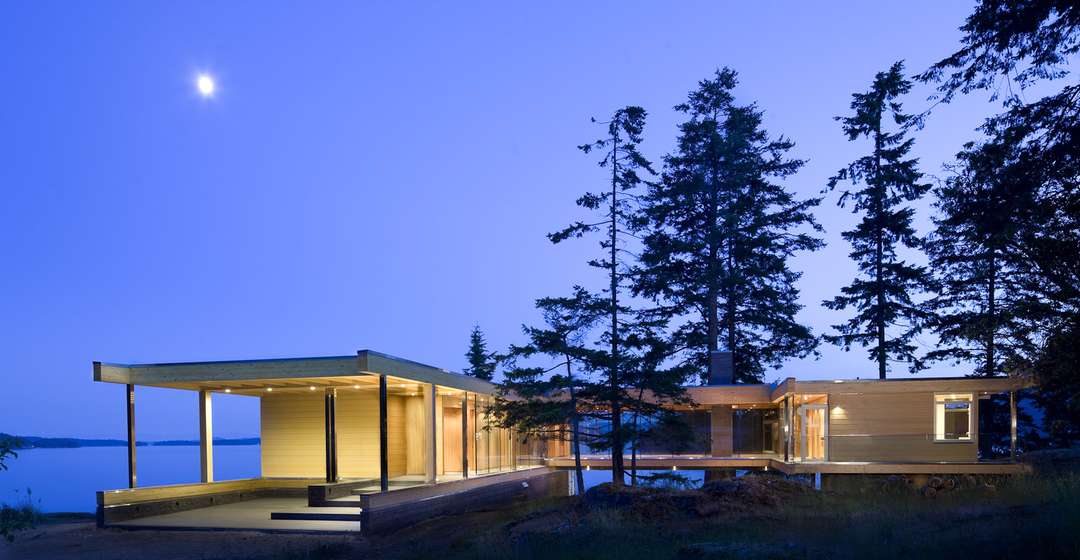 Gulf Islands Residence by RUFproject, Vancouver, Canada
Rooted in the design of the regional, west coast vernacular pioneered by architects such as Ron Thom and Arthur Erickson in the 1950s, this project is characterized by post-and-beam construction with exposed timber structural elements. Marrying a rustic Canadian log cabin with a modernist glass house, the structure features extensive glazing, open-floor plans, interior-exterior links, wood finishes, flat roofs, and views oriented to create a delicate balance with the natural setting.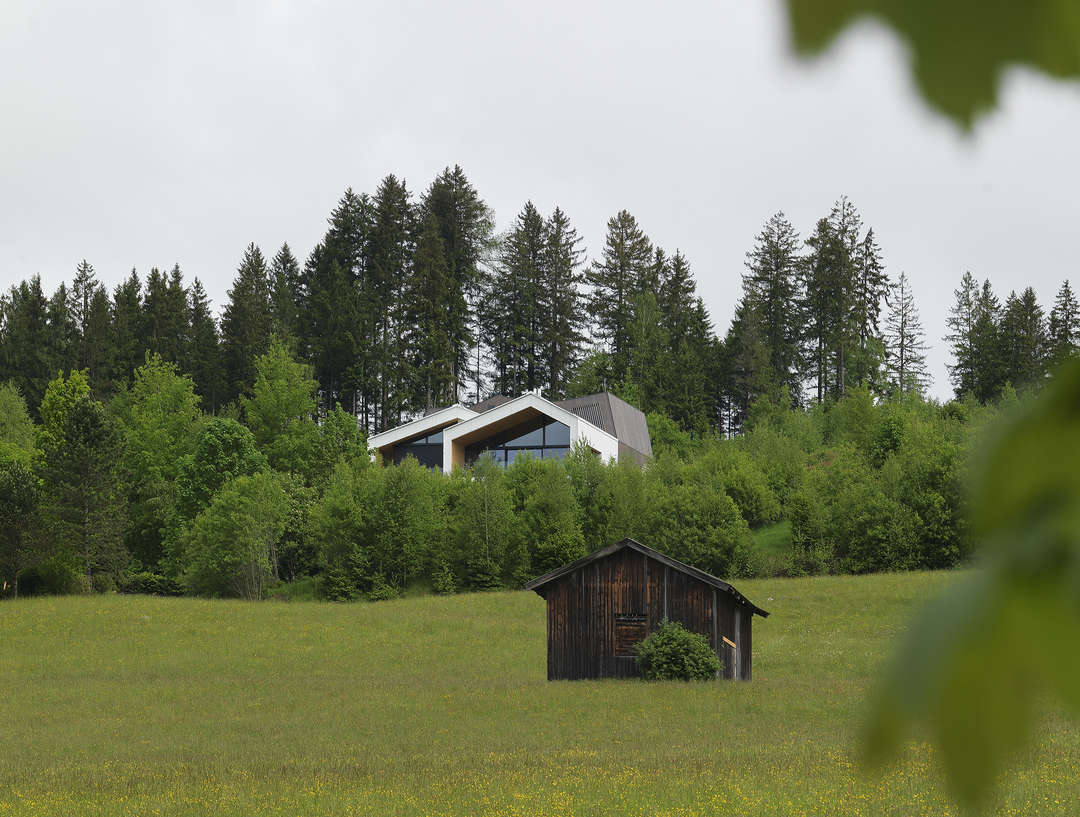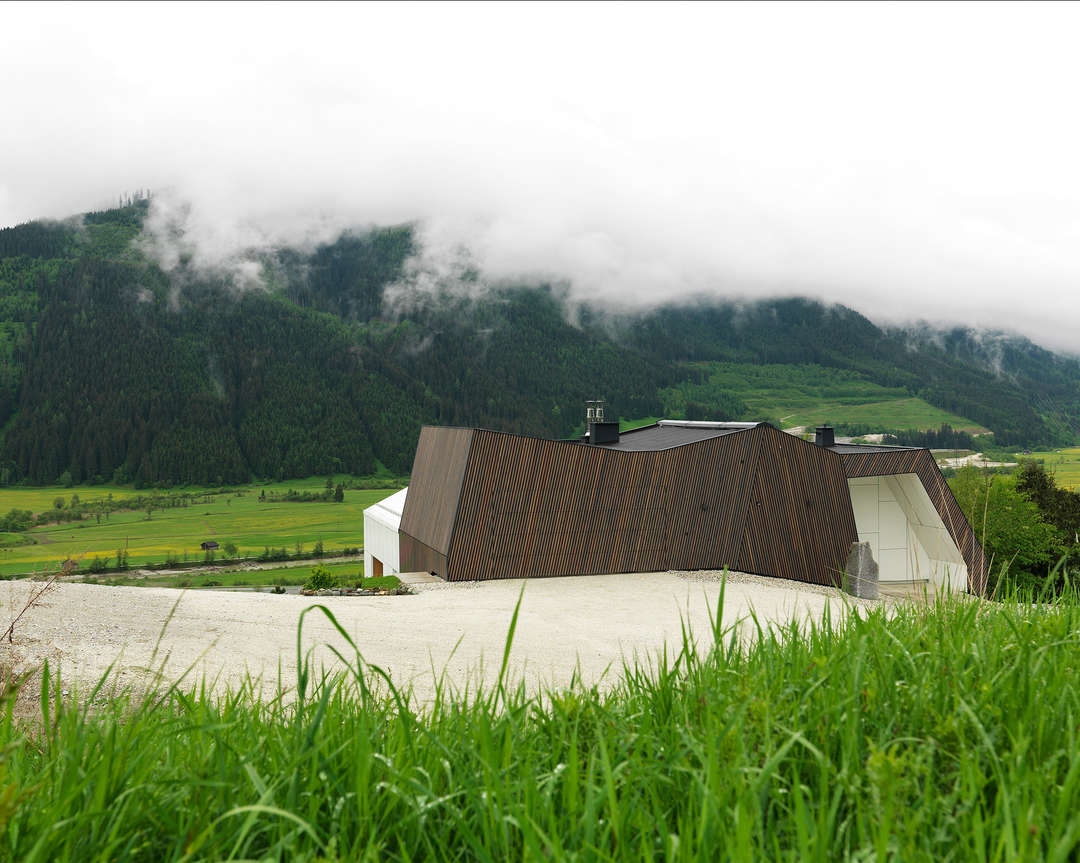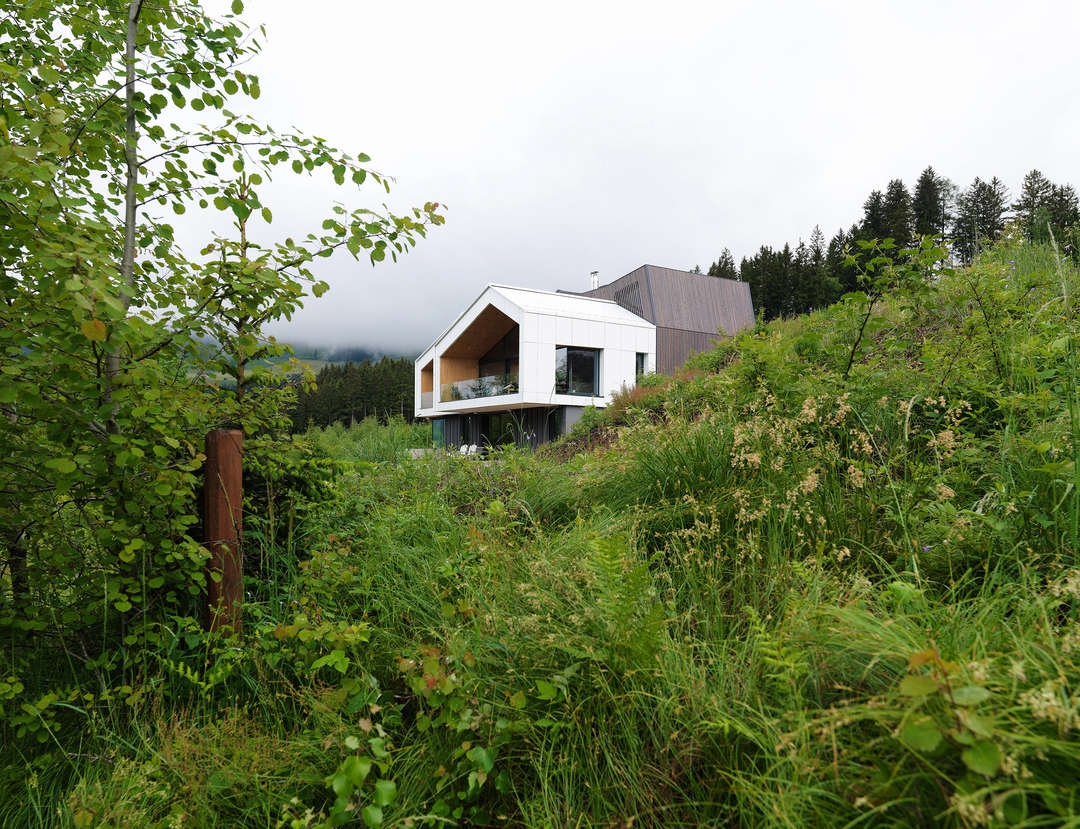 Mountain View House by SoNo arhitekti, Kitzbuehel, Austria
Nestled in a hillside in the Austrian Alps, this project was conceived as a cluster of small volumes — some mimic the shapes of traditional Alpine cabins, while others are more contemporary in form. Two house-shaped rooms project out from the façade, featuring entire glazed walls in front of some of the rooms, which offer panoramic views.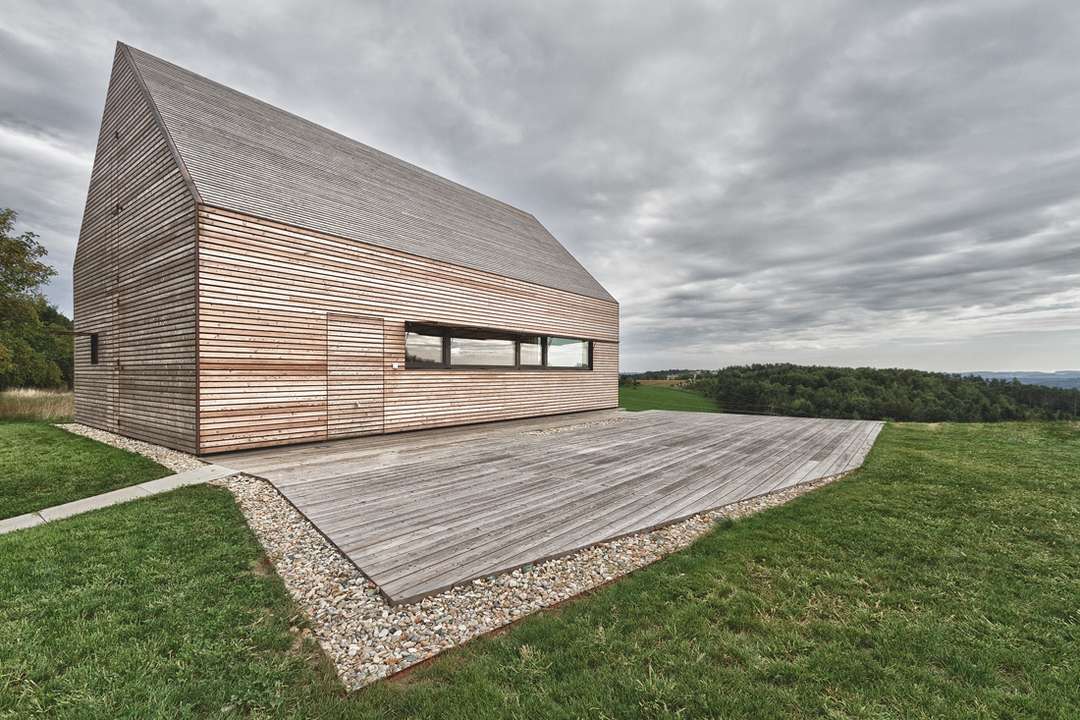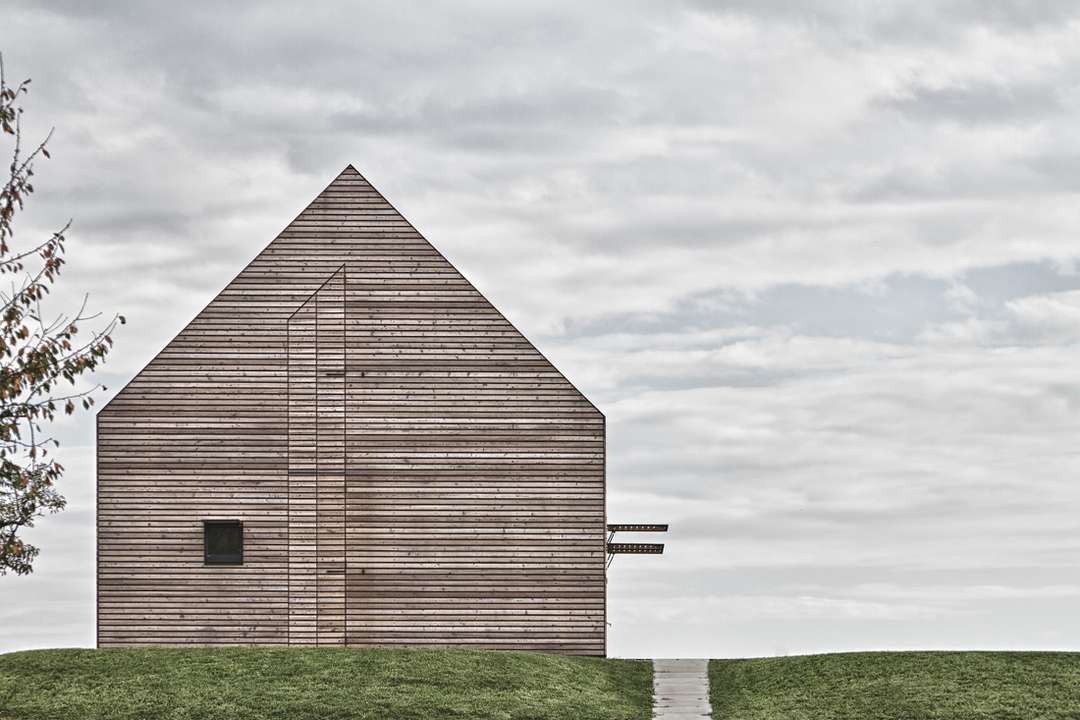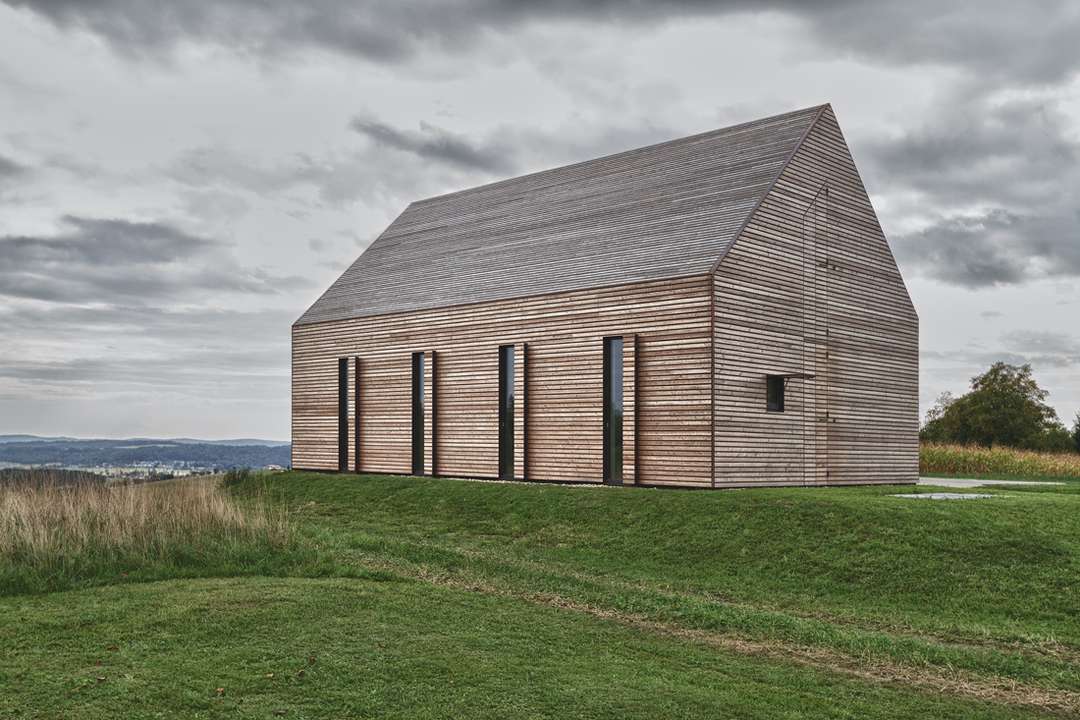 Summer House by Judith Benzer Architektur, Southern Burgenland, Austria
Situated in the countryside of Oberbergen, Austria, this project features untreated larch planks that may be closed during winter months or folded open into a line of canopies to prevent overheating in the summer. The structure's exterior appearance follows the vernacular tradition deriving from the "kellerstöckel" or "wine house."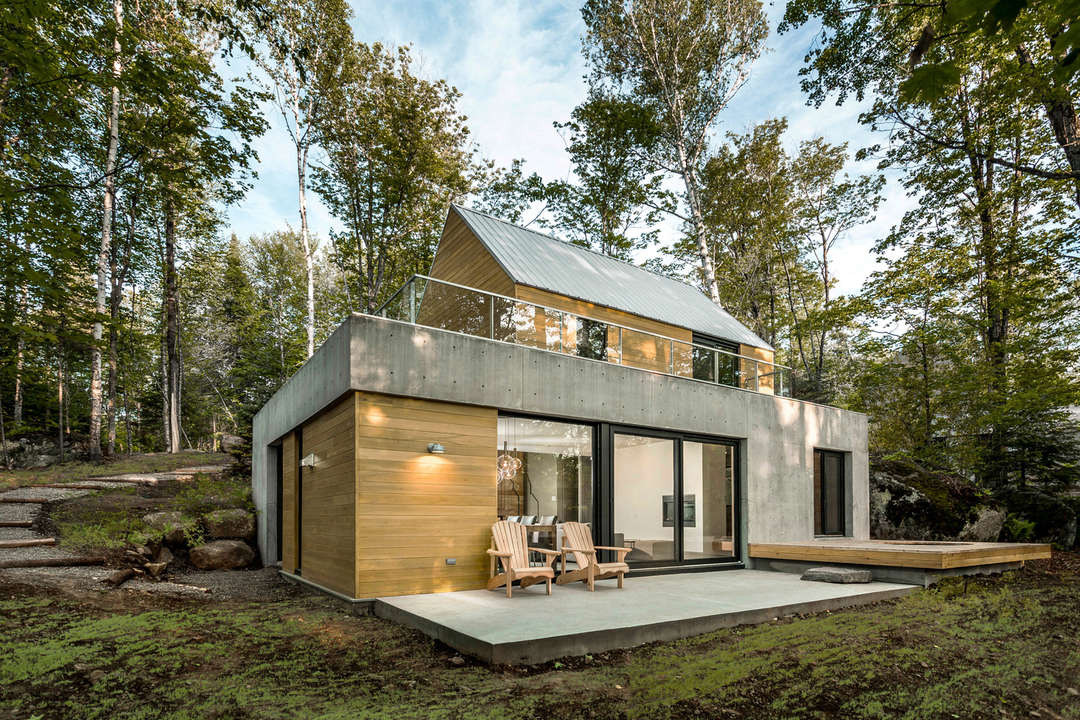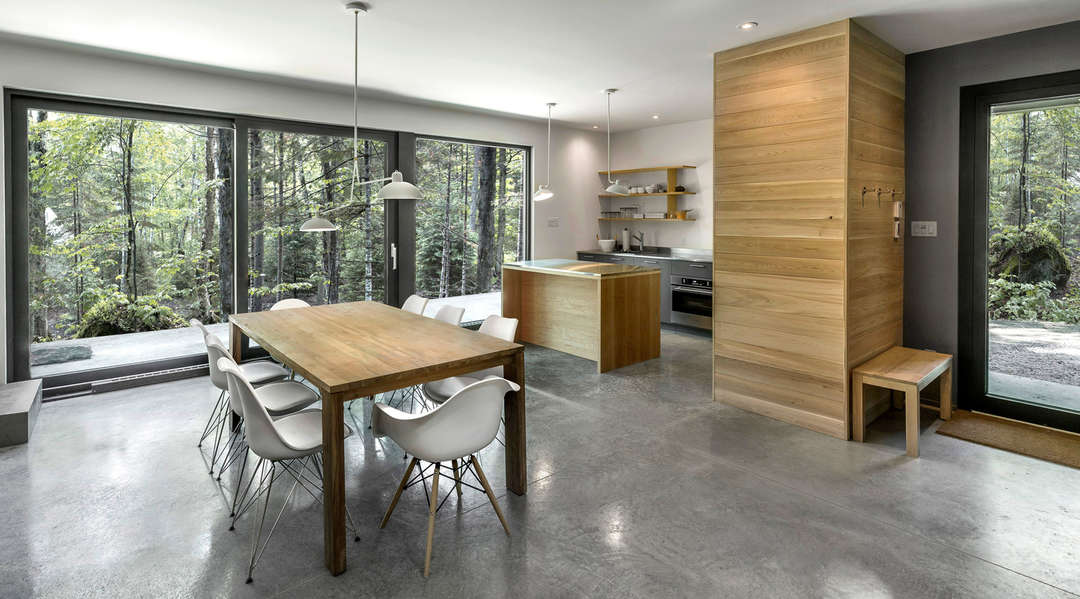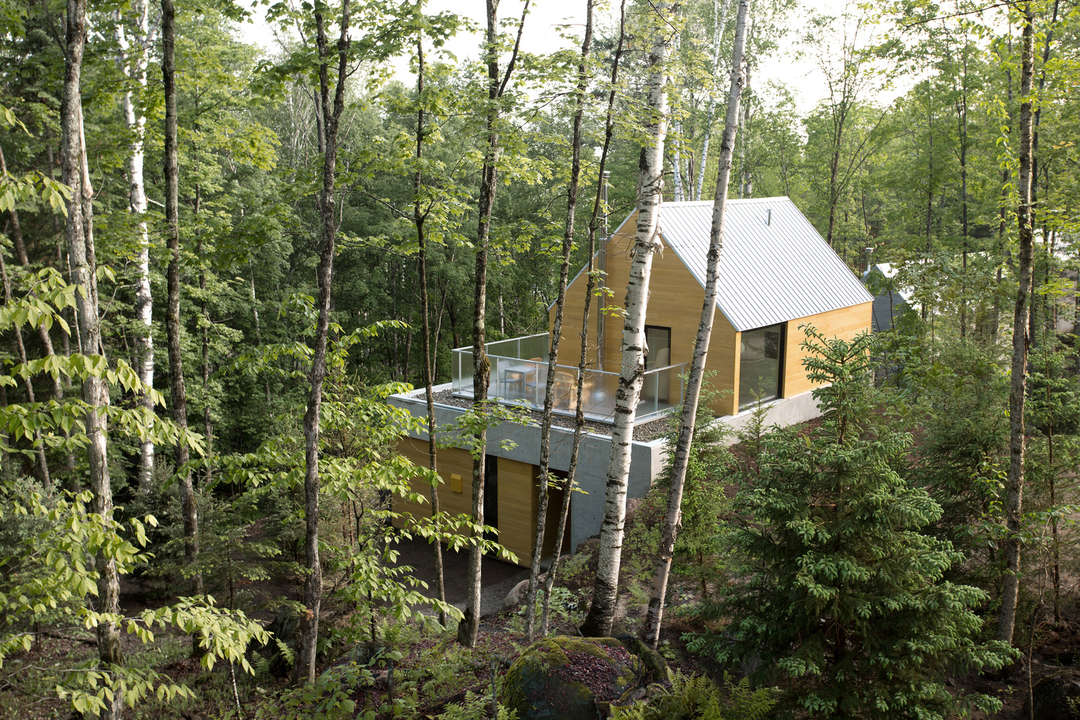 Spahaus and Trihaus by Fraternité-sur-Lac, Lac Supérieur, Canada
This project is one in a series of cabin-inspired homes designed for a woodland development between the shores of Lac Supérieur and the Mont-Tremblant ski resort in Quebec. Featuring a materials palette made up of concrete, pale wood, and large expanses of glass, both the two-story Spahaus and the three-story Trihaus are intended as a contemporary take on the traditional log cabins typically found in the Canadian countryside.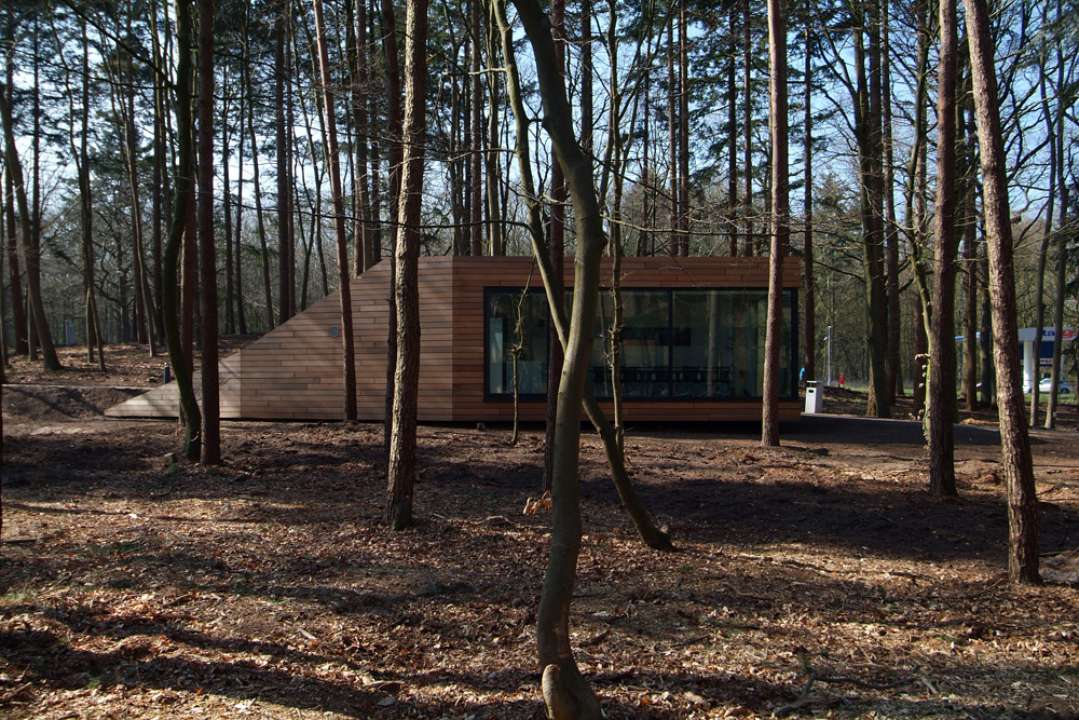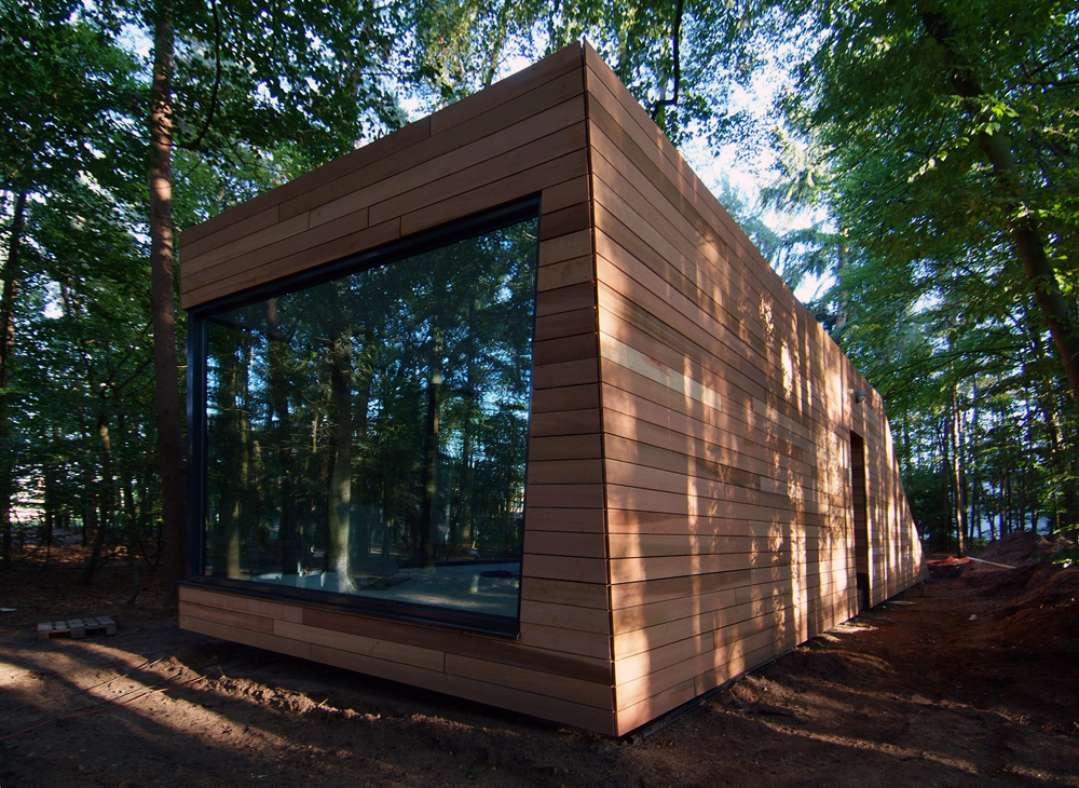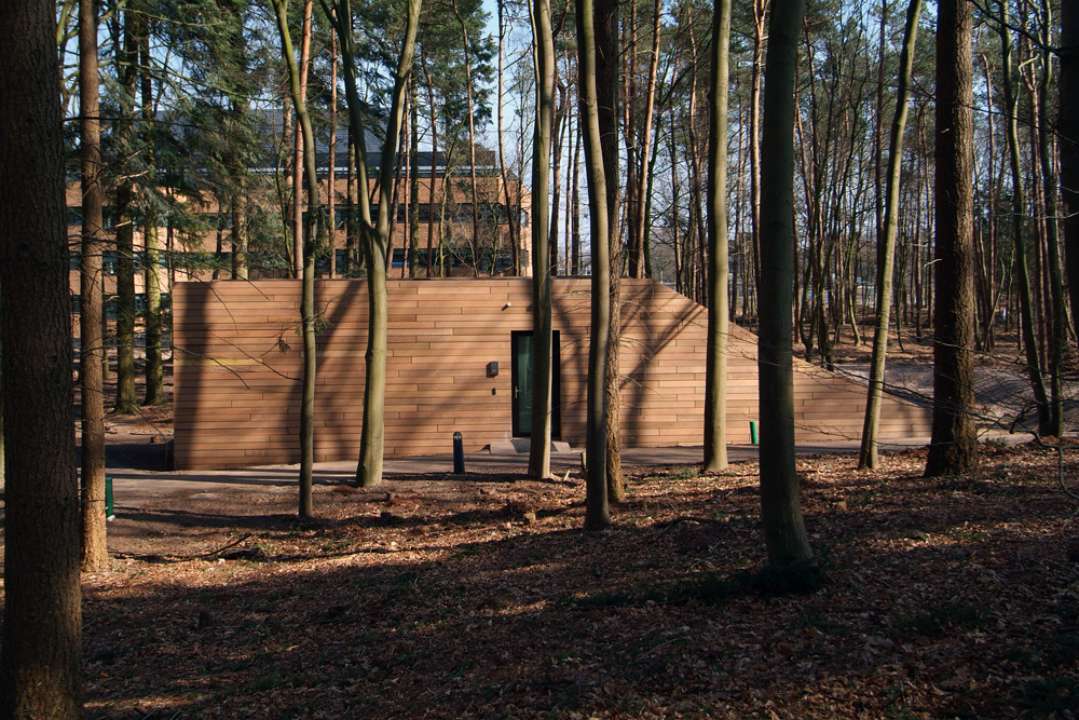 Pavilions, Corporate Campus by ADP architecten, Apeldoorn, Netherlands
Located on the grounds of The Corporate Campus Apeldoorn, this project is comprised of two small pavilions tucked away in the forest. The two stand alone meeting rooms were built as modern interpretations of a log cabin and designed as connecting dots between the scheme of various pedestrian routes weaving through the campus.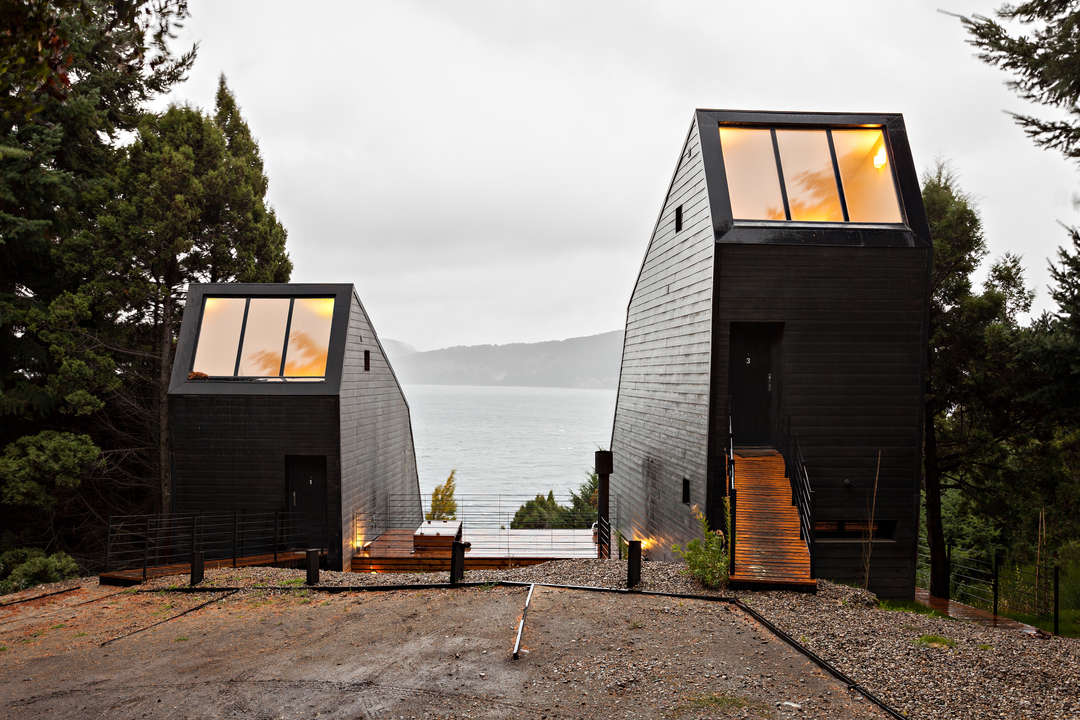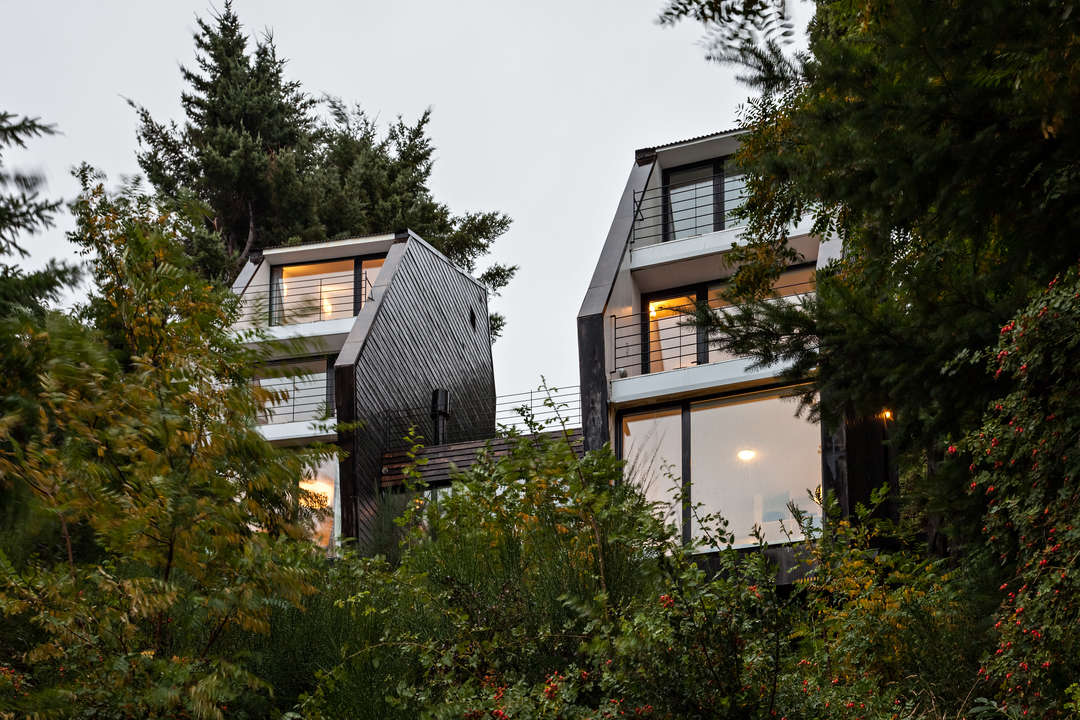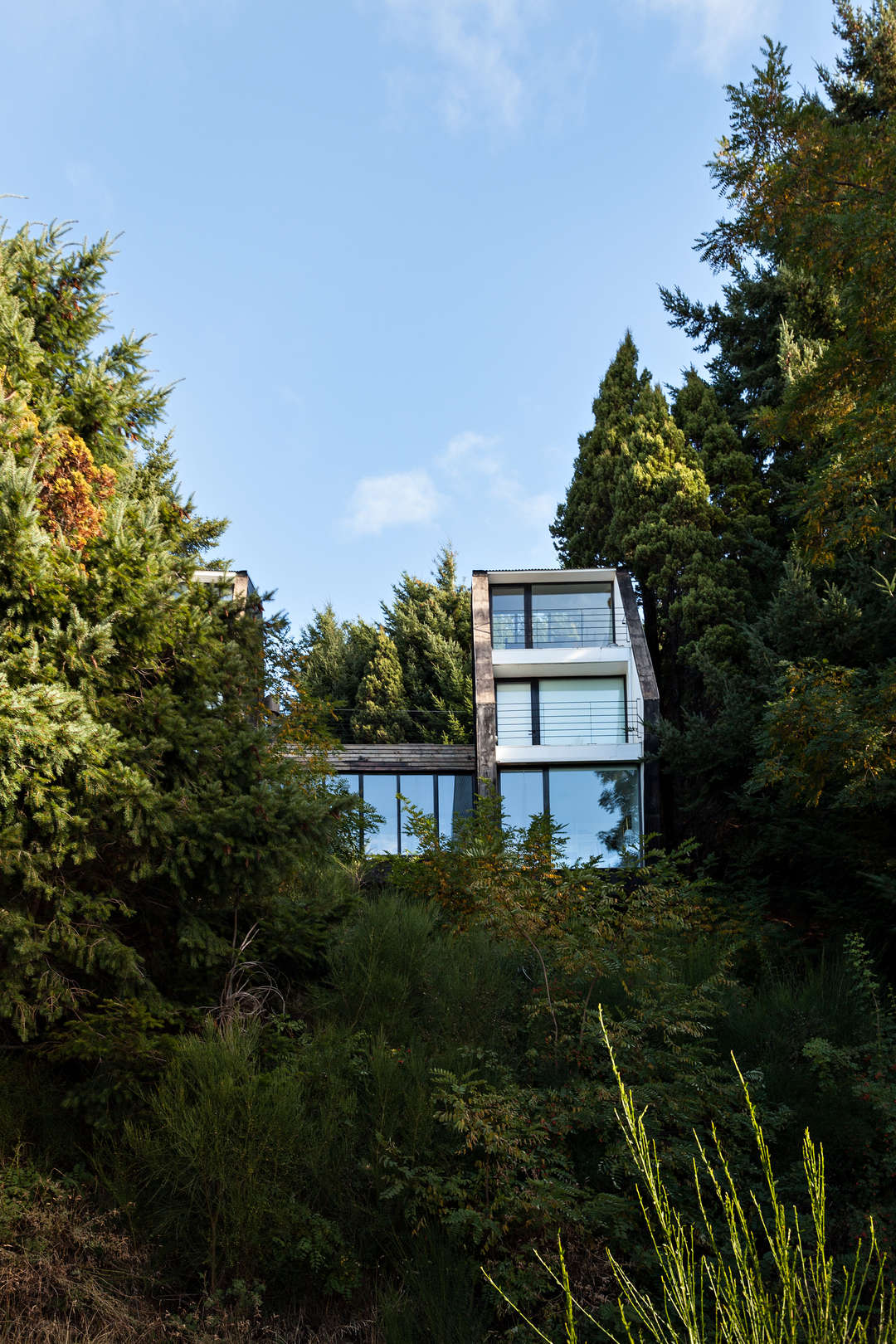 Dachas by Alric Galindez, San Carlos de Bariloche, Argentina
Stationed in a sloped site facing the Nahuel Huapi lake, this housing complex was based on the "Russian Dachas" or country home/log cabin found in a rural setting. Two wooden bridges connect the upper units together, while two sloping pebble paths bridge the gap between the lower units.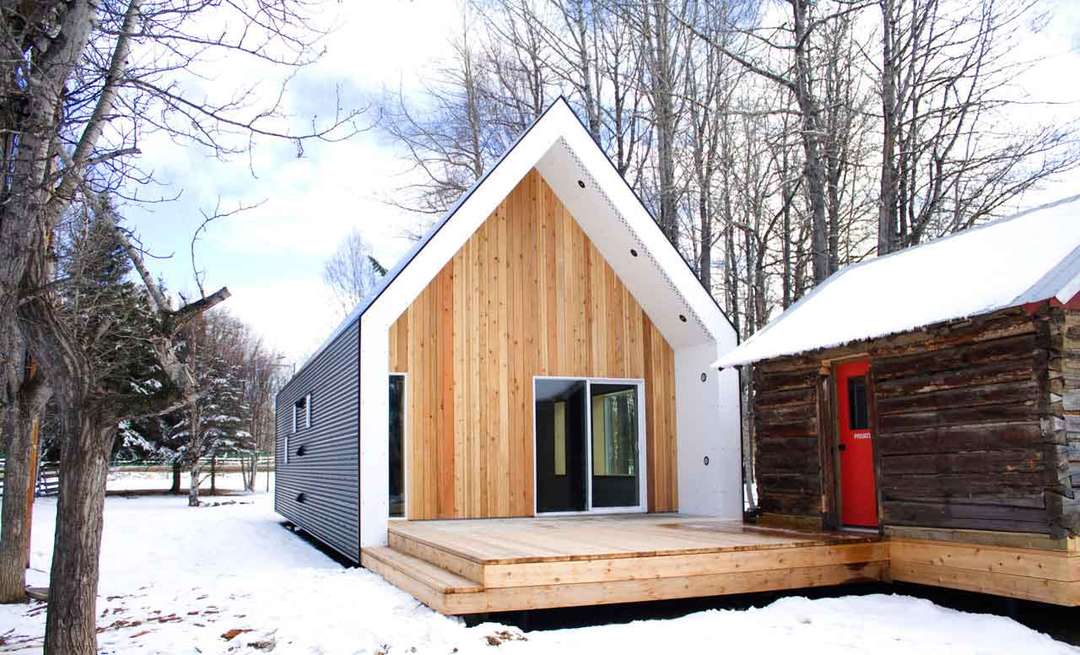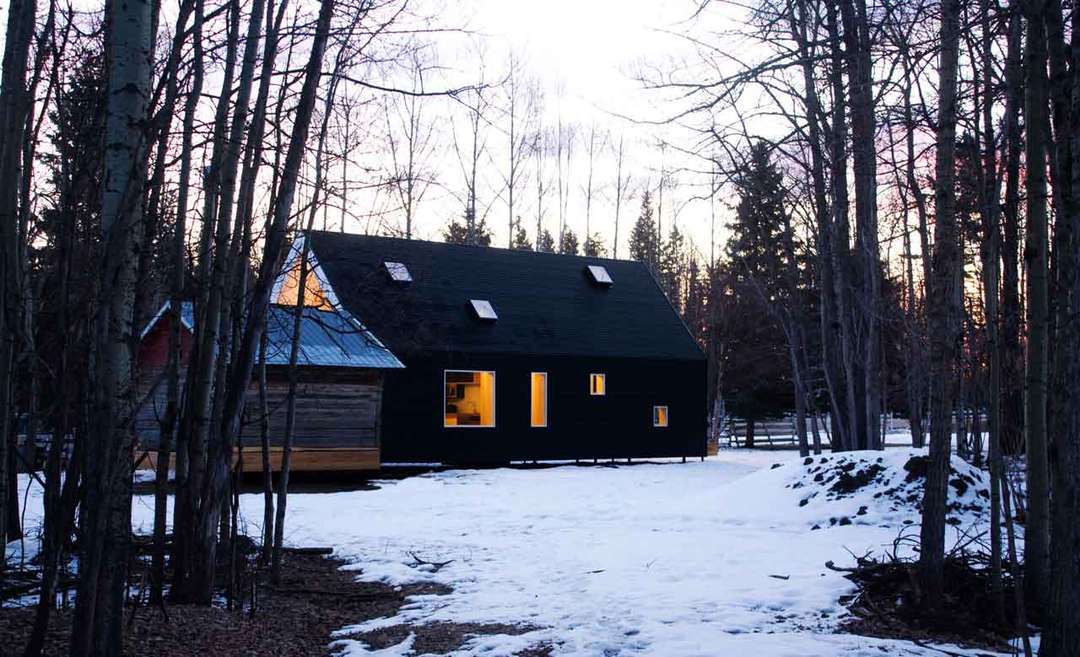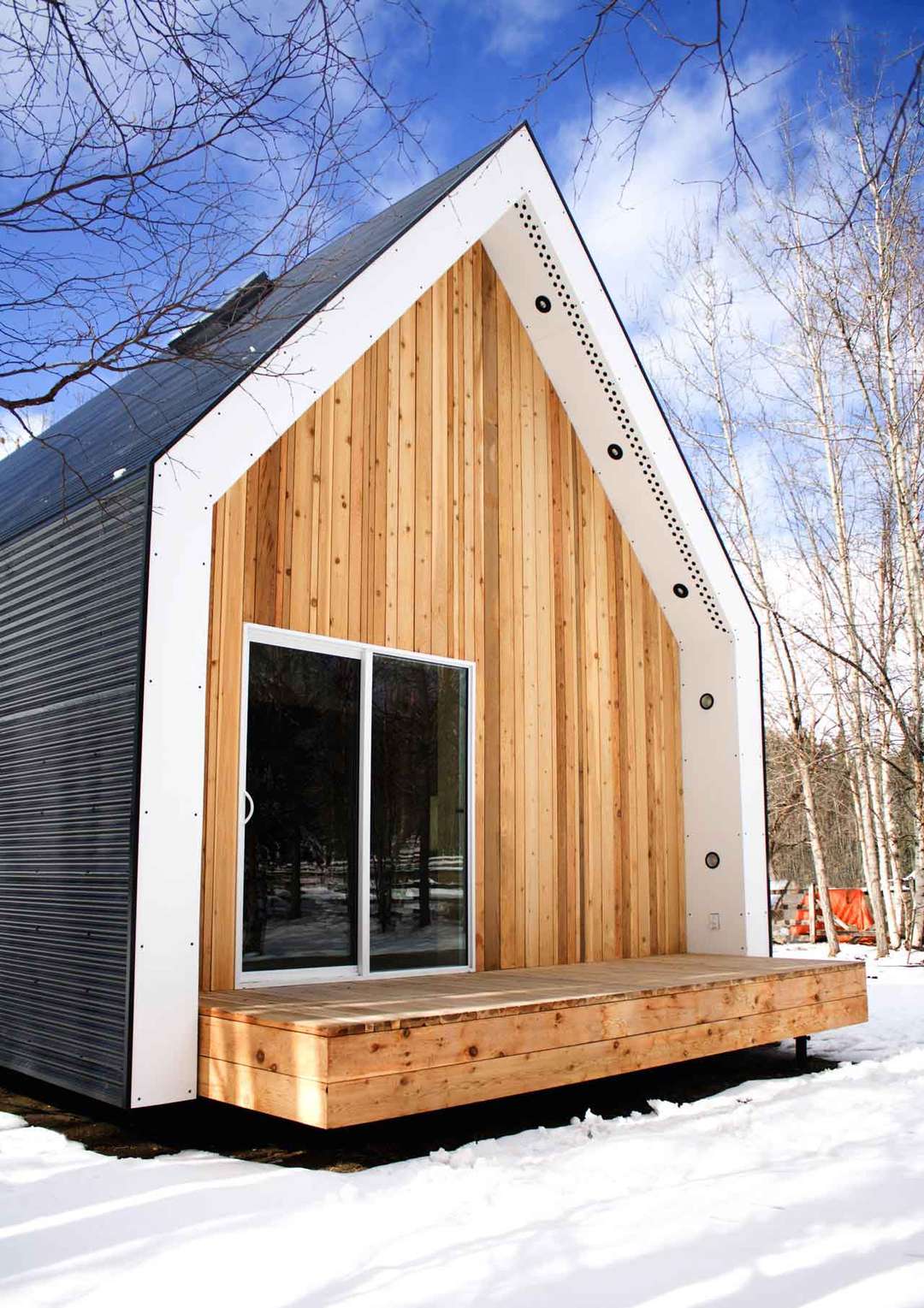 Warburg House by bioi, Warburg, Canada
Costing less than $100,000 to build, this energy-efficient home manages to feel quite roomy at only 576 square feet by eliminating redundant and non-inhabitable spaces. Located along a large clearing surrounded by farmland, the structure is supported by two steel frames, allotting for a single open interior space.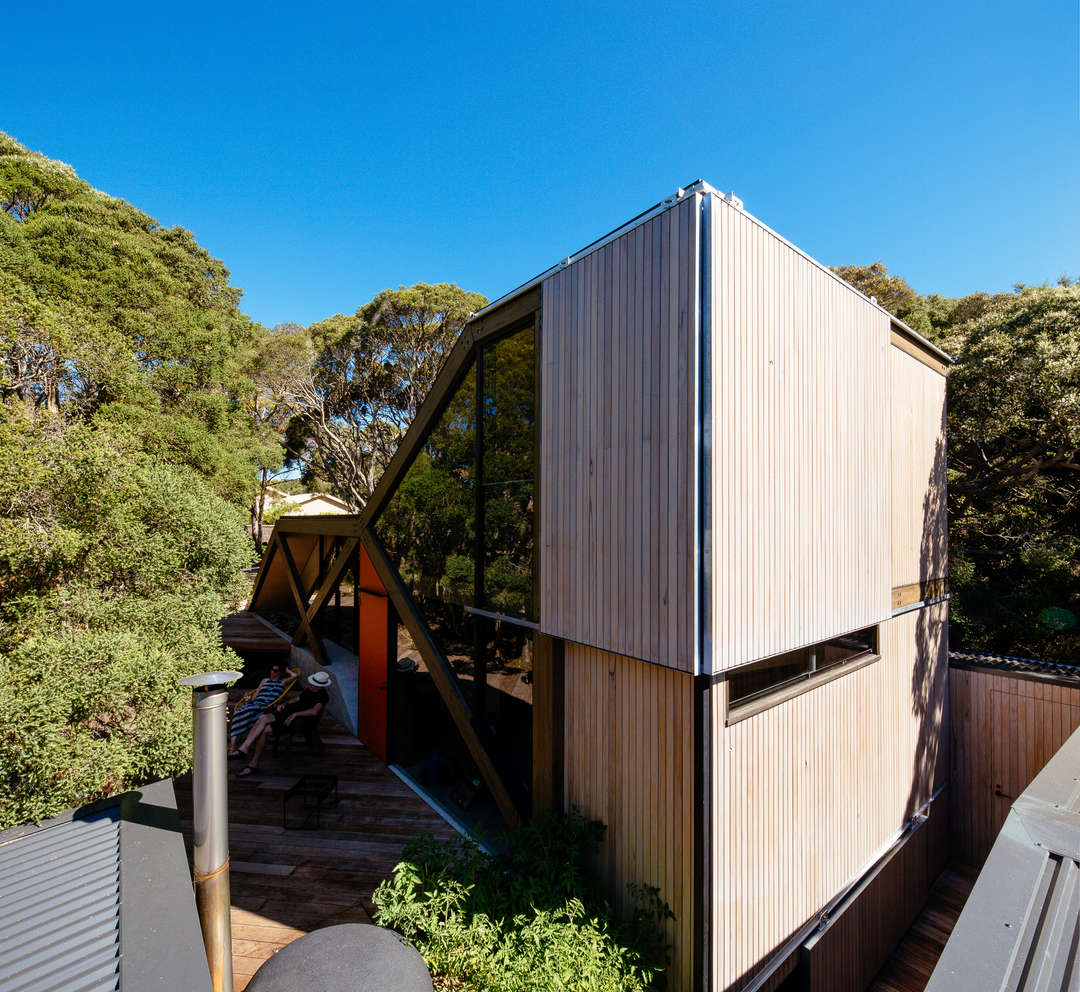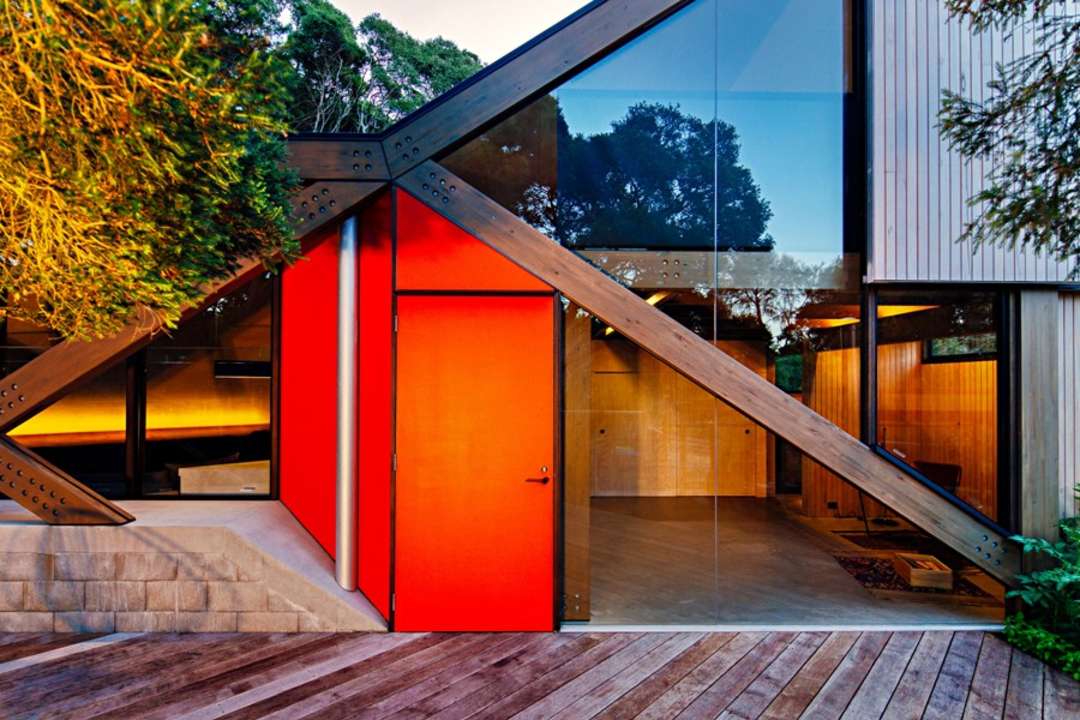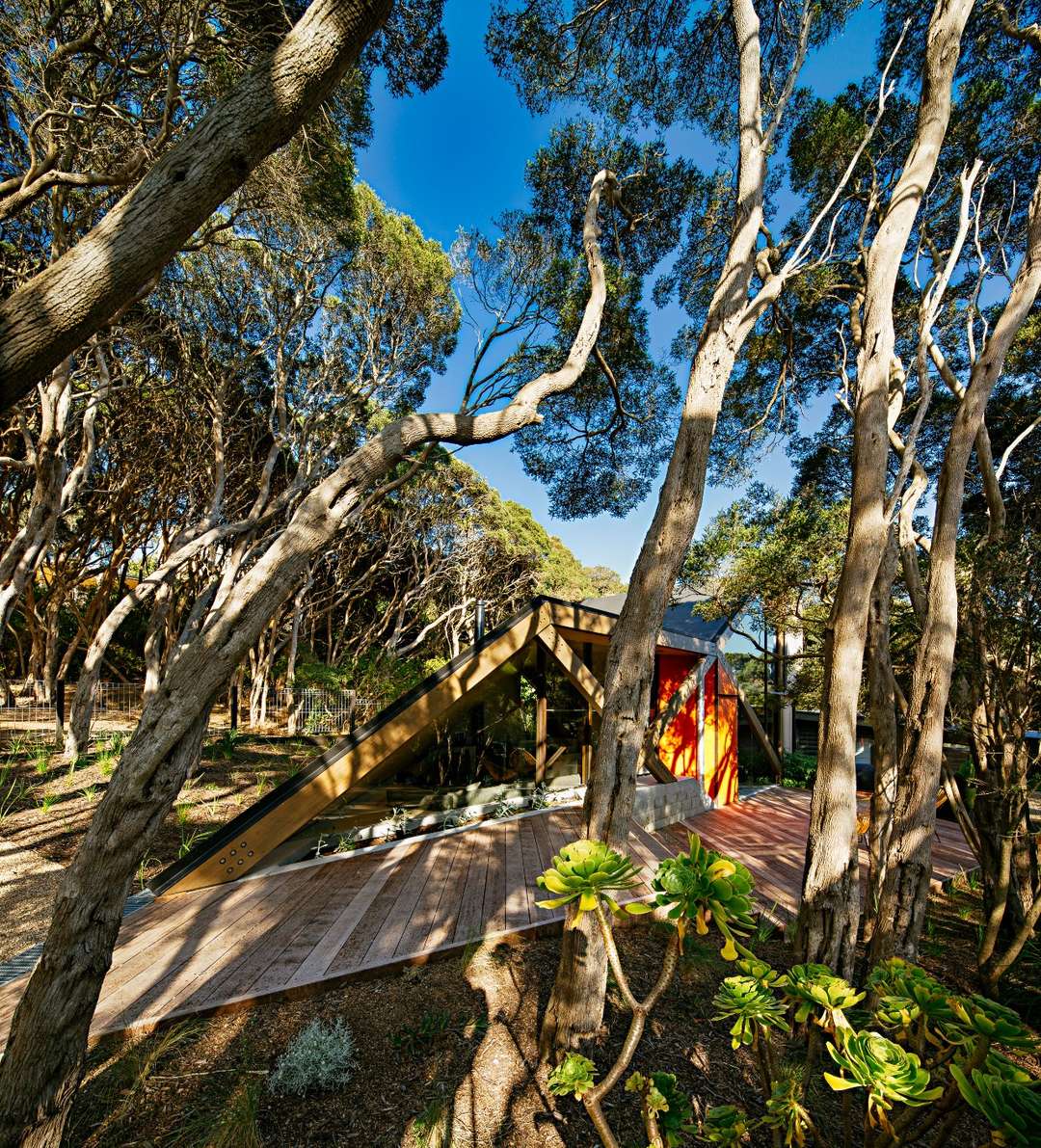 Cabin 2 by Maddison Architects, Victoria, Australia
Situated along Victoria's coastal forest, this angular timber and concrete structure was designed as an annex for a 1960s log cabin. A wooden passageway links the new structure to the old, so as to "retain and express their individual identities."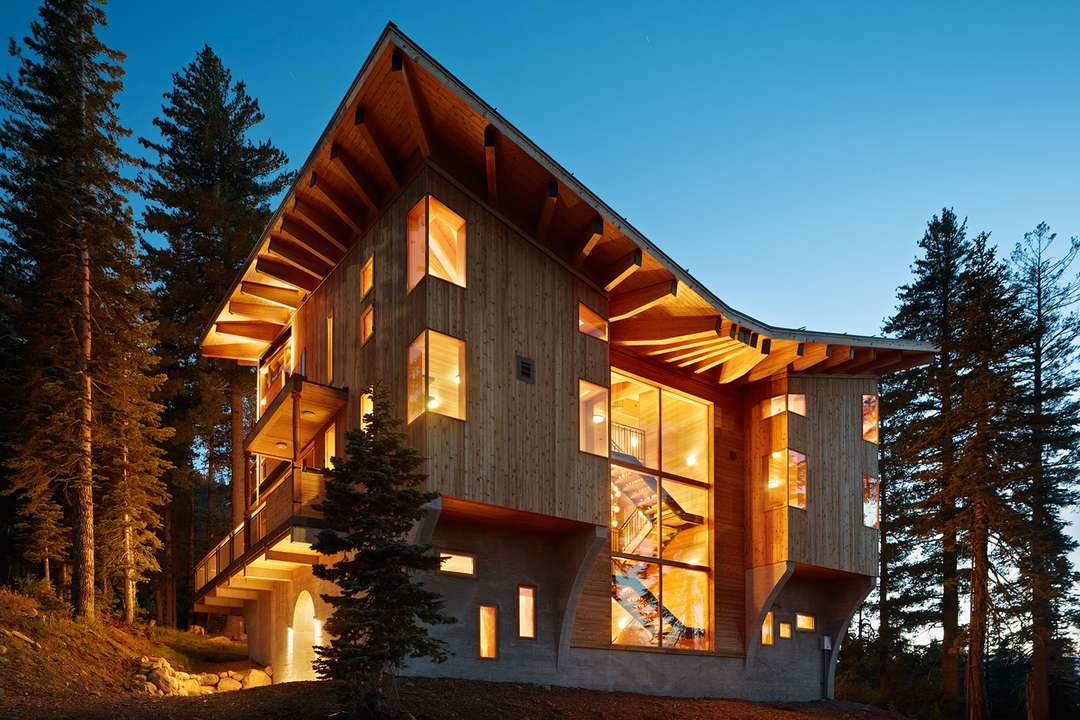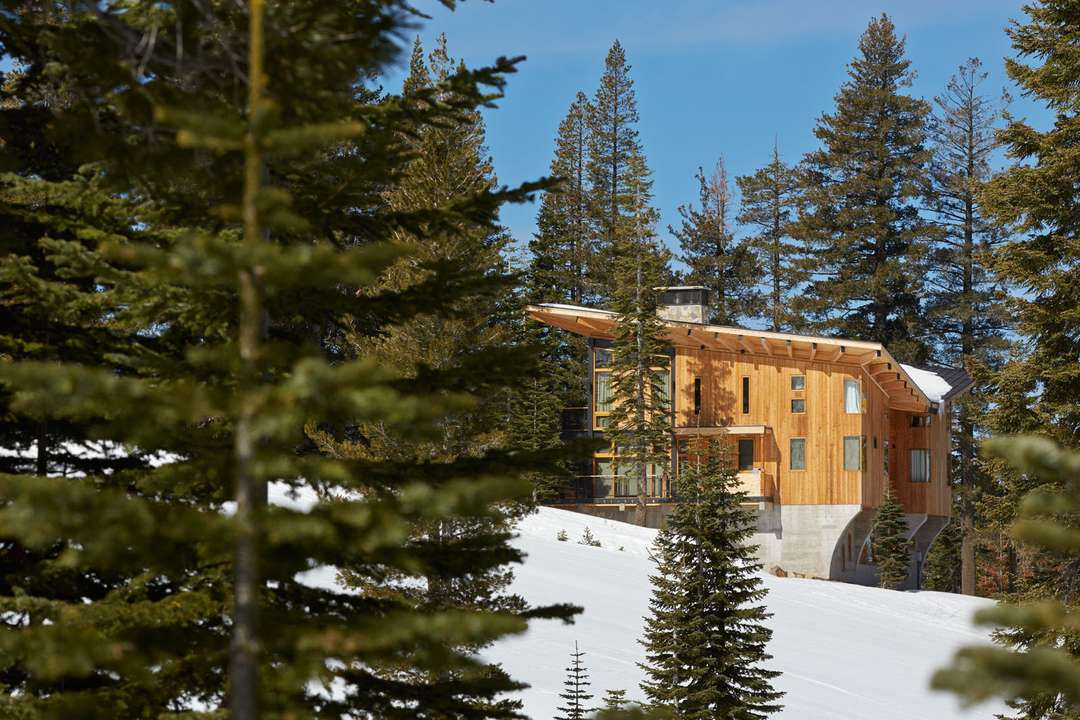 The Crow's Nest by BCV Architects, Norden, Calif., United States
Perched atop a ski hill 7,080 feet above sea level in the sugar bowl resort area, "crow's nest" cabin is composed of two wood upper levels that are perched upon a concrete base, with an expansive deck and large roof extending from the main volume. Constructed from a radiating arrangement of glulam beams, the large roof is able to withstand massive snow loads of over 400 pounds per square foot.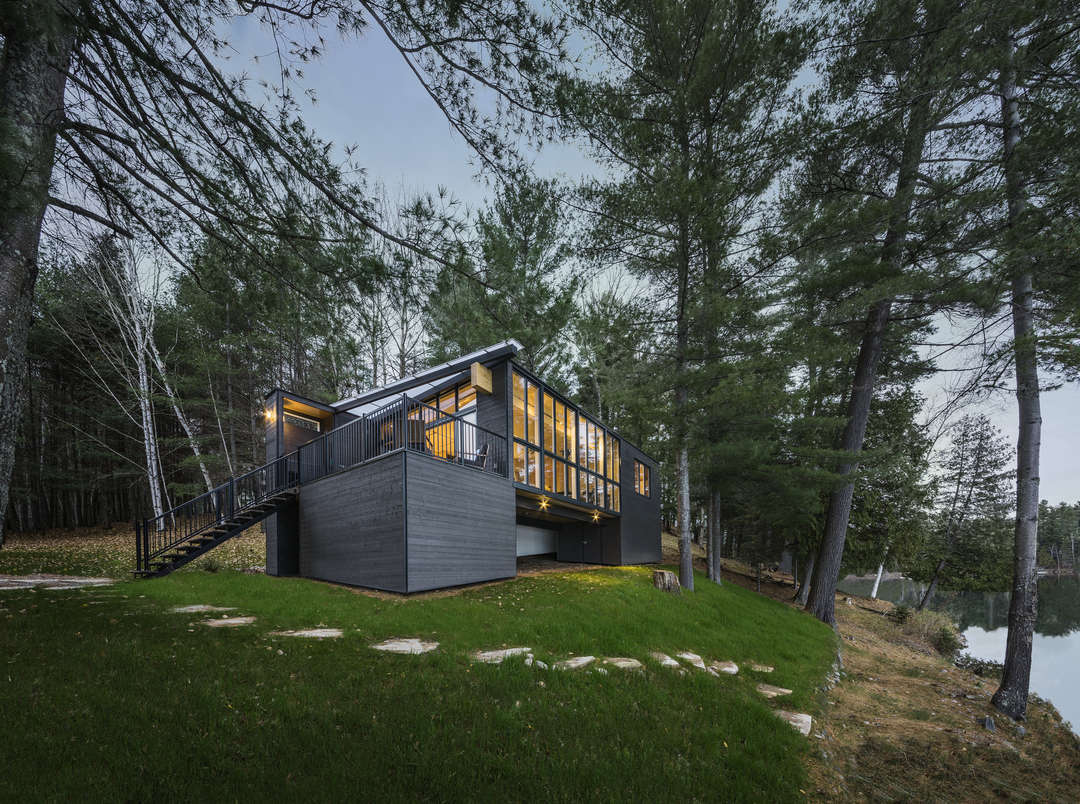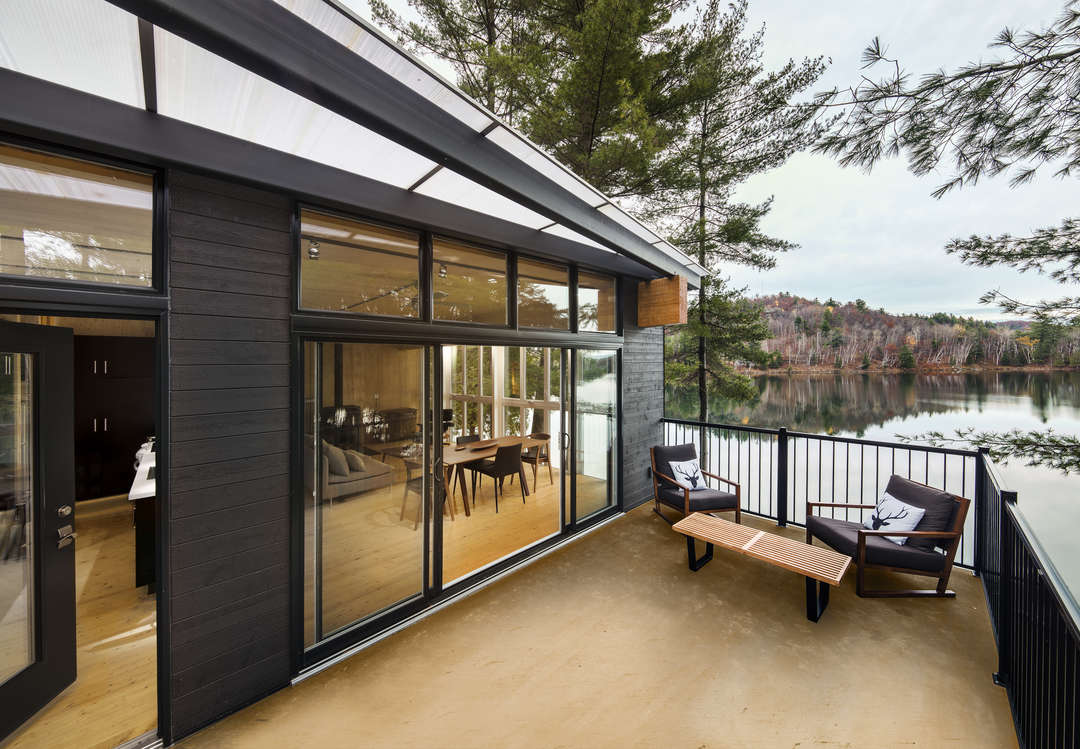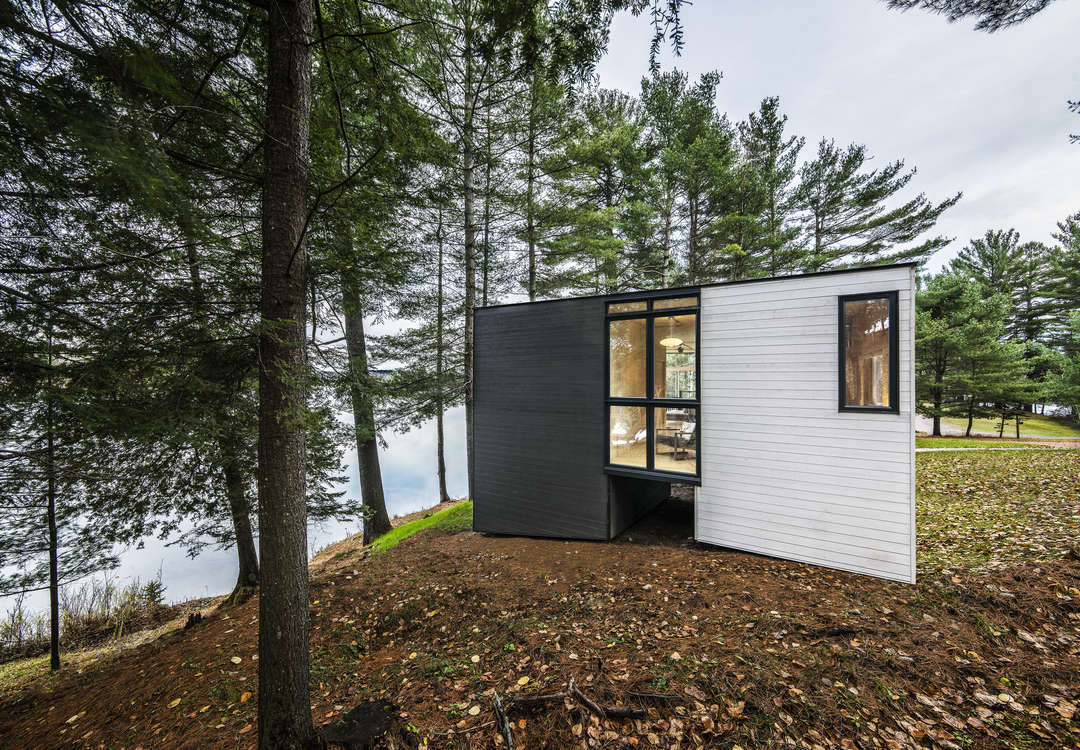 Cross-Laminated-Timber Cottage by Kariouk Associates, Quebec, Canada
Located on the shore of a private lake in Ladysmith, this project replaced an existing cottage of the same size that was in "an advanced state of decay." Constructed from prefabricated custom cross-laminated-timber panels as large as 60 feet by 10 feet, a computer model was generated for every surface that would comprise the cottage. The prefab elements were brought to the site, where a steel-post foundation was already installed and hoisted into place, and assembled in less than two days.
via Architizer