Funhouse: 16 Homes Around The World That Are Designed For Fun

Everyone likes to play — and these home owners across the globe show how a property can be transformed into a playful place for people of all ages. Will you, perhaps, be tempted to climb an indoor wall, bounce in a giant net or skateboard across a room? Check out these fun spaces, then start planning your own.

Photo by Lindman Photography
1. Playful Summerhouse in Sweden
Location: Dalarna, central Sweden
What's fun here: Playful elements such as a rope that helps you climb to different levels of the roof, where the views are breathtaking
Who lives here: An architect, his wife and their children, plus assorted family members and friends as summer guests
Architect: Leo Qvarsebo
When Leo Qvarsebo finished his architecture degree, he wanted to build something for real rather than submit entries to various competitions, as so many young architects do. The result is this summerhouse, which he designed and built from scratch using mainly recycled and cheaply sourced materials, with help from family and friends.
The house fulfills the three main criteria Qvarsebo wanted in a vacation home: a bedroom with a panoramic window, to allow for lying in bed and watching the August thunderstorms; a room completely dedicated to reading; and a kitchen big enough to cook up a feast for guests.

Alex Fulton Design
2. Faux Jungle in New Zealand
Location: Springlands, near Blenheim, New Zealand, in the Marlborough wine region of the country's South Island
What's fun here: A living room with a decidedly jungly mood
Who lives here: Interior designer Alex Fulton and her husband, Jeff; daughters Isla, 11, and Violet, 10; and dogs Daisy the Jack Russell Terrier and Moo the Italian Greyhound
Architect: Alex Fulton Design
Four walls of tropical Arte wallpaper — plus sofa upholstery to match — envelop the Fulton family's living room in lush greenery. The "Jungle Room," as they call it, is filled with everything from a faux tiger rug and blow-up monkeys to a collection of animal heads arranged above and around the fireplace.
Despite being a Virgo who admits to liking order, Alex is a huge collector. She sourced her menagerie of animal heads from holidays, party shops and Instagram leads: "It's reached the stage where people now point them out to me," she says.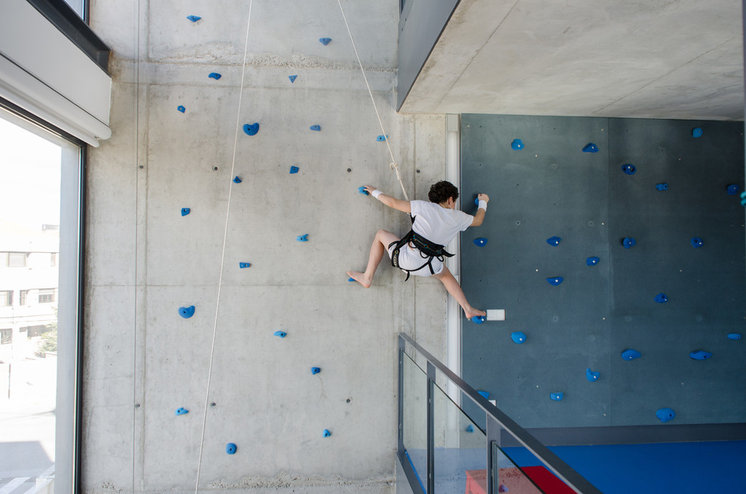 PLAYOFFICE
3. Indoor Climbing Wall in Spain
Location: Hortaleza district, Madrid, Spain
What's fun here: Climbing up to 33 feet (10 meters) without leaving the house
Who lives here: A family that includes two children
Architect: Playoffice
In this contemporary home, every level is set back from the large windows of the home's facade, forming indoor "verandas." This means there's free space between the windows and the floors, space that was ripe to be turned into a play area.
The house was initially designed by architect Javier Calvo, but Playoffice was commissioned to give it a fun feel, as it's located in the middle of the city and the kids have nowhere to play outside. The team exploited the space behind the windows to install a climbing wall, which rises through the three levels of the house.
On the third level, the wall spreads across to a playroom that holds ropes, mats, nets and all sorts of gymnastic equipment. Winters in Madrid can be quite cold and children tend to play indoors. But these two kids love climbing indoors so much, they now train outdoors too.

Anna Gili Design Studio
4. Colorful Splash in Italy
Location: Milan, Italy
What's fun here: Loft apartment designed as if it were a painting
Who lives here: Designer Anna Gili
Interior designer: Anna Gili
This loft apartment is part of an industrial building built at the beginning of the 20th century. Designer and owner Anna Gili decided to use bright colors as a way to warm up the industrial mood and give the flat a new soul.
Gili began her career as an artist, performer and painter, and she had always been interested in colors. "I see them not in an emotional way, but as part of the engineering and structure of the home," she explains. "I love fluorescent colors, and even if any color expert would say it's hard to deal with so much fuchsia in a home, I say this color is as relaxing as deep blue to me. I see architecture from an artistic point of view and I use colors to create brand-new spaces."

Tarlet Architectes
5. Kid-Customizable Space in France
Location: Aix-en-Provence, southern France
What's fun here: Sliding doors that alter the space
Who lives here: A family that includes three children
Designer: Tarlet Architectes
This basement has been designed to enable three siblings to live together in harmony. The space is organized around two central boxes in which are hidden bathrooms and a dressing room. Around them, the space offers a desk area, four bedrooms and a TV room.
The central boxes are clad in chestnut wood to suggest a kid's treehouse. To organize the space around them, sliding doors were created. It's a creative way to define different areas without dividing up the space permanently: The doors disappear into the central boxes to enable the family to walk around freely in the space, but can be pulled out when it's time to create some boundaries.
Thus, two kids can be watching TV while the third closes a door to work at the long desk. The bedrooms can also be closed off. It's a clever modular space that adapts to shifting needs and also helps keep the peace!

Maurizio Giovannoni Architetto
6. Dreamy Flat for a Writer in Finland
Location: Turku, southern Finland
What's fun here: A dreamlike, fantasy space designed to promote relaxation and creativity
Who lives here: Juhana Torkki, a writer
Designer: Maurizio Giovannoni
Juhana Torkki, a well-known young Finnish writer, wanted a dreamlike place of his own where he could relax, take a break, think and, of course, write. The apartment that architect Maurizio Giovannoni came up with is 689 square feet (64 square meters) and has wide windows to take advantage of any sun during the dark Finnish winter.

Maurizio Giovannoni Architetto
Giovannoni trusts in the success of his "home-telling" process, a nonstop dialogue between designer and client that lasts throughout the project. He and Torkki exchanged more than 400 emails, as Giovannoni worked remotely from Rome until the last stage of the design process, when he traveled to Finland to refine the details. Torkki's colorful flat is the result of this creative process, which also turned the architect and client into good friends.

FARVEHUSET IKAST
7. Candy-Bright Kitchen in Denmark
Location: Ikast, central Denmark
What's fun here: Unusual and colorful wallpaper in the kitchen
Who lives here: A family
Designer: Farvehuset Ikast
This quirky wallpaper attracts a lot of attention! The color might be a bit bright for some, but this family definitely went for a fun approach. Danish kitchens are typically white and very simple: Wallpaper aside, this one is white with a touch of black on the frames of the doors to the terrace. The wallpaper is an "I dare you" break from that minimalist look.

BCO Architekten
8. Vertical Ascent in Germany
Location: Berlin, Germany
What's fun here: Helping each other climb home instead of using the stairs
Designer: BCO Architekten
Even from the street, this building stands out, with its quirky facade full of different windows. Inside, there's an art gallery and several private maisonettes on different levels. The building does have a staircase, but using a climbing harness to get to your front door is definitely more fun — not to mention a team-building experience.

Riach Architects
9. Chic Graffiti Hangout in England
Location: Oxford, England
What's fun here: Family den's oversized seating "beds" and custom mural by a graffiti artist
Who lives here: A family that includes four children
Designer: Riach Architects
On first impression, this Victorian home looks like a traditional conversion, with beautifully restored period features and a light and airy modern kitchen add-on. But when visitors venture down into the basement, they're greeted with a completely different vibe.
The spacious room has been transformed into a den for the family's four children. To give it a unique flavor, the family commissioned a graffiti artist from Ibiza, Spain, to create the surf-themed artwork on the back wall. The entire family surfs and the mural was designed to bring a personal, lighthearted feel to the space. A pool table and oversized sofa "beds" create a fun, relaxed atmosphere.
Take a closer look at the mural: The entire family is represented, taking part in its favorite sport. A truly personal artwork!
10. Big Playground in Germany
Location: Hamburg
What's fun here: Children's room that's also a full-scale playground
Who lives here: A family that includes three children
Designer: Pascal Snoeck of Snoeck & Co.
Oh, what happy kids must live here. This is the room of three boys, ages 3 to 6. Its 915 square feet (85 square meters) holds relaxing, quiet spots as well as fun ones, such as this slide. The boys sleep here as well, in beds on different levels of their very own playground.
During the planning, Snoeck laid out the room on a 1:1 paper ground plot so he was sure it would work. The colors, however, he chose and applied on site, once he had a sense of the room. The structure is built of HPL-coated MDF and the desks are coated with chalkboard paint — so even homework should be fun.
11. Indoor Skate Park in the United States
Location: Minneapolis, Minnesota
What's fun here: Skating indoors and becoming a home skate pro
Who lives here: Three brothers — Will, 7, Ben, 9, and Jack, 11 — and their parents
Designer: Ronda Brandvold of WB Builders
Minneapolis winters can be tough. On January 6, 2014, the wind-chill in the Twin Cities region hit a bone-shattering -48 degrees Fahrenheit (about -44 Celsius). Not the kind of weather for three young boys who love to go out skateboarding in town.
So when it came time to design their new home, designer Ronda Brandvold and her husband, Tim, who's a lead project manager at WB Builders, decided to create a custom skate park in their basement where the boys could shred all year long.
The masonite structure has rails for grinding and ramps for jumping and doing tricks. The 9-foot (2.7-meter) ceilings provide generous head room for catching some air. Custom skateboard and helmet racks hold boards, while a half-wall ensures that runaways don't careen into the walls of the surrounding bedroom and bathroom.
Open trusses, unfinished concrete walls and graffiti art done by one of the boy's friends help create a street vibe. "There was a strong intent to keep the park industrial and a bit urban," Ronda says. But make no mistake: The skate park isn't just for the kids. "You can also occasionally find their dad ripping it up," Ronda says.
Wall color: White Dove, Benjamin Moore; carpet: Pacificrest; windows: Marvin Integrity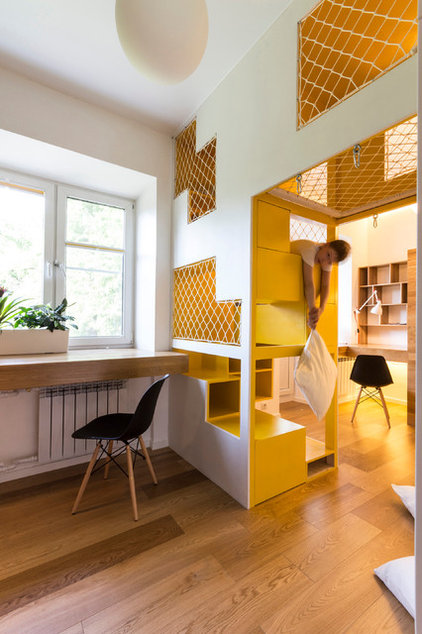 Архитектурная студия Ruetemple
12. Climbing Frame Storage Cupboard in Russia
Location: Moscow, Russia
What's fun here: Big storage unit for toys is also a playground, room divider and gym
Who lives here: A young family that includes two children
Designer: Ruetemple
The owners of this home are creative types who can't stand typical design. That's why most of the furniture in their home is built-in and custom-made.
The ideas for the kids' room changed throughout the construction process. "We started from 'just a rope bridge for a small kid' and finished with a modular room divider and two loft beds," says architect Alexandr Kudimov.
The unit divides a 194-square-foot (18-square-meter) room in two. The spiral staircase contains plenty of storage space for toys, with containers fitted inside every step. On the upper, rope-bridge level, you can see a lot of hooks; they're ready for future sports equipment, such as a punching bag, swing or climbing rope. It means the space can adapt to the kids as they grow.
The construction is sturdy: The divider is made of veneered metallic pipes covered in panels that were then painted. This bright yellow is the only color the mom wanted.
13. Colorfully Zoned Family Space in Japan
Location: Tokyo, Japan
What's fun here: Colorful space is an all-in-one family room
Who lives here: A couple with two children
Designer: blue studio
A yellow, horseshoe-shaped kitchen island sits in the center of this open-plan, 926-square-foot (86-square-meter) renovated condominium. It's surrounded by a white kitchen, a green kids' room, a red study, a purple bedroom and a living area.
Because almost all the areas are zoned by stylish white, see-through bookshelves, family members can communicate with one another wherever they are.
This is a great space for younger members of the family. Behind this house-shaped window is the kids' library, where the children can read books or do homework in a cozy, half-enclosed space.
There are also hooks in the ceiling for a hammock and swing, and there's a climbing pole in the living area.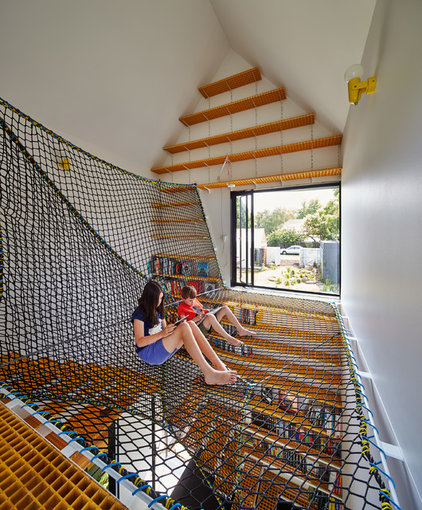 Andrew Maynard Architects
14. Bouncy Play Tower in Australia
Location: Alphington, near Melbourne, Australia
What's fun here: Bouncing around on a giant net suspended near the ceiling
Who lives here: A couple and their twin boys
Designer: Andrew Maynard Architects
It's no work and all play in this studio-cum-study-cum-crazy playroom. Making the most of the vertical space in a "tower" addition to the home, a giant net — reached from the ground floor by a set of steps — hangs over desk space and built-in shelving. The safety netting is attached wall-to-wall and is strong enough to hold a host of climbers who want to read, bounce or keep a lookout from up high.
The tower extension was the 8-year-old boys' idea. They drew it up on a piece of paper and presented it to their parents and architect Andrew Maynard, who was helping the family renovate and extend its weatherboard house. The tallest of a series of newly constructed buildings that fit together like an Erector set, the tower transforms the home's profile without overpowering the streetscape.
Jeff King & Company
15. Multifunctional Carport in the United States
Location: San Francisco, California, United States
What's fun here: Playful features such as a fireman's pole, swings, playhouse, blue glass catwalk and artificial turf
Who lives here: A family of four
Designer: Jeff King of Jeff King & Co.
Designer Jeff King's challenge was to turn a single driveway and awkward, unattractive side yard into a cool, multifunctional carport, patio and enclosed play area — all within a small urban footprint.
The carport now not only provides a safe parking spot for the family car, it serves as the crux for a rooftop dining patio, two swings and a custom fireman's pole.
Encaustic concrete tiles line the rooftop patio, where the family often has outdoor dinners and parties at sunset. The kids can run around on the artificial grass or play in their redwood and fiberglass play structure nearby.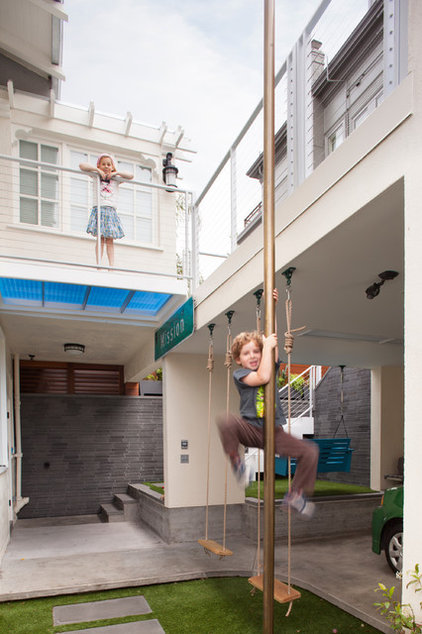 On the ground level, the kids can play with abandon in the enclosed area while the homeowners keep an eye on them from the kitchen windows above. The kids (and adults) access the fireman's pole from the roof deck through a tension-wire gate. A blue glass walkway connects the outdoor dining area to the upstairs hallway.
During family movie nights, the homeowners park their car on the street and use the carport space for projecting movies and ball games onto the back wall.
Blue glass: IBP glass block; stained glass: commissioned, Cradle of the Sun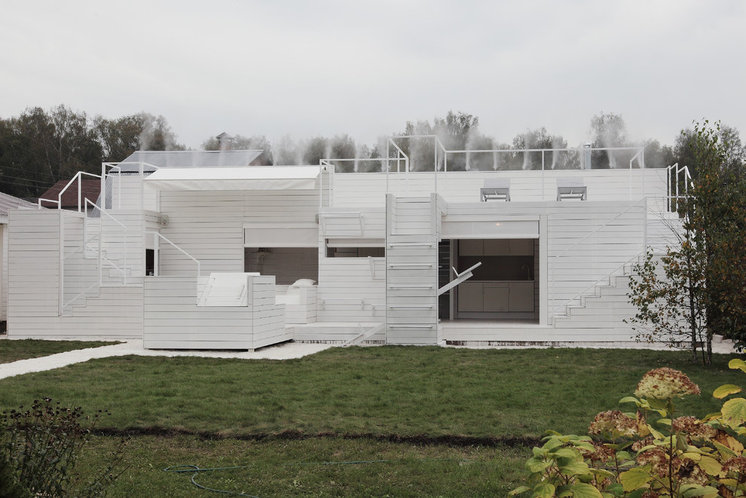 16. Summerhouse Built for Play in Russia
Location: Zenkino village, Moscow area, Russia
What's fun here: House made for fun and fitness includes a seesaw as well as a gym and pool
Who lives here: Sergey and Nadya Gelanovi and their daughter
Designer: Petr Kostelov
This 764-square-foot (71-square-meter) house was made as part of a TV show, so architect Petr Kostelov was free to create anything he wanted. The only remark from the owners was, "Anything but a basketball court!"
So Kostelov kitted it out with a gym, badminton and volleyball courts, a pool, a sauna and, of course, a seesaw. The roof could easily be used as a grandstand for sports fans, but the owners prefer it for sunbathing and relaxing.
This is a good example of an energy-efficient home (very rare in Russia): Solar panels on the roof provide energy for electricity and water heating. The owners also collect rain water — handy for the ice bucket provided for guests stepping out of the sauna.
via Houzz