Custom Luxury Bathroom Designs To Inspire Your Remodel

Today's luxury custom bathrooms are large, some as big as traditional master bedrooms. Many luxury custom bathrooms incorporate a lounge area. While simpler bathroom designs may just consist of a shower area, a toilet area and a sink area, a luxury custom bathroom offers its owners so much more than that. A great designed bathroom lounge incorporates heating via an elegant fireplace or stove with a few cozy chairs or even a sofa and rugs to create a comfortable area to linger in.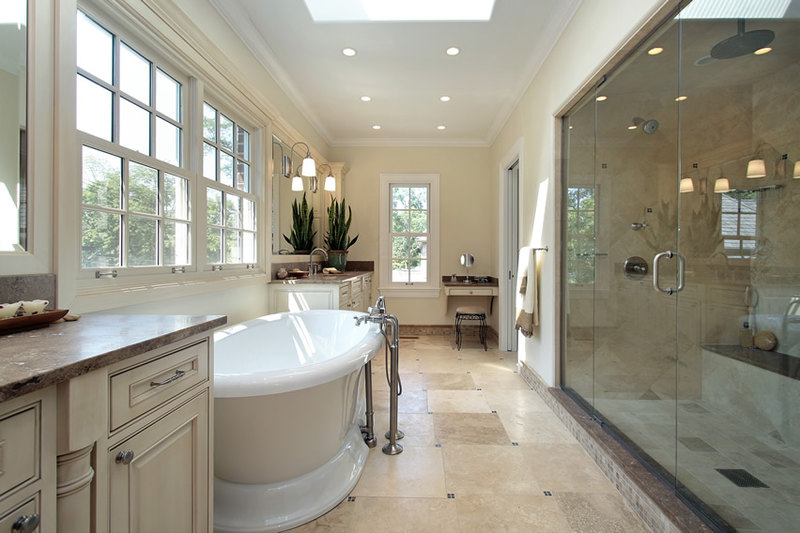 Country inspired custom bathroom design with pedestal tub and large rainfall shower
Another popular feature of a luxury bathroom is a complete dressing area where you can dress and get ready without even stepping out of your bathroom. Built in closets, wide vanities and countertops, soft natural light and ornate mirrors are staples of a luxury bathrooms dressing area. A standard for a luxury bathroom would be a tub. This may or may not have a shower built in – or have a separate shower area – and it can come in a variety of shapes and sizes.
What makes a bathroom truly luxurious are the materials. Luxury bathroom designs incorporate a lot of marble, woodwork, and custom tiles in their walls, floors and furnishings. Stainless steel, chrome, copper and other premium metals are used in fixtures and even decor. A luxury bathroom often has a high or vaulted ceiling supporting luxury lighting fixtures such as chandeliers or even skylights for natural light.
The country-inspired bathroom design shown above uses a combination of warm browns and beige, experimenting on unique layouts of tiles to give a variety of visual effects. The floors are simple ceramic tiles in a finish that mimics natural stones in beige combined with small pieces of mosaic tiles on its corners and laid out in a unique manner. The shower uses the same floor material, but in a different size and different layout. Silestone quartz in Brazilian brown was used for the countertop, while the rest of the cabinets and walls maintains a light beige shade.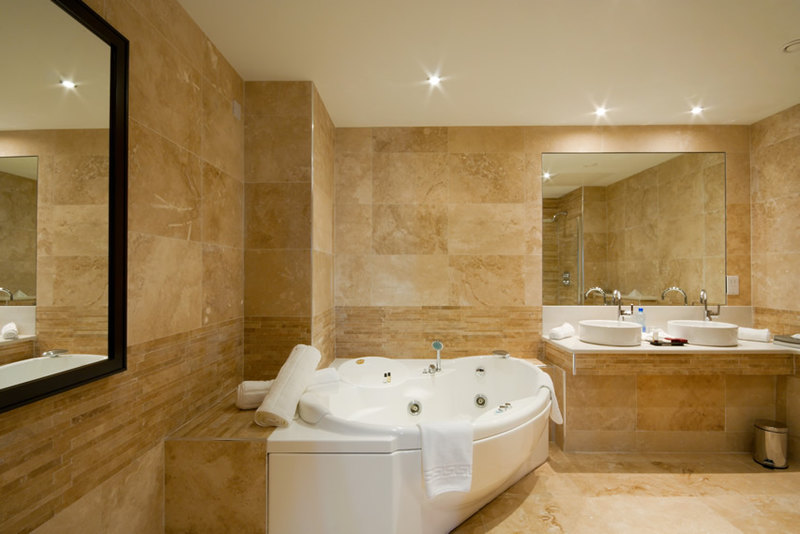 Luxury custom bathroom with walls and the floors in natural travertine stone tiles
This luxurious bathroom engulfs you with its warm mood and color. The walls and the floor uses Natural Travertine stone tiles, with an accent band of crazy-cut Travertine stone tiles. The countertop material used is solid-surface in plain white, while the shower doors use clear tempered glass. Overall, there is not much variety of finishes used, but it lets you appreciate the beauty and quality of natural stone materials.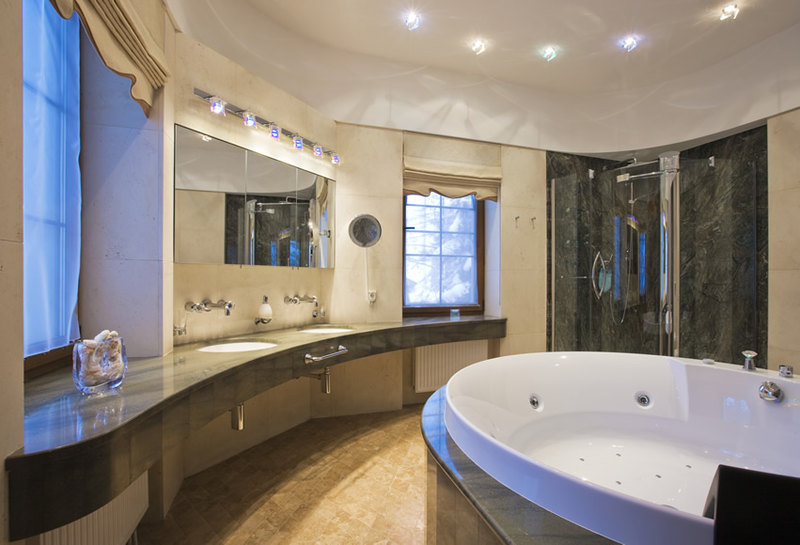 Bathroom with large jacuzzi bath and black design shower
This bathroom design is very organic and unique in its form and layout. The floors uses natural travertine stone tiles cut in triangular shapes, creating an interesting floor pattern which doesn't distract the eyes too much as it only uses 1 type of material. The Countertops, bathtub and shower area is clad with polished granite slabs known for its luxurious look and durability. The rest of the walls are clad with cream ceramic tiles in a natural finish.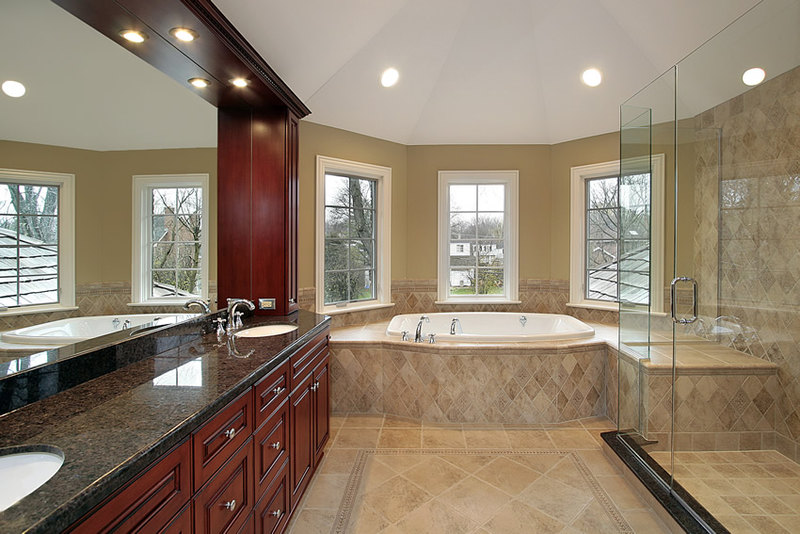 Large luxurious custom bathroom with beige ceramic tiles and beautiful wood & granite vanity
This large luxurious bathroom mainly uses a beige ceramic tiles in various layouts for its floors and the bathtub area. The central layout is diagonal and bordered by beige mosaic tiles, while the front of the bathtub area also uses diagonally-arranged tiles, but in smaller sizes. The Top of the bathtub area is of plain white solid-surface. The vanity is from solid wood in red-tinted Maple wood and its countertop of black granite.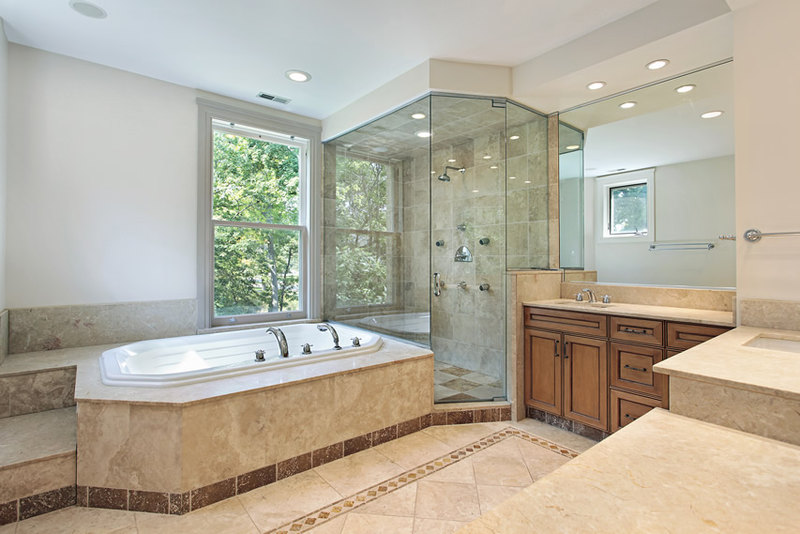 Awesome bathroom combined modern aesthetics with traditional materials
This modern bathroom combined modern aesthetics with traditional materials. Its floor is made of a simple beige ceramic tiles with brown border mosaic tiles. The kick spaces uses darker mocha ceramic tiles, while the countertops and the bathtub area are clad in natural beige marble. The shower area walls have been lined with natural limestone tiles, while the floor uses ceramic tiles in checkerboard pattern. For the cabinetry, Oak laminates on marine plywood was used.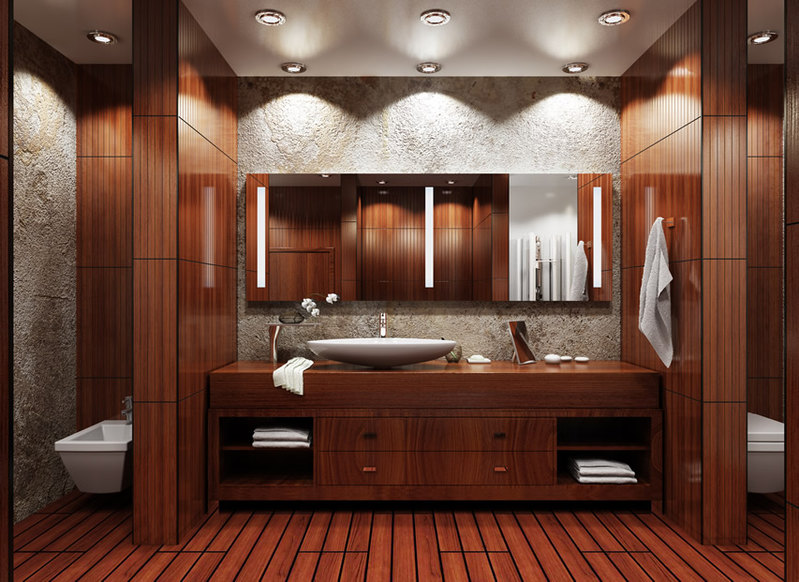 Asian-inspired modern bathroom in mahogany wood
A very interesting Asian-inspired modern bathroom, this spaces is definitely a feast for the eyes. The floors uses weather-treated solid Mahogany wood decking over plain ceramic tiles. To complete the wood look of the bathroom, the vanity area, dividers and the back of the water-closet and bidet were installed with waterproof laminates in red mahogany wood finish, while the rest of the walls have a rough concrete finish, to balance the wood tones of the whole bathroom.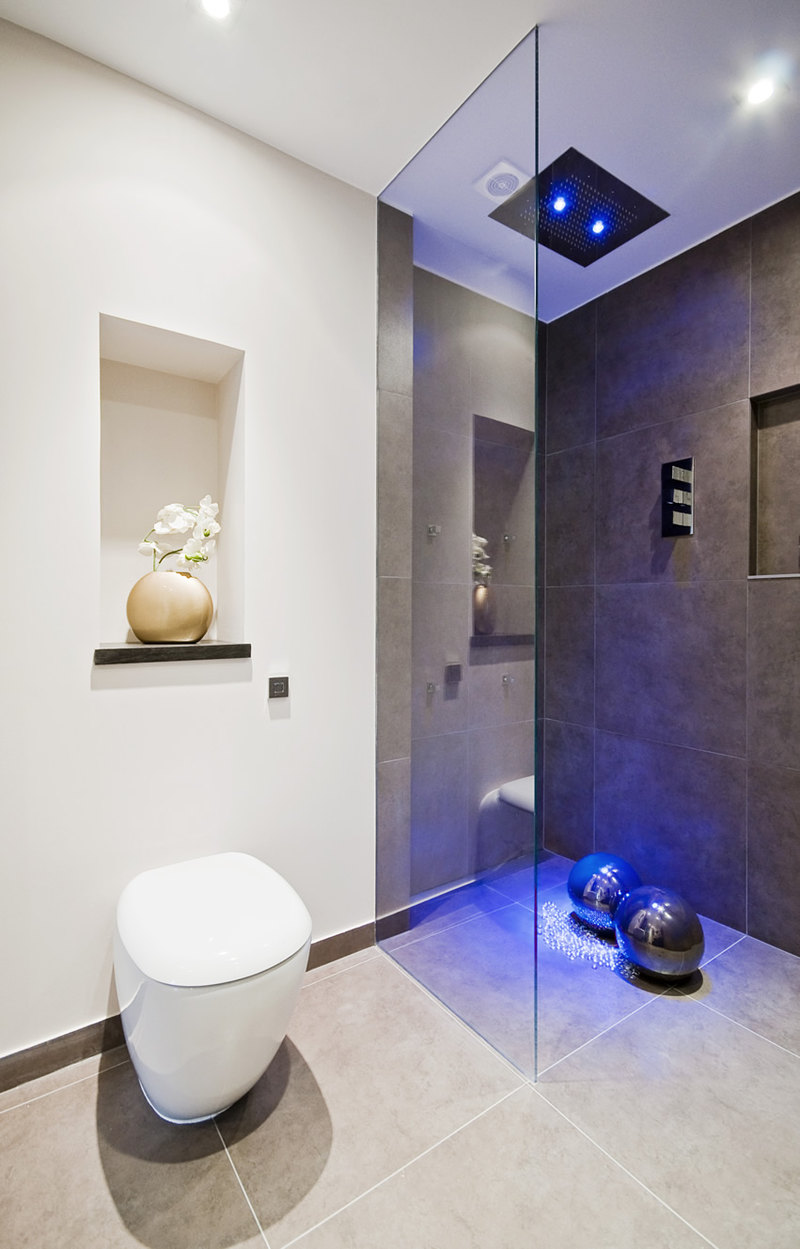 Ultra-modern custom bathroom design with large ceramic tiles
An ultra-modern bathroom design which focuses on simplicity and clean forms and lines. The floors uses large 60×60 ceramic tiles in gray, while the walls of the shower area uses 60×60 ceramic tiles in dark gray. Clear tempered glass was used to divide the toilet area and the shower, while the rest of the walls and the ceiling are painted in plain white. The shower's head is features neon led lighting to provide ambiance to the space.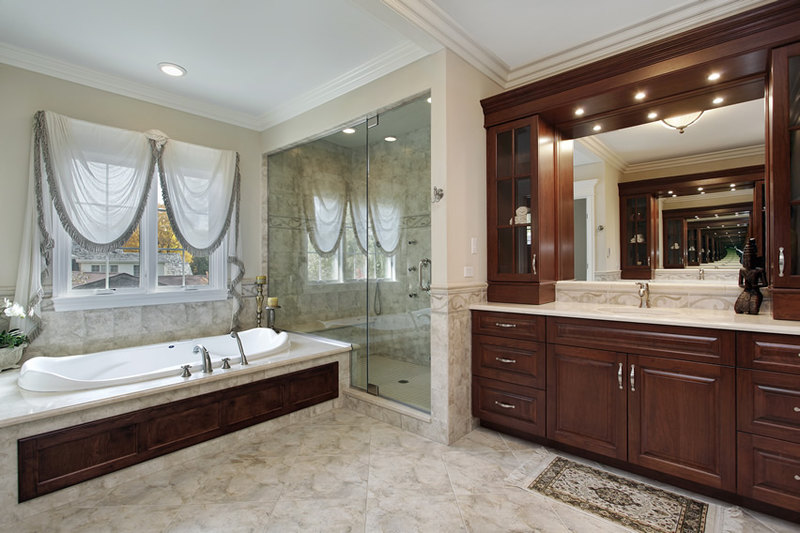 Luxurious bathroom with fusion of classic and modern elements
A luxurious fusion of classic and modern elements, this bathroom design evokes a very elegant feel. The floors and half of the walls use high-quality marble porcelain tiles, and a decorative porcelain tile border with scroll patterns. Half of the walls are painted in light warm beige color while the ceiling and cornices are in white. The vanity is from solid Mahogany with a white marble countertop.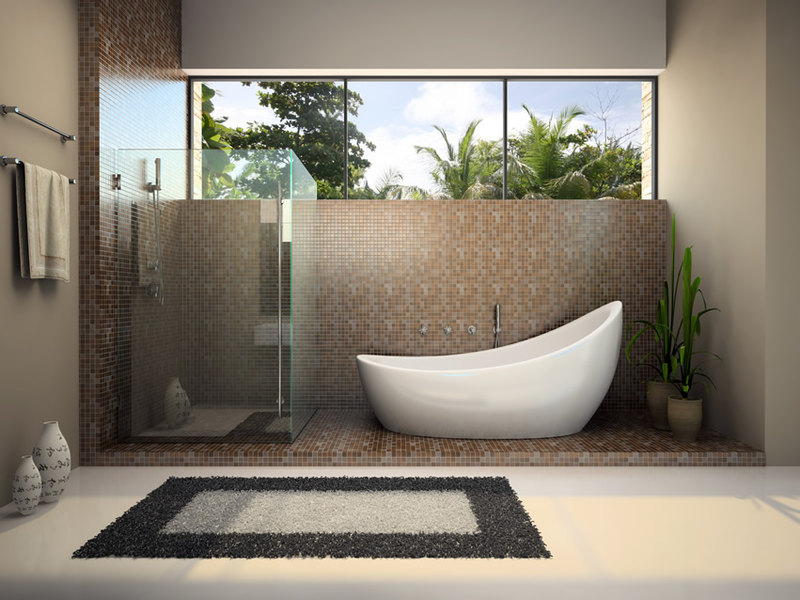 Modern bathroom design with large plain white porcelain tiles and sloped bath tub
A very interesting modern bathroom design, this space is covered mostly by large plain white porcelain tiles. The elevated area in which the shower and bathtub lies is clad with mosaic tiles in a combination of browns and grays. The walls are painted in beige while the shower area uses clear tempered glass for its shower door.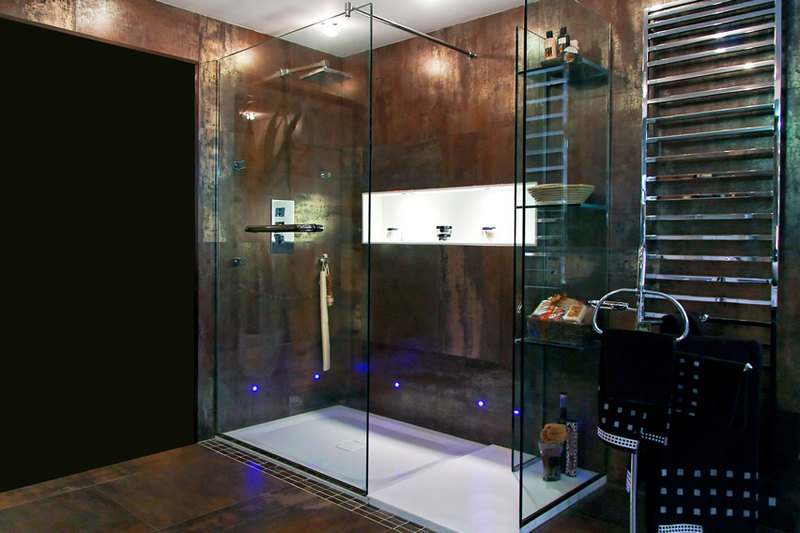 Rustic industrial-inspired custom bathroom interior with blue neon lighting
Rustic industrial-inspired interiors have been gaining popularity as of recent, and even bathroom designs like this, seem to follow the trend. To achieve the "unfinished" look of industrial interiors, metallic rust-colored ceramic tiles were used for the floors and most of the walls. An accent wall was painted in plain black, and this is combined with the gorgeous frameless tempered glass doors, chrome finish metals and fixtures, and plain white ceramic tiles for the shower, to draw our eyes in the middle.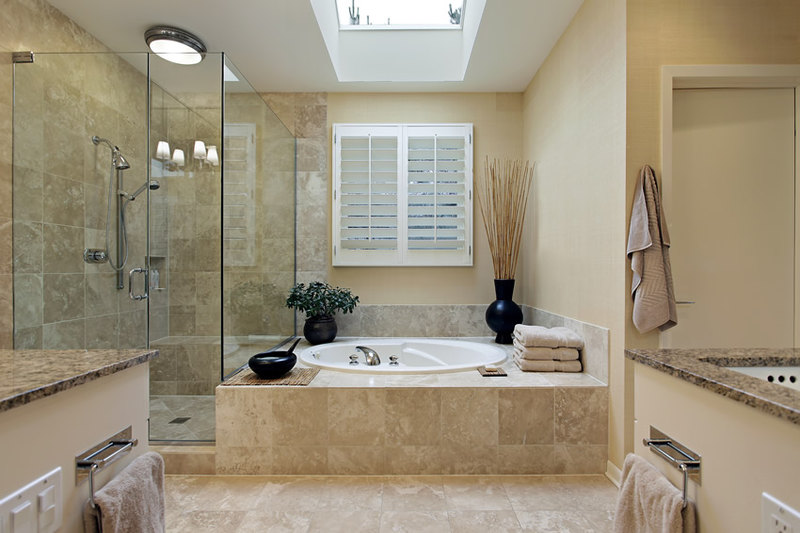 Simple luxury bathroom with Baltic brown granite
This bathroom is simply, but tastefully finished. While most of the walls are painted in light beige, the floors and the shower area are finished with natural stone tiles in a light beige color. The surface of the bathtub area and its splashboard has been clad with white marble, while the vanity countertops uses Baltic brown granite.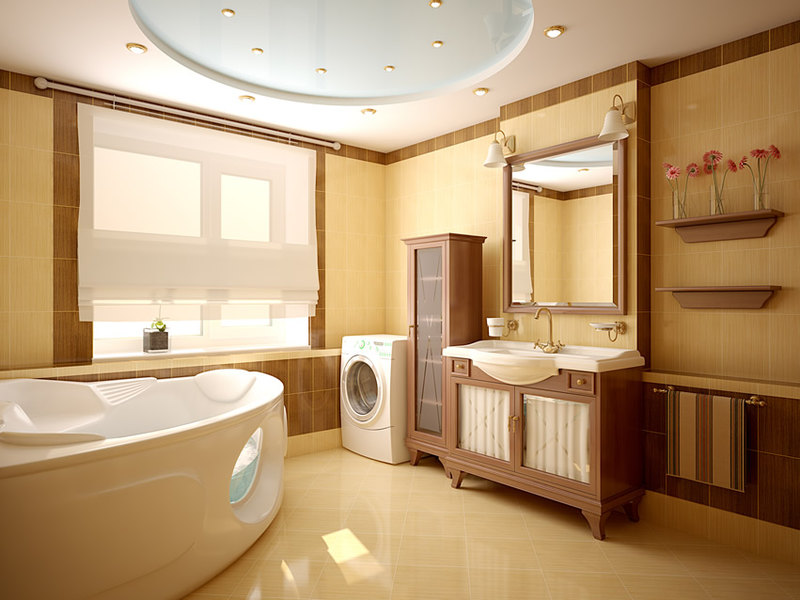 Modern bathroom design uses a combination of high-quality ceramic tiles in light cream and brown