A Look Inside New York's First Underground Park, the Lowline

Above: The Lowline Lab
This collection of wooden terracing, metal canopy, and live plants is the Lowline Lab. At just over 1,200 square feet, it's about 5 percent the size of the actual Lowline space, but it's big enough that if you stand in the center you get a sense of what the full park might feel like. It will be open through at least March 2016, letting the designers see how the structures and plants react to a New York City winter, and might evolve over time. Photographer: John Taggart/Bloomberg.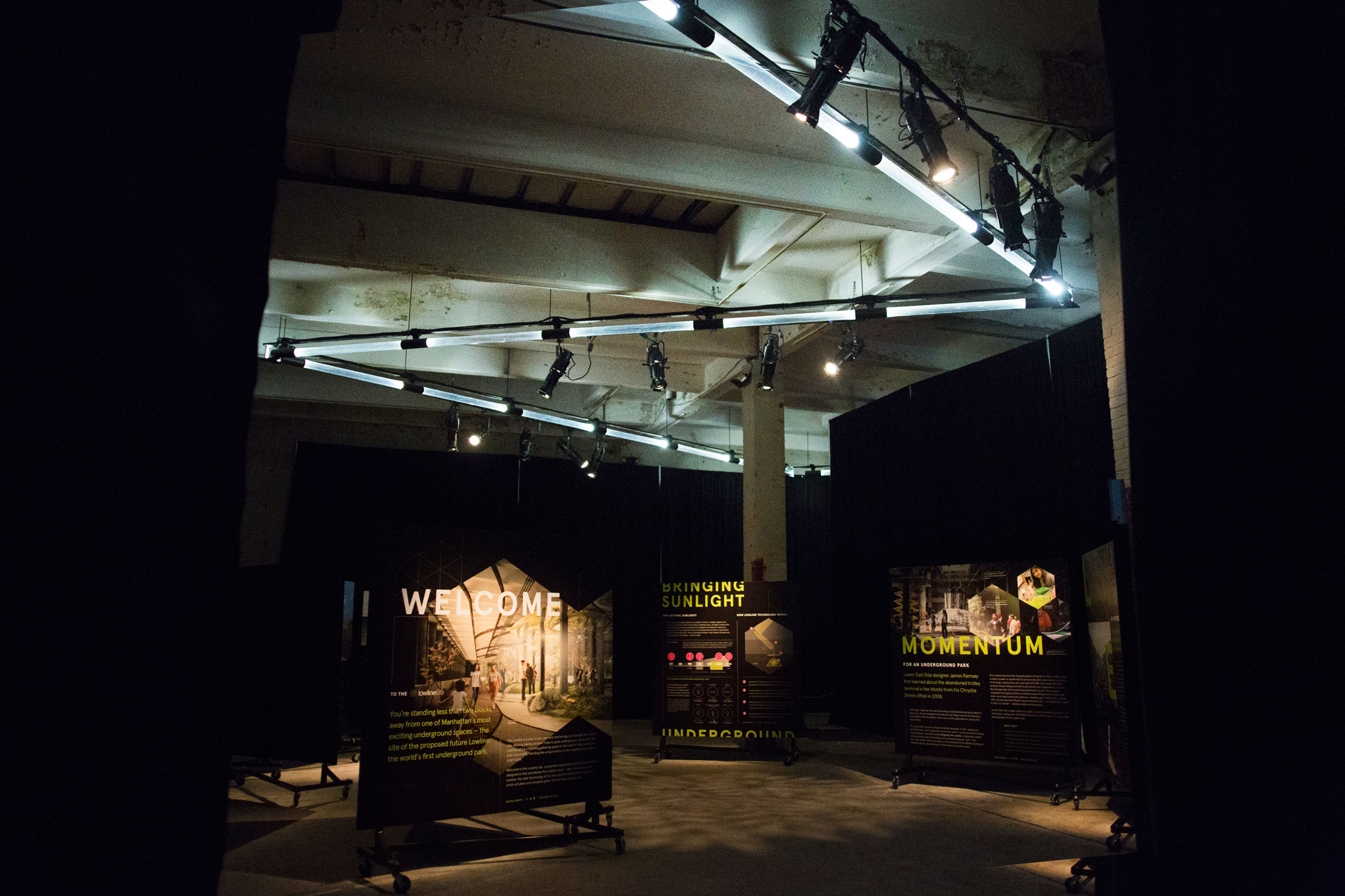 Entering the Lab
The Lowline Lab sits at 140 Essex St., a former market building in New York's Lower East Side. When you enter the lab, you're greeted by a series of panels explaining the history of the neighborhood, the goals of the Lowline, and the science behind making it work. Those tubes overhead that look like fluorescent lights? They're actually polycarbonate "plumbing" tubes fitted with mirrors and lenses that bring sunlight from the roof to the interior of the lab. That glow is all from the sun. Photographer: John Taggart/Bloomberg.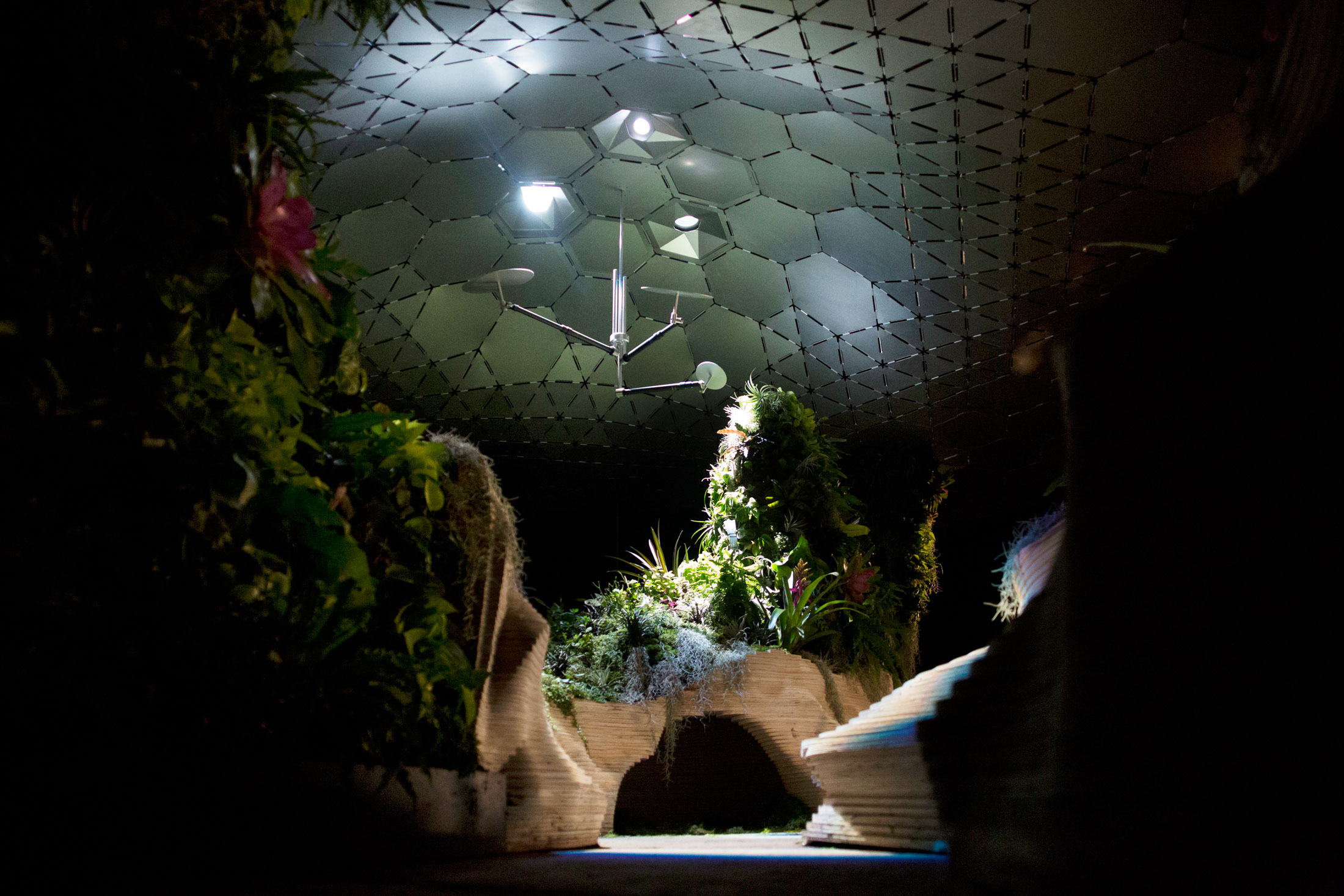 Diving In
Even though the Lowline Lab is a miniature example of the immersive park, the designers want visitors to be able to get a sense of what the finished park will feel like. You can walk through a cutout that runs straight through the middle and discover the plants and structure up close. Because the lab is set in the middle of a larger room, it appears much darker here than it actually is and one of the goals of the Lab is figuring out the best ways to distribute light across the landscapes. Photographer: John Taggart/Bloomberg
Growing Edible Plants
Yes, all of the plants in the Lowline Lab are real, and some of them are even edible. There are pineapples, mint, thyme, and strawberry plants mixed in with the more decorative ground cover. There over over 60 species of plants in total. Hidden in random places are also spores that will soon be sprouting edible mushrooms sometime in the coming weeks. There's no plan yet for what will be done with Lowline crops, but Ramsey says he hopes they'll give kids in New York City an opportunity to see wild plants growing right in their neighborhood. Photographer: John Taggart/Bloomberg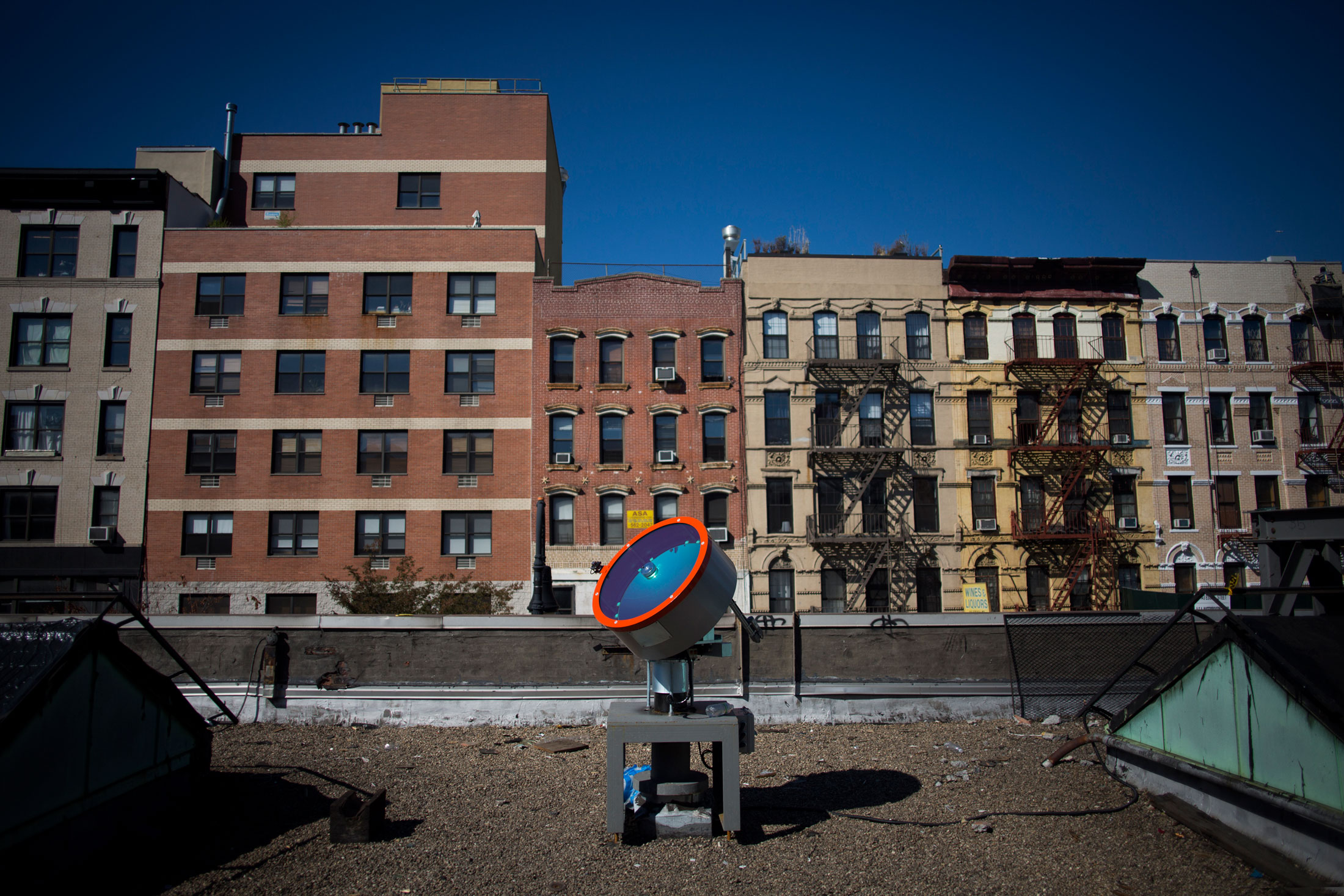 Utilizing the Sun
The only artificial light in the Lowline Lab is around the edges of the minipark, and the completed Lowline won't have any artificial light at all. Light is piped into the plumbing system through mirrored collectors, which focus the sunlight into a concentrated beam that's 30 times brighter than ambient sunlight. The Lowline itself will use more than 100 of these collectors; Ramsey's plan is to integrate them seamlessly into the downtown landscape, a significant challenge. Photographer: John Taggart/Bloomberg
The Canyon
The central corridor of the Lowline Lab is a simulated canyon, made from terraced plywood that contains the gardens. The shape is actually a replica of part of Antelope Canyon, a famous geological formation in Arizona, as another nod to nature. The wood gives the garden its shape, while all the plants are grown in soil just as they would be outdoors. You can see here how the concentration and color of light shift as you move across the landscape. The foliage changes along with it. Photographer: John Taggart/Bloomberg
See all the images here > > >
via Bloomberg