8 Amazing Alpine Cabins, Huts, and Hideouts

Over the years, architecture of the Alpine region has evolved from simple timber structures to innovative, sophisticated, and eco-friendly buildings which capitalize on the large amounts of sunlight and wind, as well as stunning snowbound landscapes. The structural configuration, materiality, and aesthetics of the traditional huts, cabins, and chalets mostly built in the Alpine parts of Switzerland, Italy, Austria, Slovenia, Germany, and France have been redefined to incorporate sustainable technologies and intricate geometric forms. These eight examples of modern mountain houses provide all of the coziness and warmth of traditional structures, but do so with a modern twist and minimal environmental impact.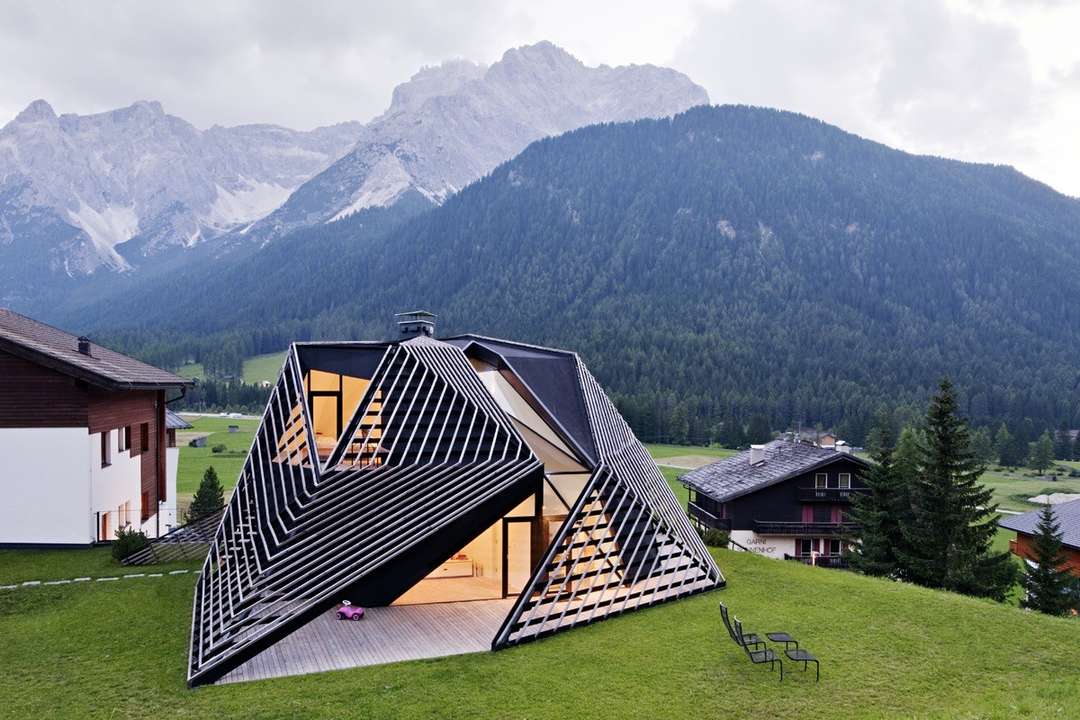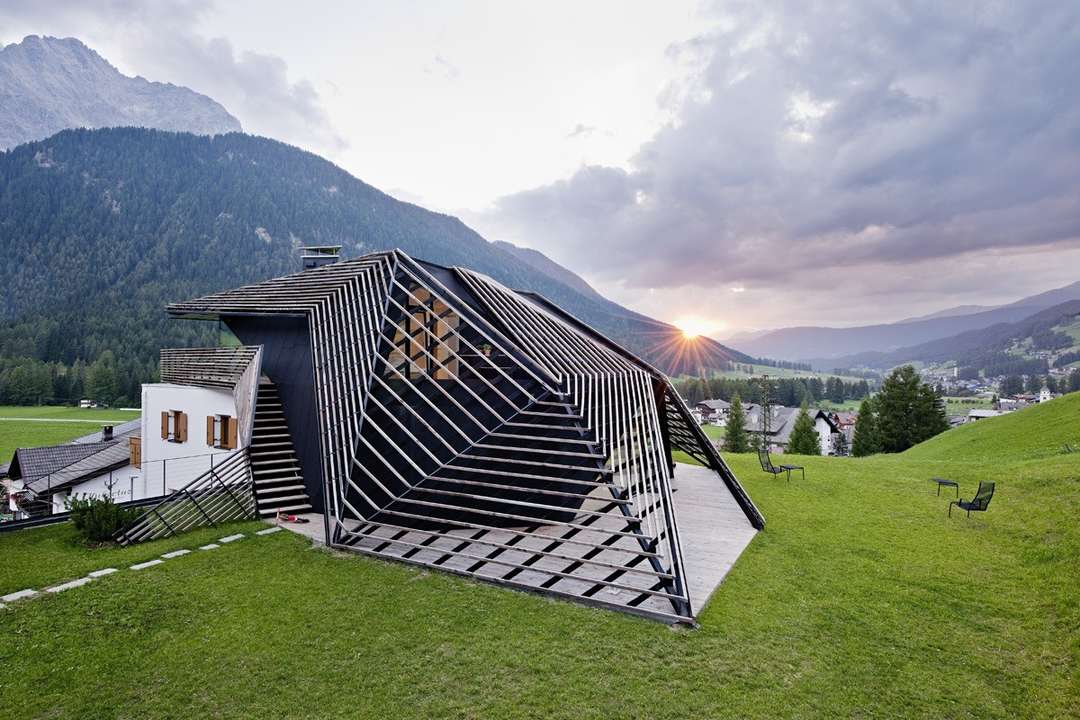 Paramount Alma by Plasma Studio, South Tyrol, Italy | Photos by Hertha Hurnaus
Plasma Studio's Tyrolean guest house references traditional pitched-roof mountain houses by taking the original concept to the extreme and translating it into a porous building that merges with the steep hillside. Strips of larch wood create a visual connection to the adjacent Strata Hotel and enclose the interior while offering 360-degree views of the surroundings. Concrete structural elements were combined with steel and the outer layer was made from prefabricated cross-laminated timber (CLT). Two floors of living spaces accommodate an open-plan kitchen, dining area, and a large living room encircling a fireplace.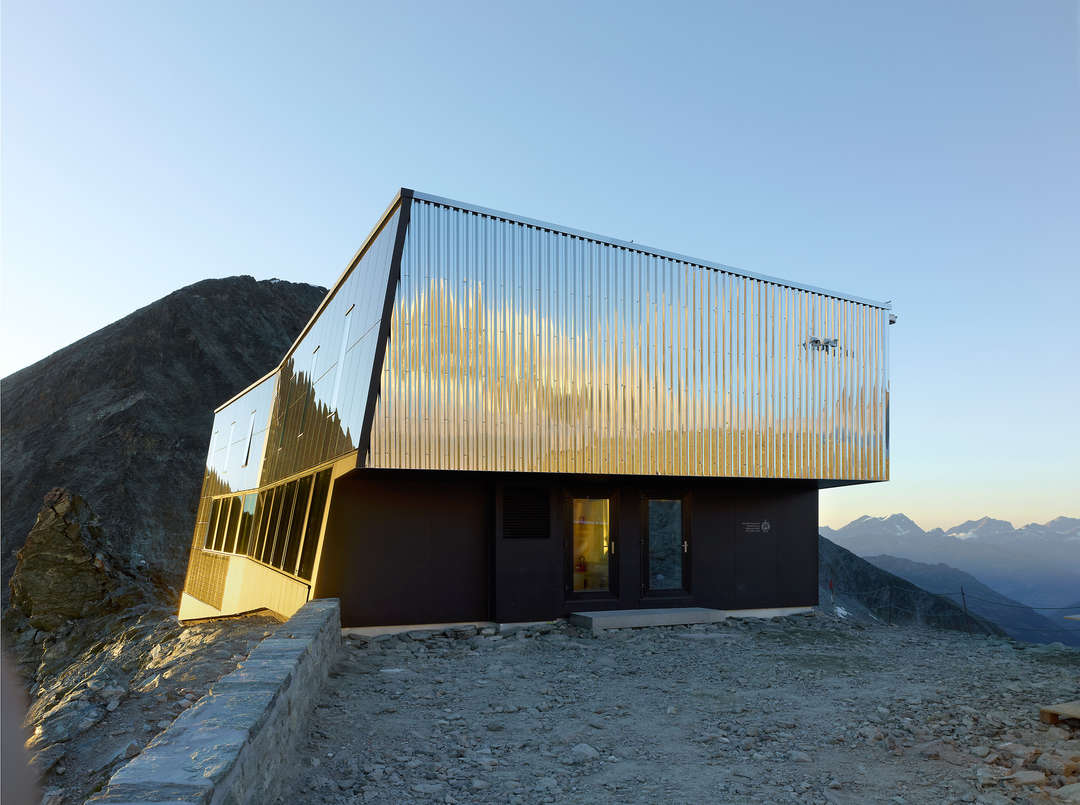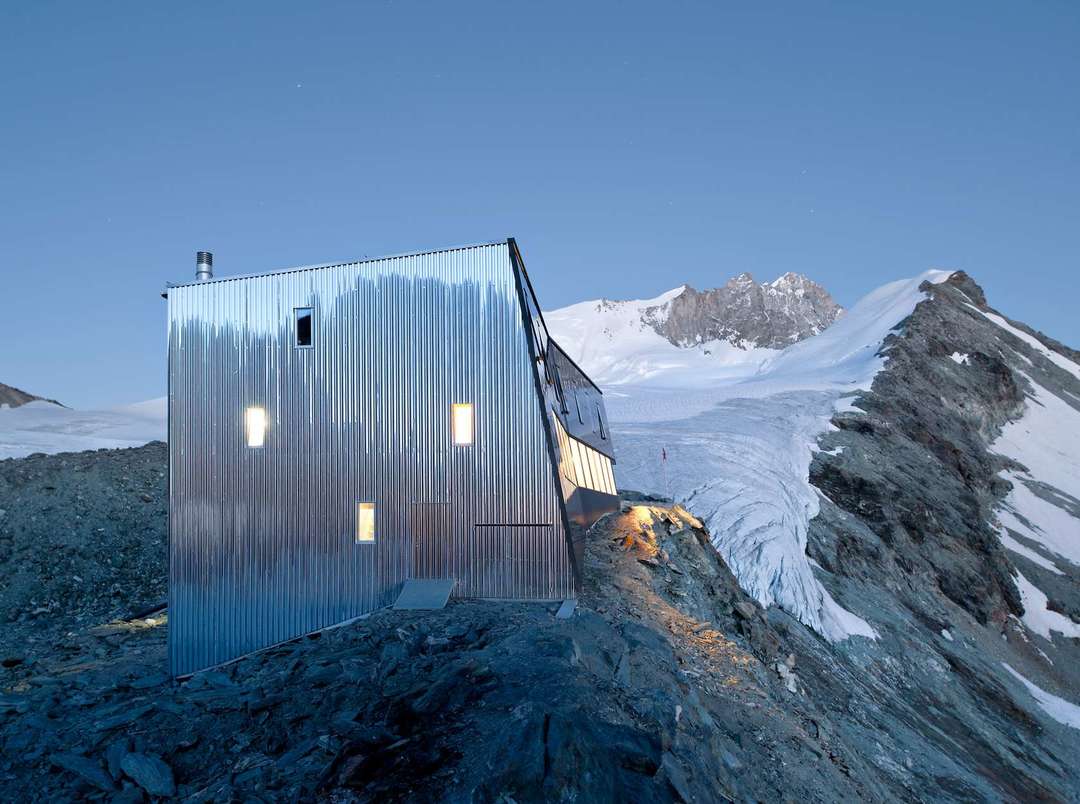 New Mountain Hut Tracuit by Savioz Fabrizzi Architectes, Zermatt, Switzerland | Photos by Thomas Jantscher
This Tracuit mountain hut replaced a structure built in 1929 in the heart of the Valaisan Alps and enlarged its original footprint to accommodate the increasing number of guests. Those interested in climbing the Bishorn, the Weisshorn, and the Tête de Milon can use the structure as a comfortable starting point which doesn't just provide stunning views of the mountains, but also collects solar energy with its entire south-facing facade. This glazed hut, designed by the Swiss firm Savioz Fabrizzi Architectes, reflects its surroundings and resembles a large piece of ice.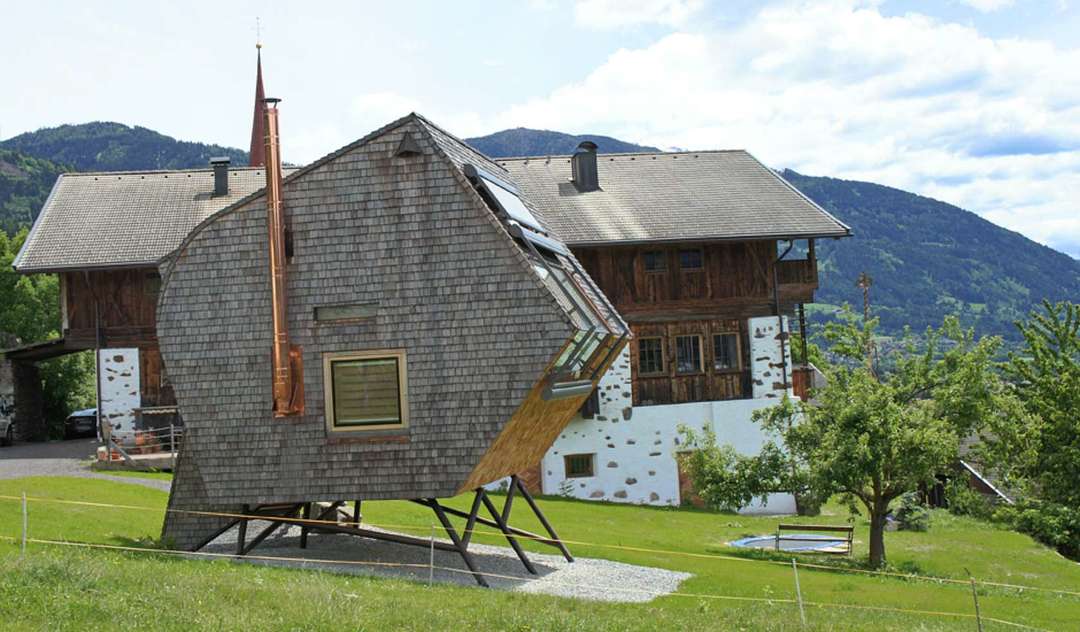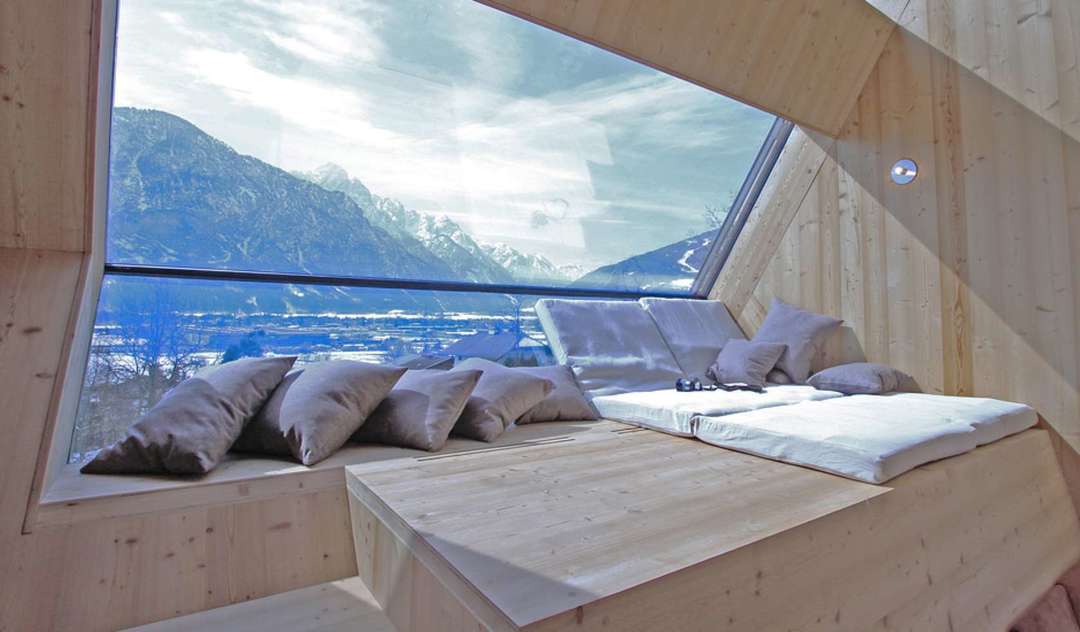 Ufogel by Urlaubsarchitektur, Lienz, Austria
Looking like a diamond-shaped UFO, this quirky hut occupies a small area next to an old farmhouse in the East Tyrolian village of Nussdorf in Austria. Called Ufogel, the house combines the customary materials with bold geometry. It is covered with traditional shingles and feels like a cozy nest that offers optimal levels of privacy and stunning views from unexpected places within its interior. You can enjoy the views of the mountains while showering or brushing your teeth. With a floor area of 485 square feet, this slightly elevated gem can accommodate up to four people at a time, functioning as a perfect vacation home.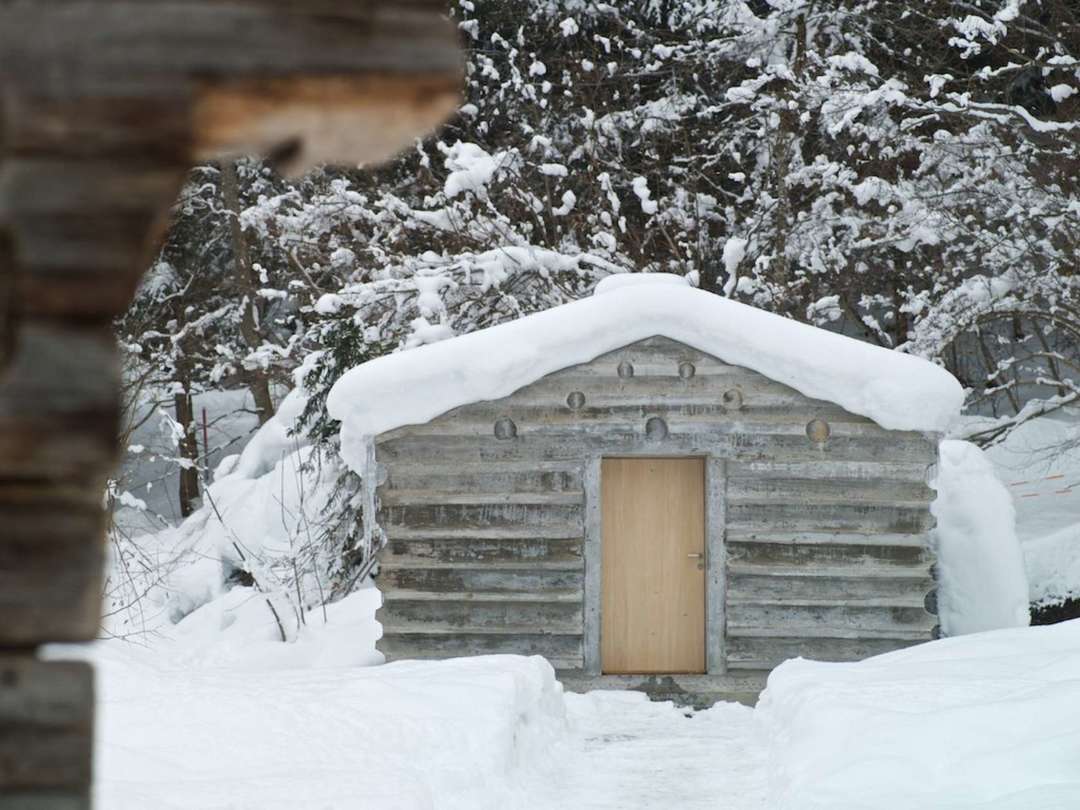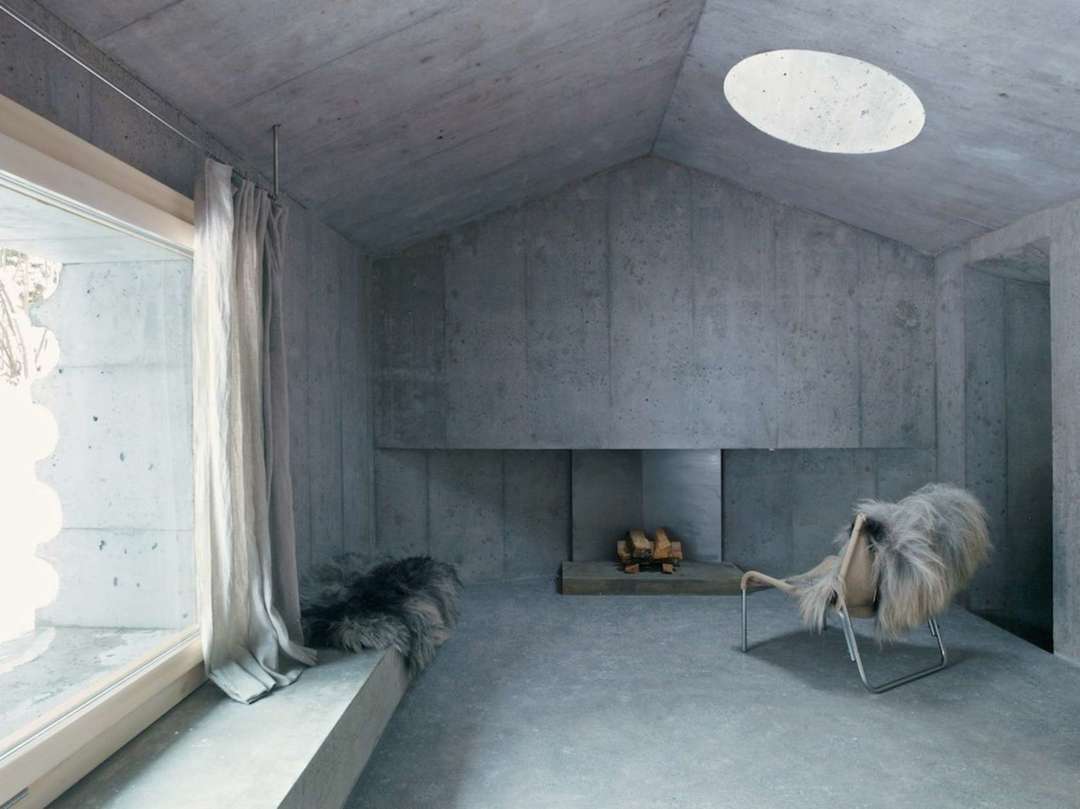 REFUGI Lieptgas by Urlaubsarchitektur, Flims, Switzerland,
Simple mountain living doesn't get more minimal than this. Refugi Lieptgas, another project by Urlaubsarchitektur, is a tiny cabin that replaced an old barn in a small Swiss town. From a distance the house may look like a traditional wooden cabin; however, it is actually made of concrete. The architects used the logs of the block construction as formwork to create a kind of ''fossilized version of the old barn.'' It accommodates two people looking for a peaceful vacation and stunning winter landscapes.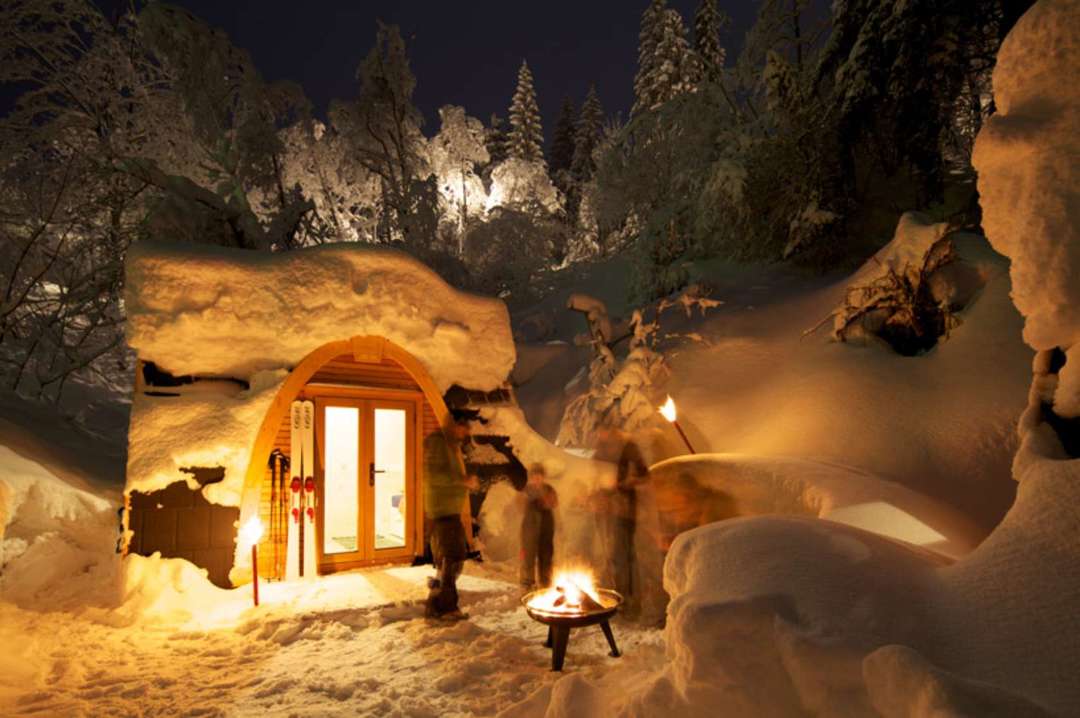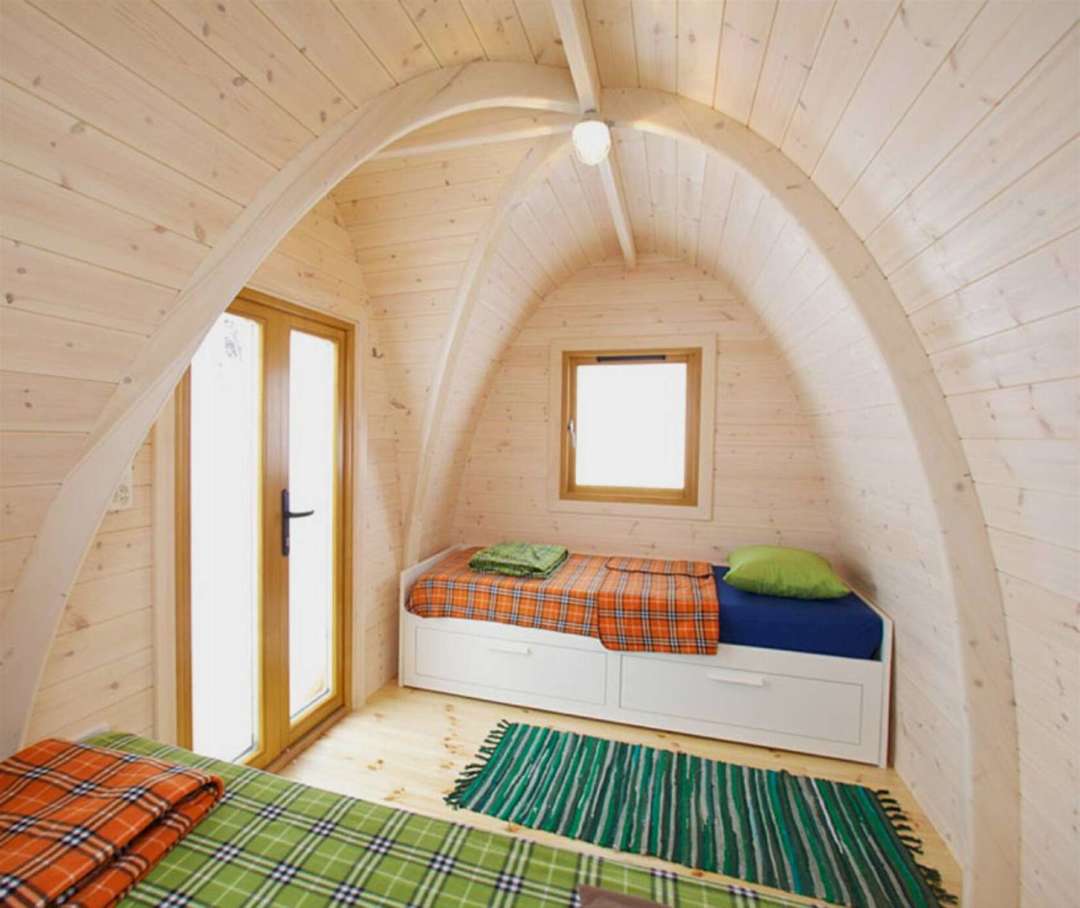 Podhouses by Robust Outdoor Brands, Flims, Switzerland
This cluster of three podhouses looks like something out of a Jack London novel. The picturesque setting and the small size of the rental cabins make for the ultimate winter adventure while providing the bare essentials for surviving in the wilderness. However, the structures are well insulated and can be outfitted with LED lighting, electricity, and a solar-powered ventilation system. These podhouses are available for sale in two sizes.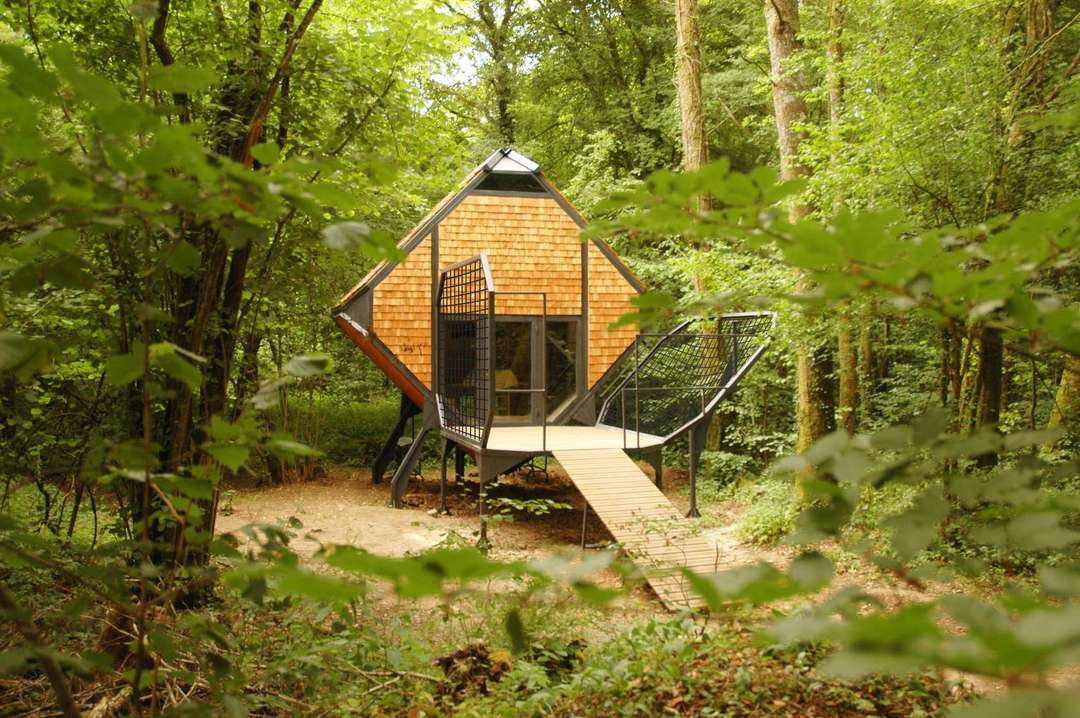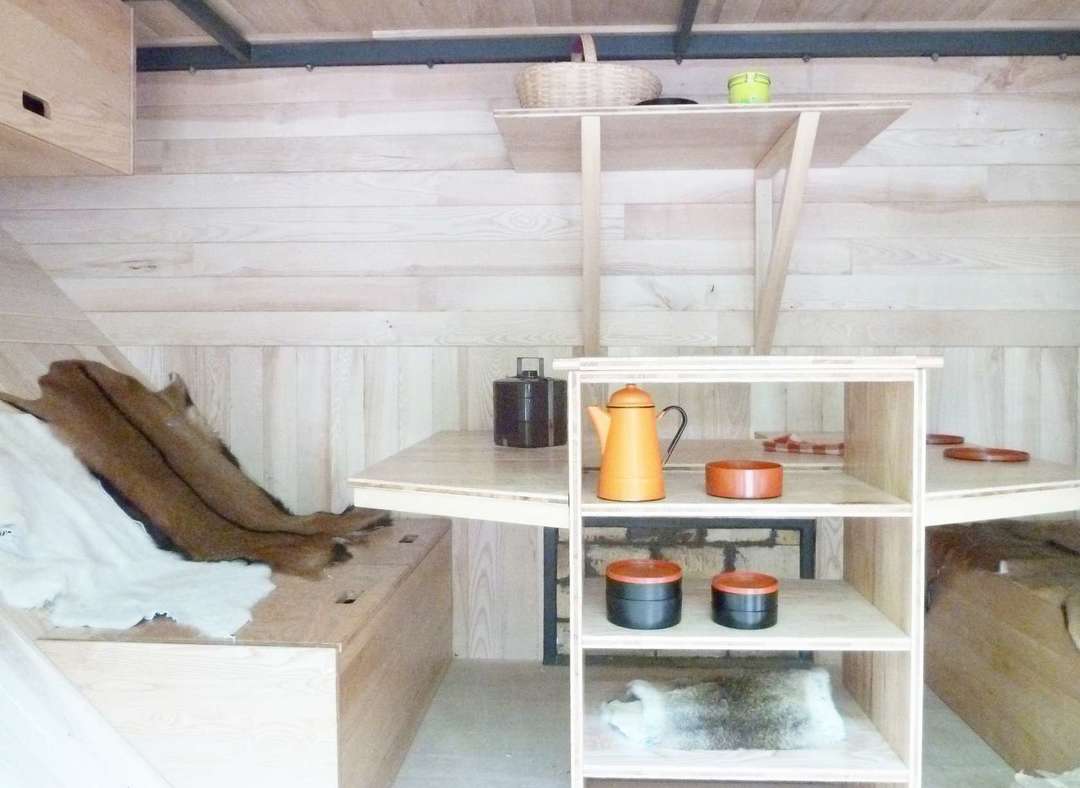 The Feral House by Matali Crasset
Paris-based studio Matali Crasset designed the Feral House as an experimental project built by inhabitants and volunteers of the Le Vent des Forêts area. Its playfulness is the result of a conscious effort to "avoid entangling the issue of form and function," and draw inspiration from the natural setting. The structures function as lightweight eco-hotel rooms that can be moved around the forest.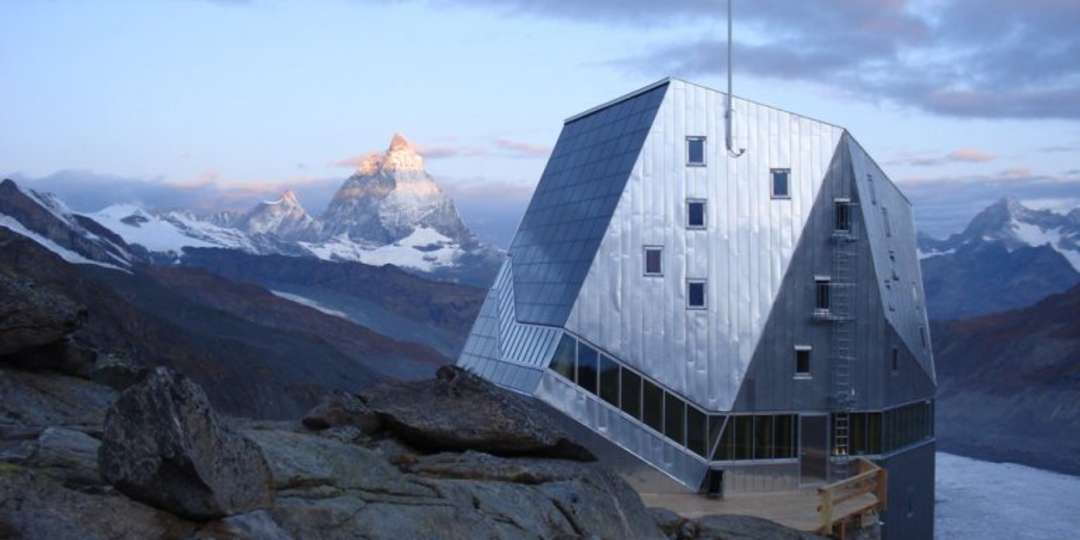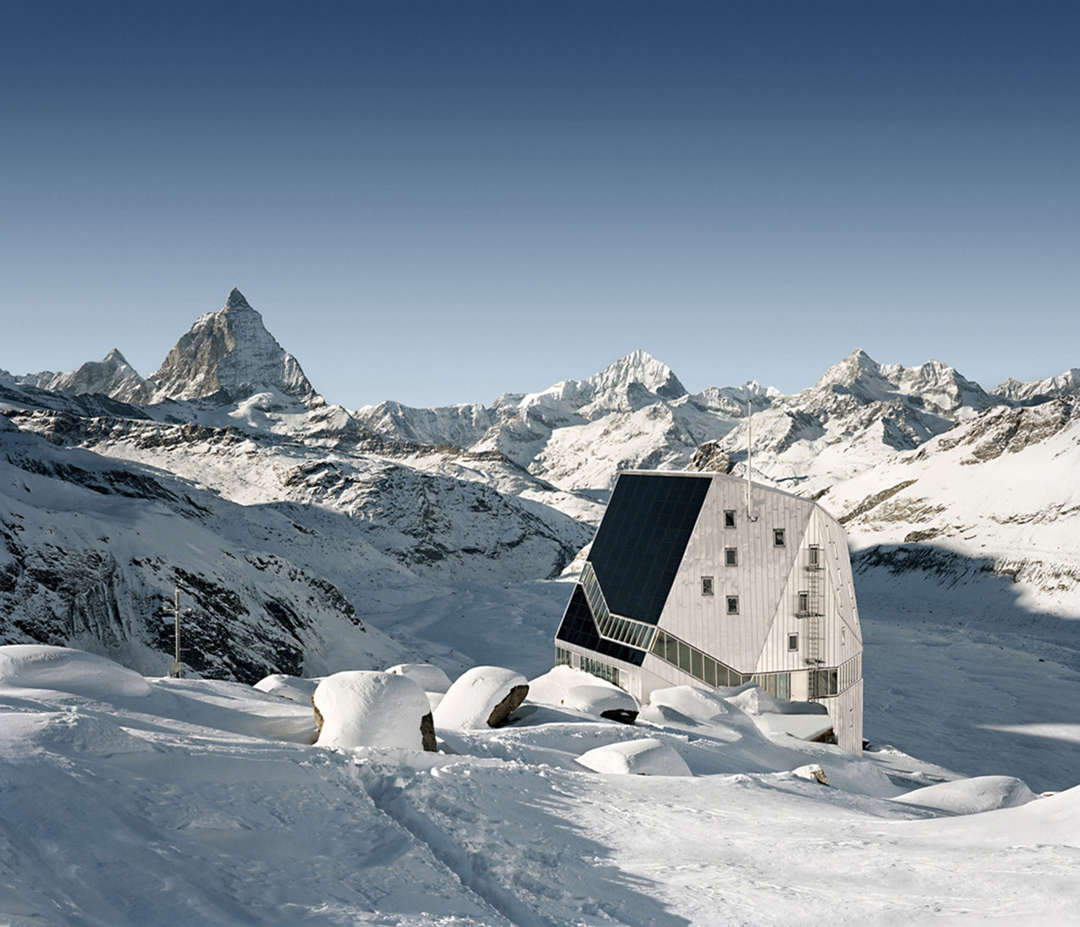 Monte Rosa Hut by Bearth & Deplazes Architekten, Zermatt, Switzerland, | photo by Tonatiuh Ambrosetti
This aluminum-clad structure in Switzerland, nicknamed "Mountain Crystal,'' generates over 90 percent of its energy requirements. A photovoltaic system integrated into its southern façade provides enough energy to power the building's ventilation and heating systems, while rainwater is collected and stored in a cavern. A microfiltration system cleans the sewage and allows for graywater to be used in toilets and for washing.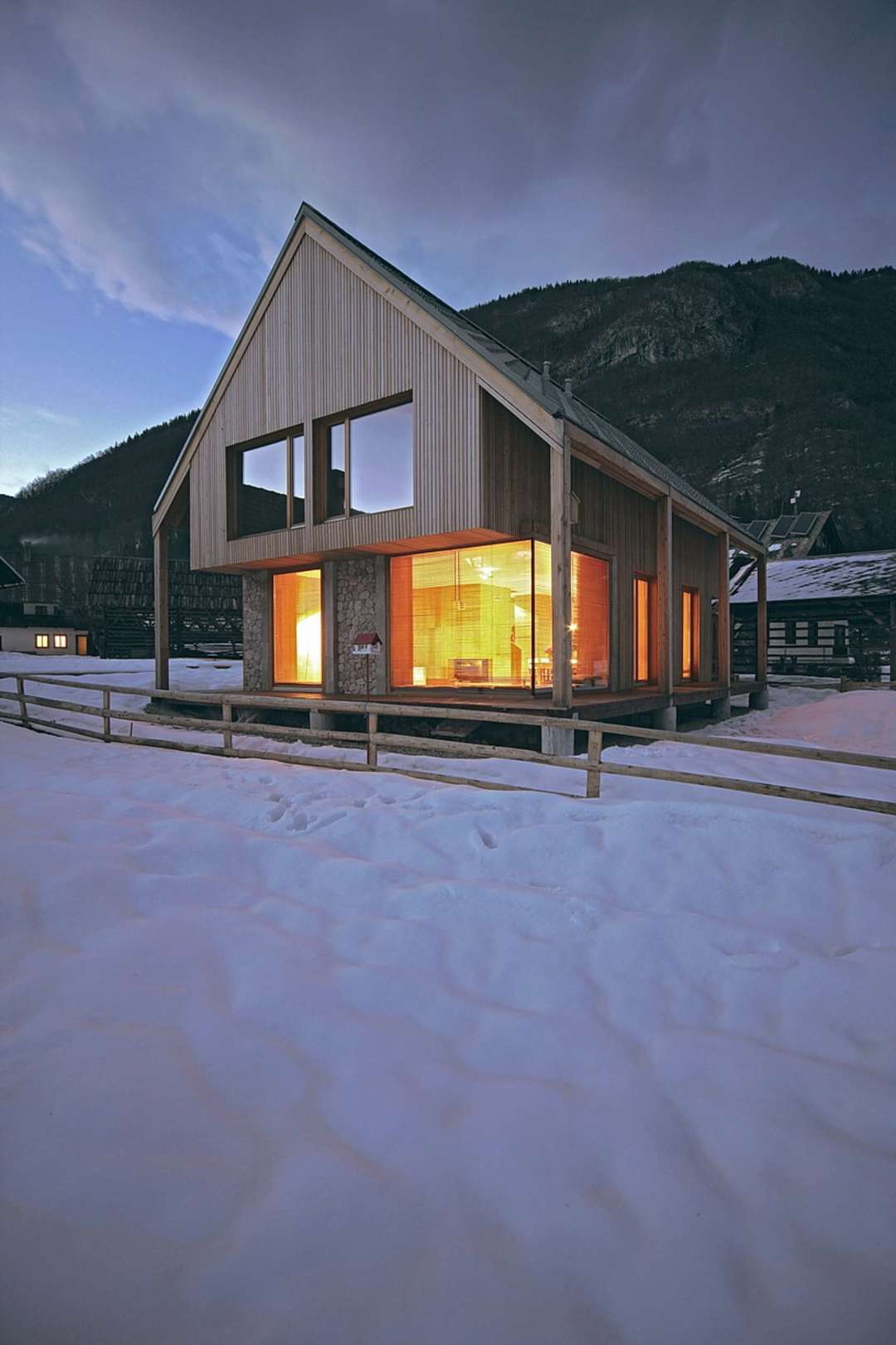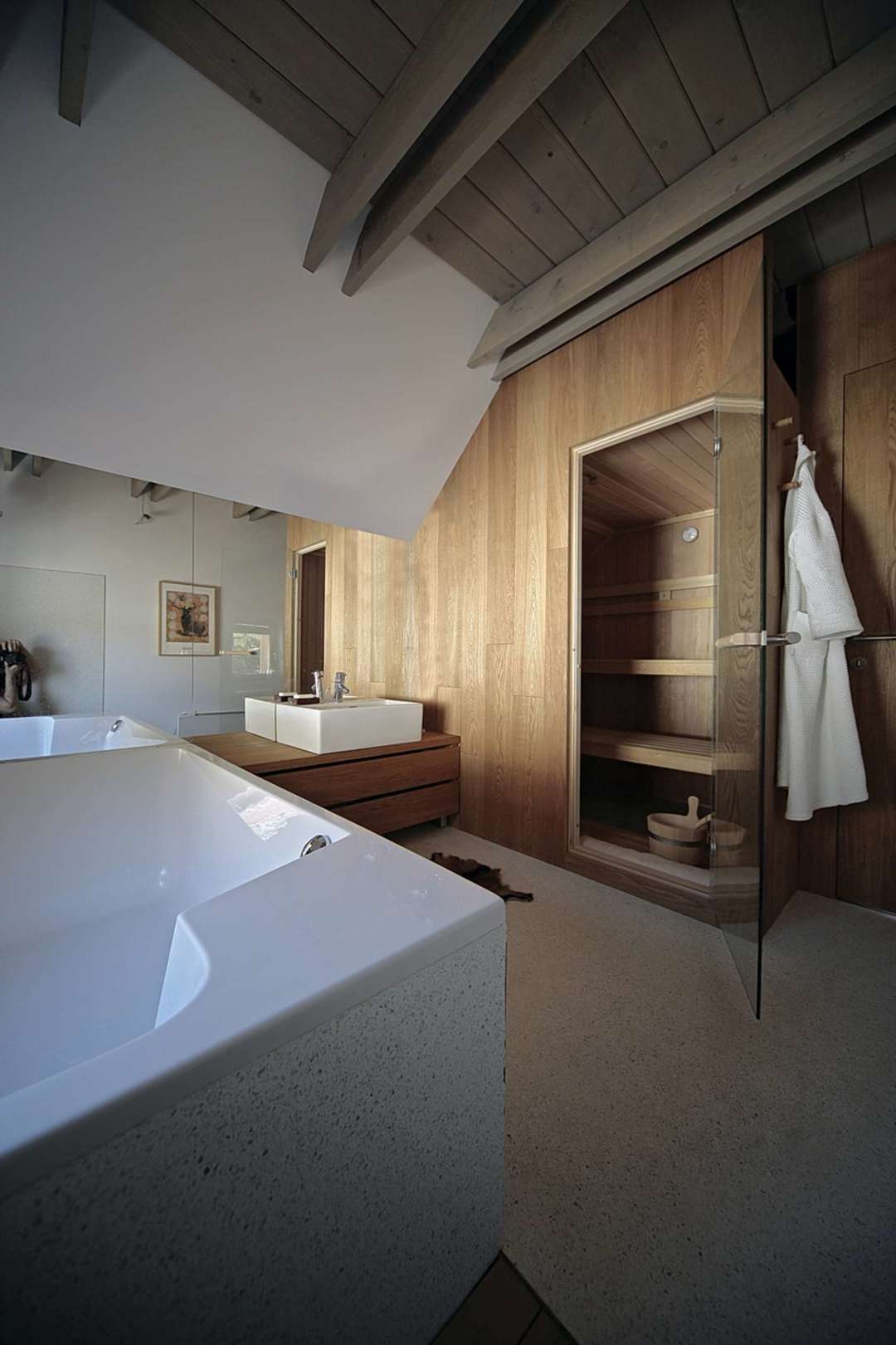 6 by 11 Alpine Hut by Ofis Architects, Stara Fužina, Slovenia
This private residence in Stara Fužina village in Slovenia features a traditional pitched roof, natural materials such as stone and timber, and a sleek functional interior that meets the spatial needs of the family. Thanks to smart positioning of the openings, extra thermal insulation, and rainwater collection, Ofis Architects managed to combine the rustic, tactile quality of traditional Alpine huts with the amenities of a modern home.
via Architizer