7 Bold New Designs That Rethink The American Lake House

The American lake house is getting an overhaul. These traditionally quiet, simple cabins and abodes are being rethought across the United States, a typology experiencing national rebirth. Honoring vernacular craft and local building traditions, new projects are also exploring a contemporary architectural language for the rural retreat. These are projects that inherently celebrate the outdoors, whether created for vacationers or permanent residents alike. Usually secluded and private in nature, they promote rest, relaxation, and contemplation.

In lake house design, views to the surroundings are paramount. While these residences exist throughout the country with ranging climates and building codes, they all tackle issues of accessibility, transparency, and respecting their environmental contexts. They can be found alongside mountains, nestled in tranquil valleys, or overlooking serene shorelines. Usually modest, straightforward dwellings or large, lavish mansions, lake houses are being reconsidered through formal, haptic, and spatial practices that are both pragmatic and innovative.

The following collection embodies this powerful middle ground, looking at homes where scale, program, and material organization are reexamined and reimagined. The structures include renovations, adaptive reuse, and new constructions. From coast to coast and with a variety of lakes in-between, these projects invite reflection while encouraging users to take the plunge into America's modern lake house designs.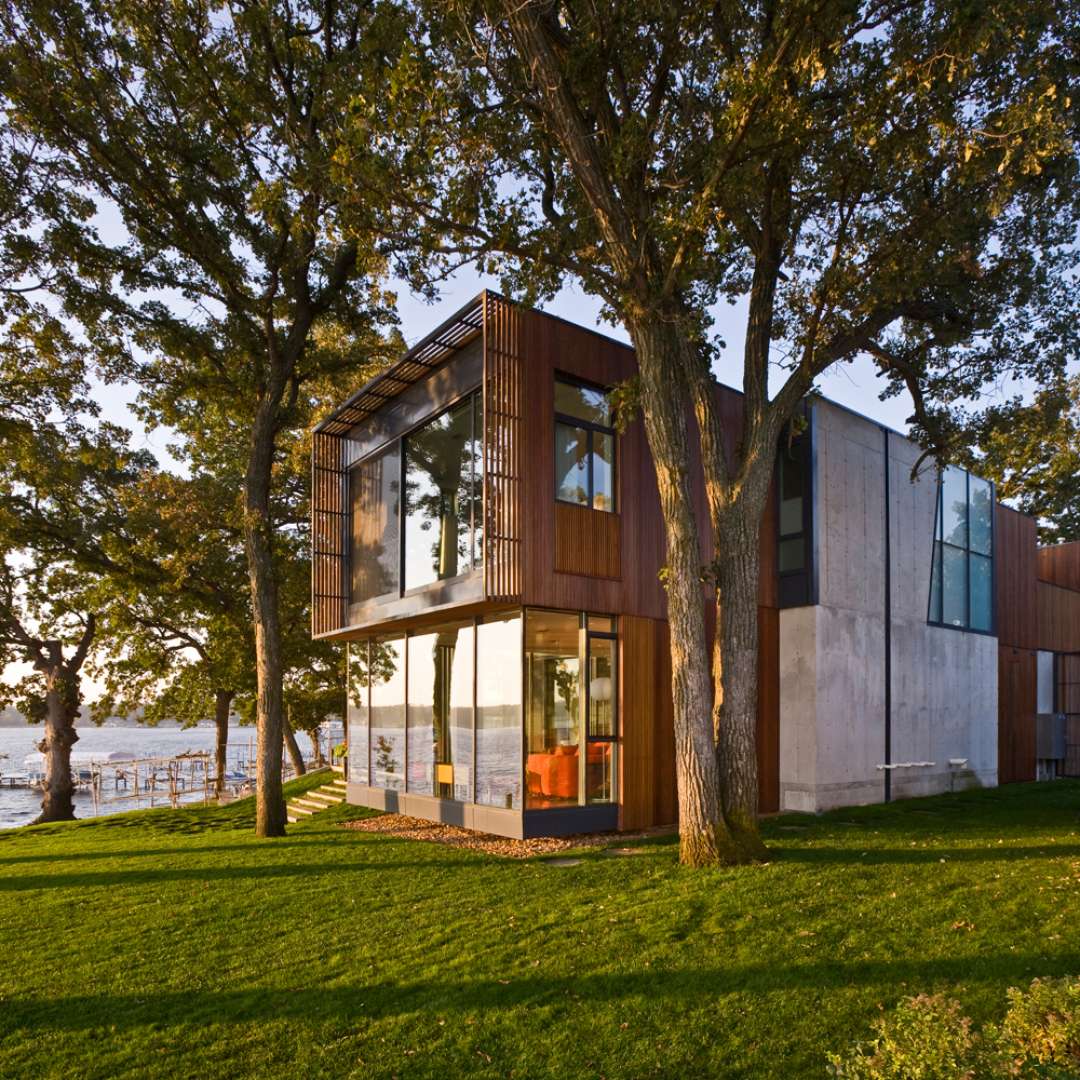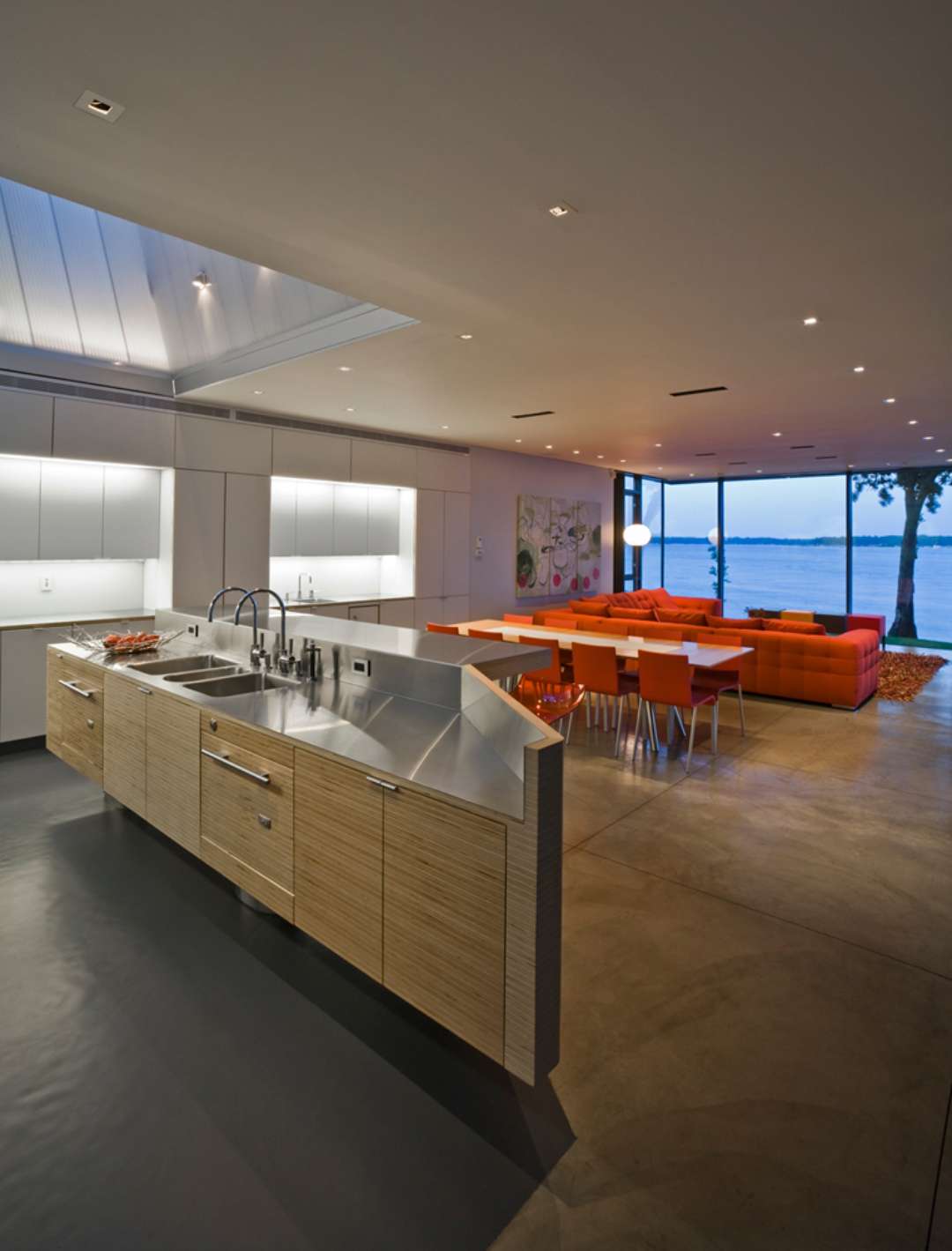 House on Lake Okoboji by Min | Day, IA, United States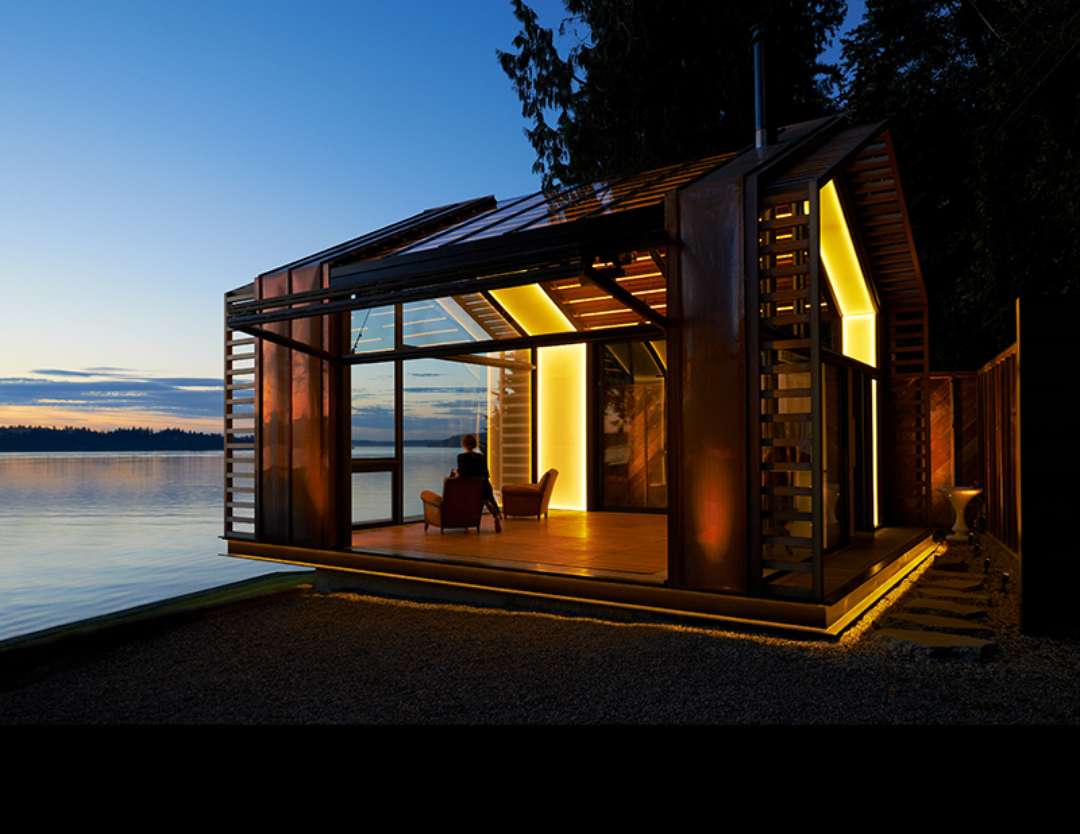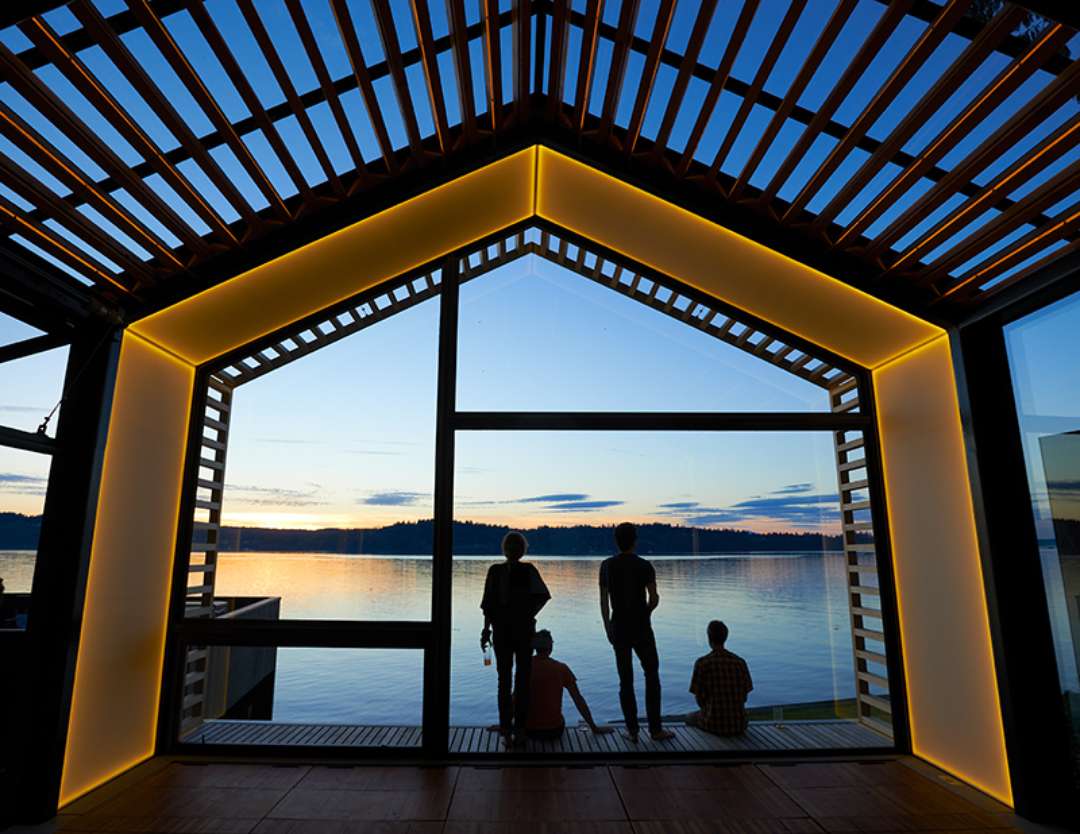 This private residence was designed as a vacation home near Iowa's Lake Okoboji. Spatial frames and a simple footprint focus views away from the neighbors and towards the lake. The design of the lake house considered the site's oak trees that separated the residence from nearby cornfields, and incorporates bright colors throughout the interior.
Garage by Graypants, Inc., Vashon, WA, United States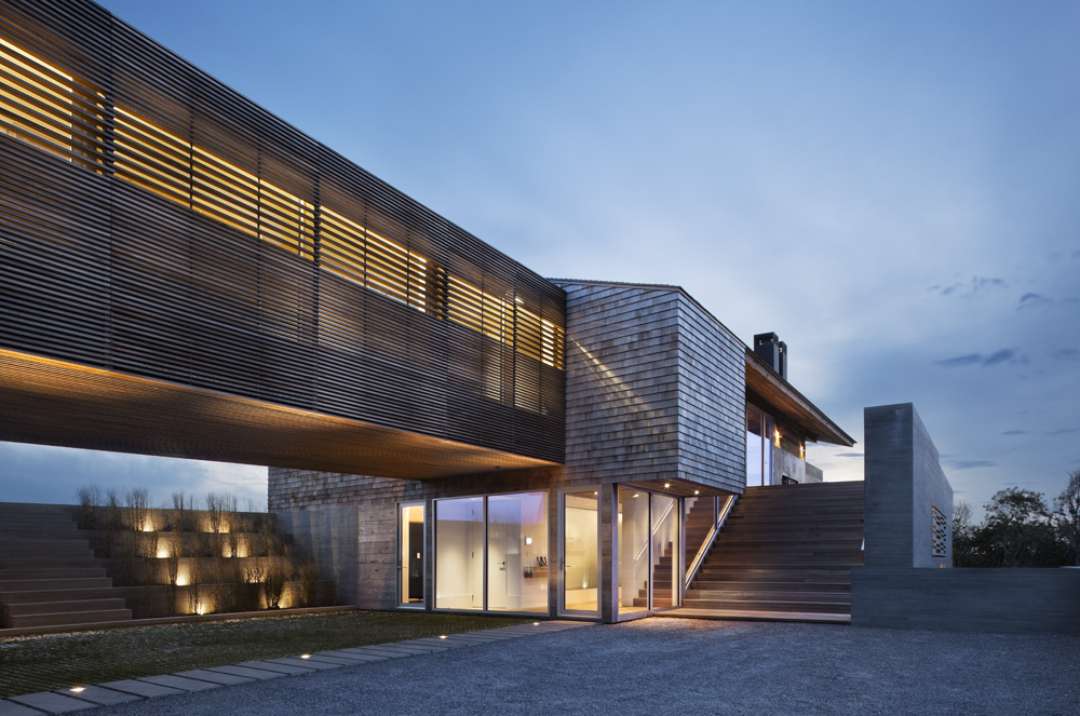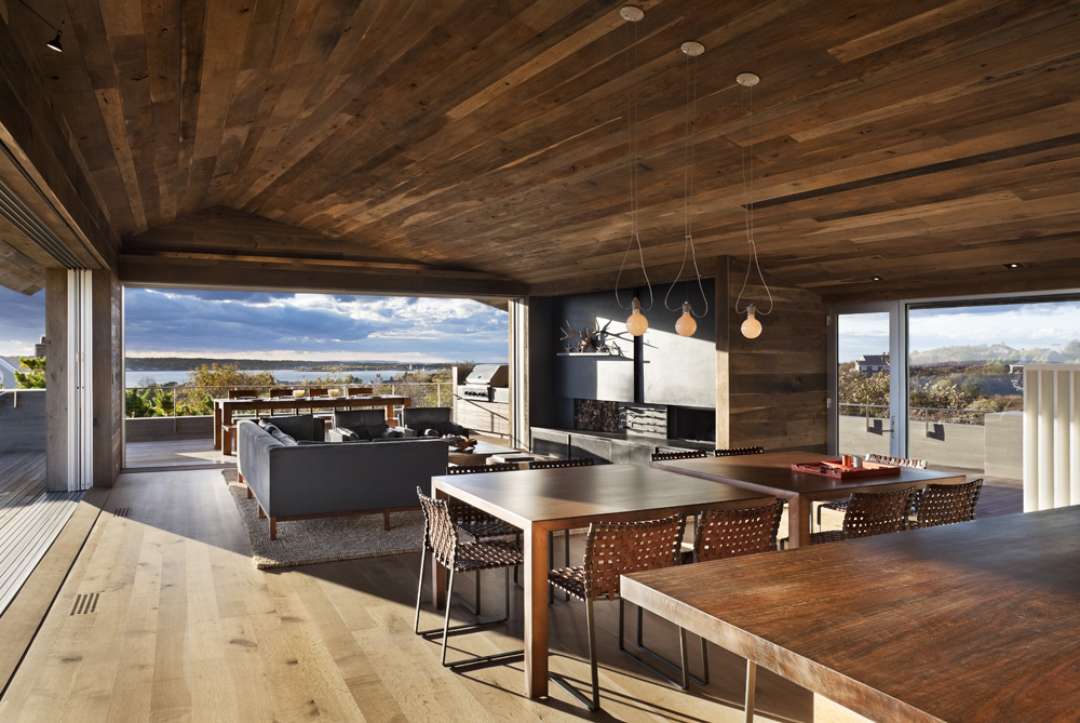 Bringing new life to a post-World War Two garage, Graypants recombined materials to create this lakeside structure. The design includes reclaimed pine, concealed beds and lounges, as well as a century-old stove. Light, memory, and mystery combine into a theater space that mixes the novel and the familiar.
Genius Loci by Bates Masi + Architects, Montauk, NY, United States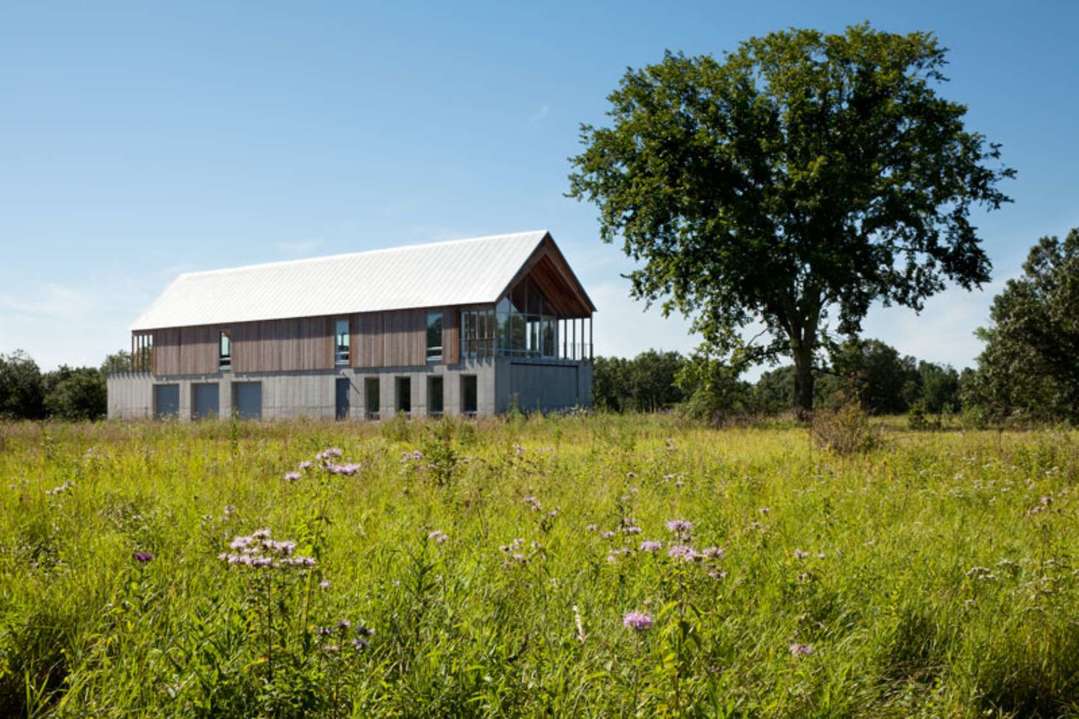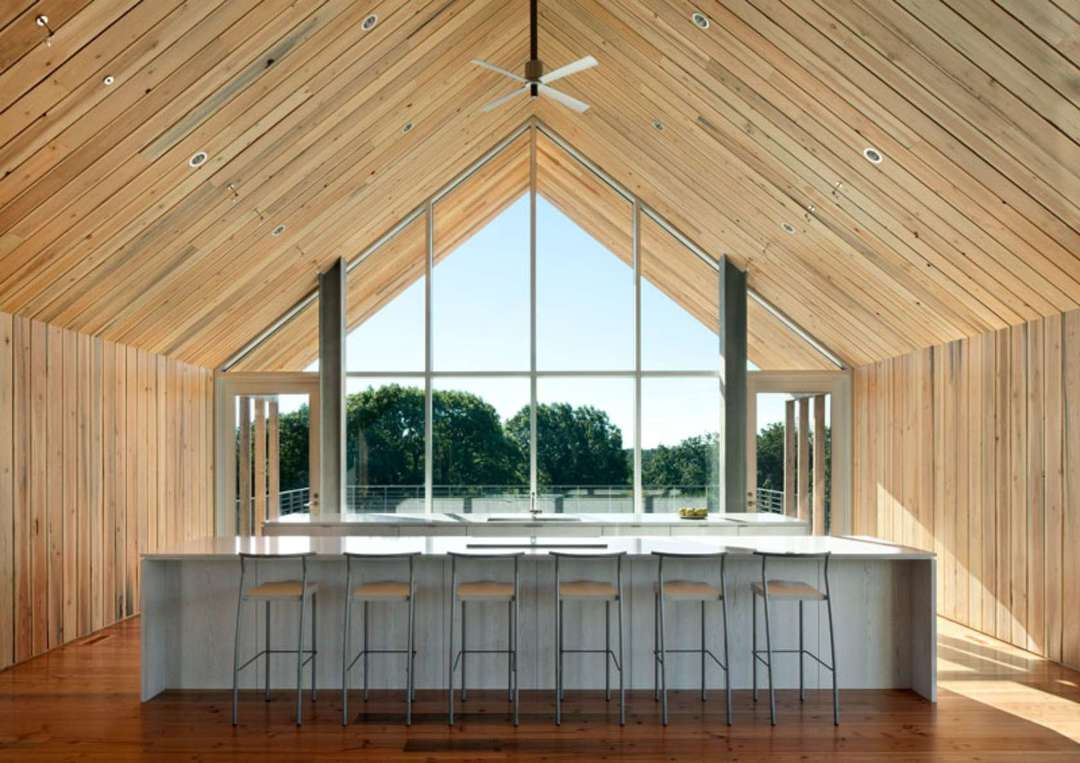 Built in a seaside community known for gusty winds and heavy fog, this lake house design tries to embody the spirit of its unique site. With a terraced program embedded into a steep slope, the residence is a geometric anomaly that resulted from height restriction and allowable envelope constraints. The house includes a bridge, courtyard, outdoor fireplace, pool, and stone terrace.
Midwest Retreat by BNIM, IA, United States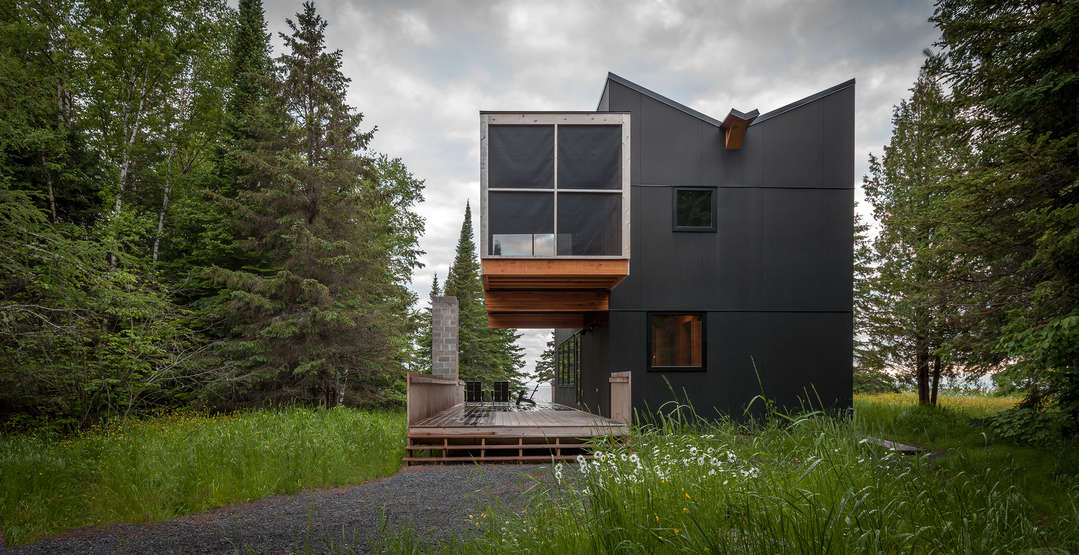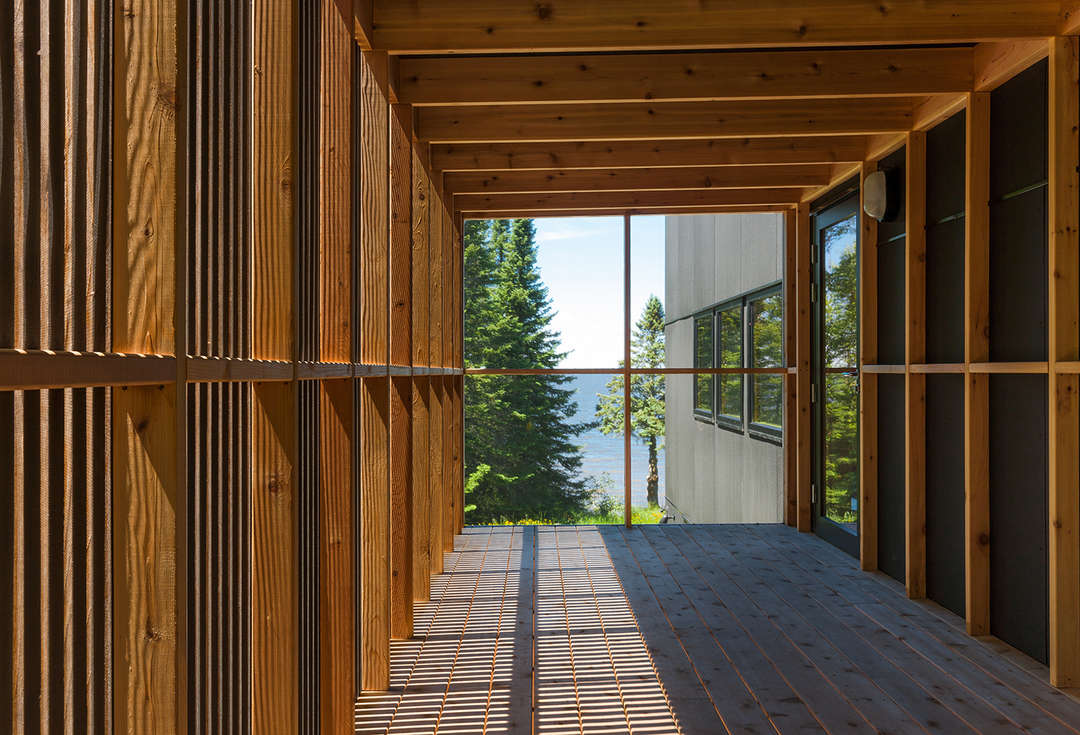 This residence is located on a private, 700-acre restored prairie site and highlights views of a lake to the east. The building was designed with materials that echo the region's agrarian typologies. Three unique elements define the functional heart of the project: a large hearth, antique bar, and low kitchen.
Family Retreat by Salmela Architect, Herbster, WI, United States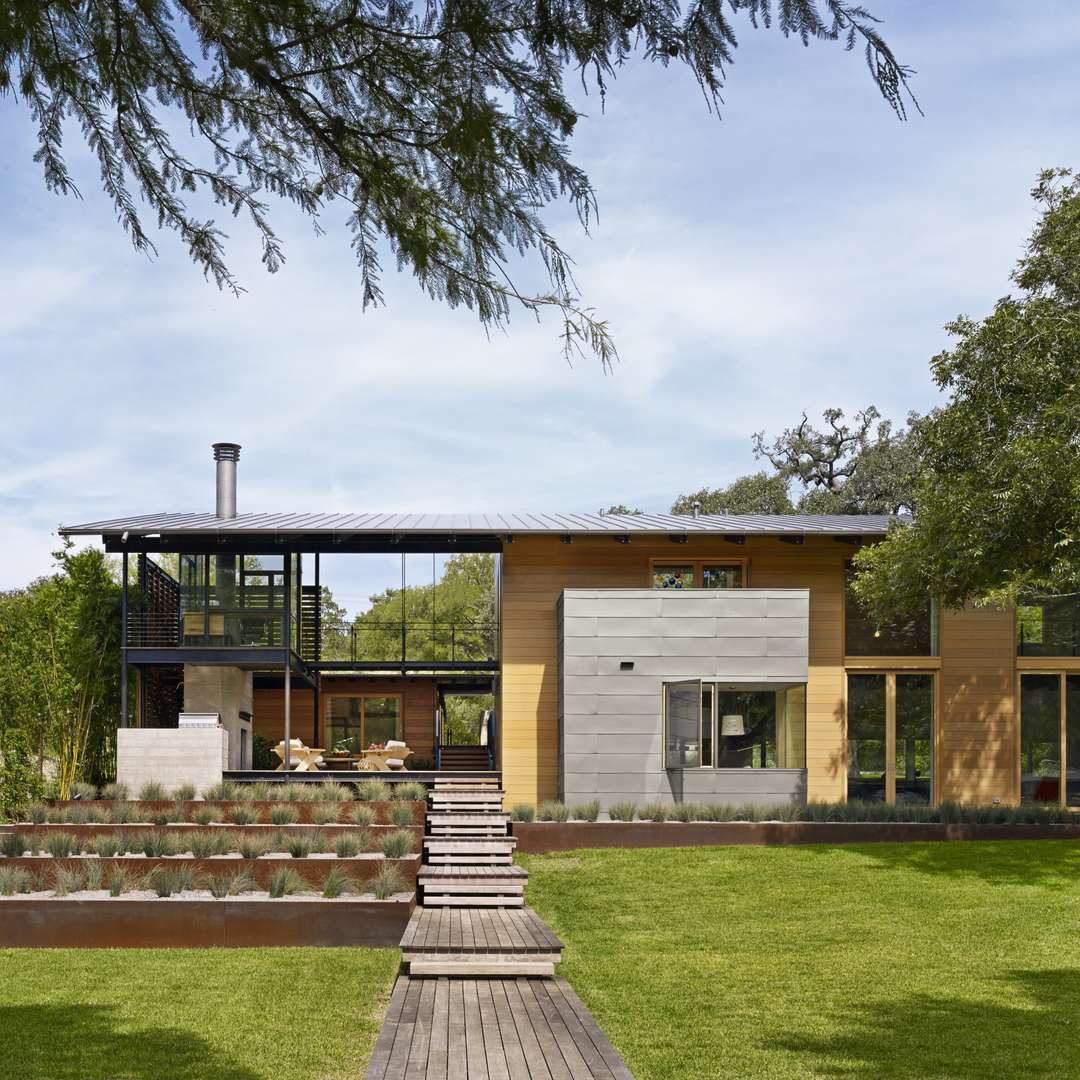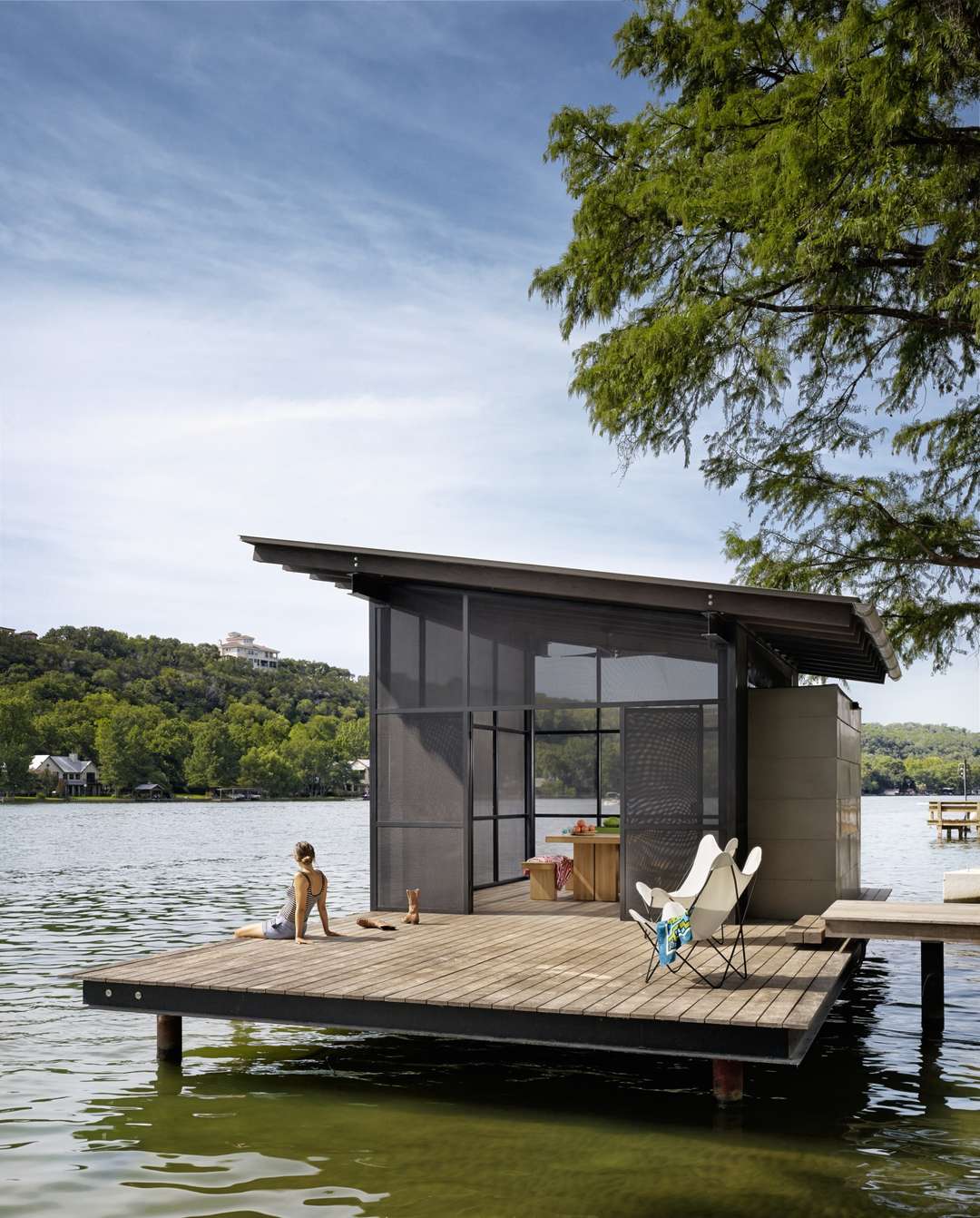 A family cabin on Lake Superior, this secluded residence welcomes visitors with a long, south-facing deck and a cantilevered screen porch. Clear basswood was used to direct views towards the lake while an outdoor breakfast deck overlooks the landscape to the north. Programmatically, the retreat includes bunk and guest rooms, a master suite, and a sauna.
Hog Pen Creek Residence by Lake|Flato Architects, Austin, TX, United States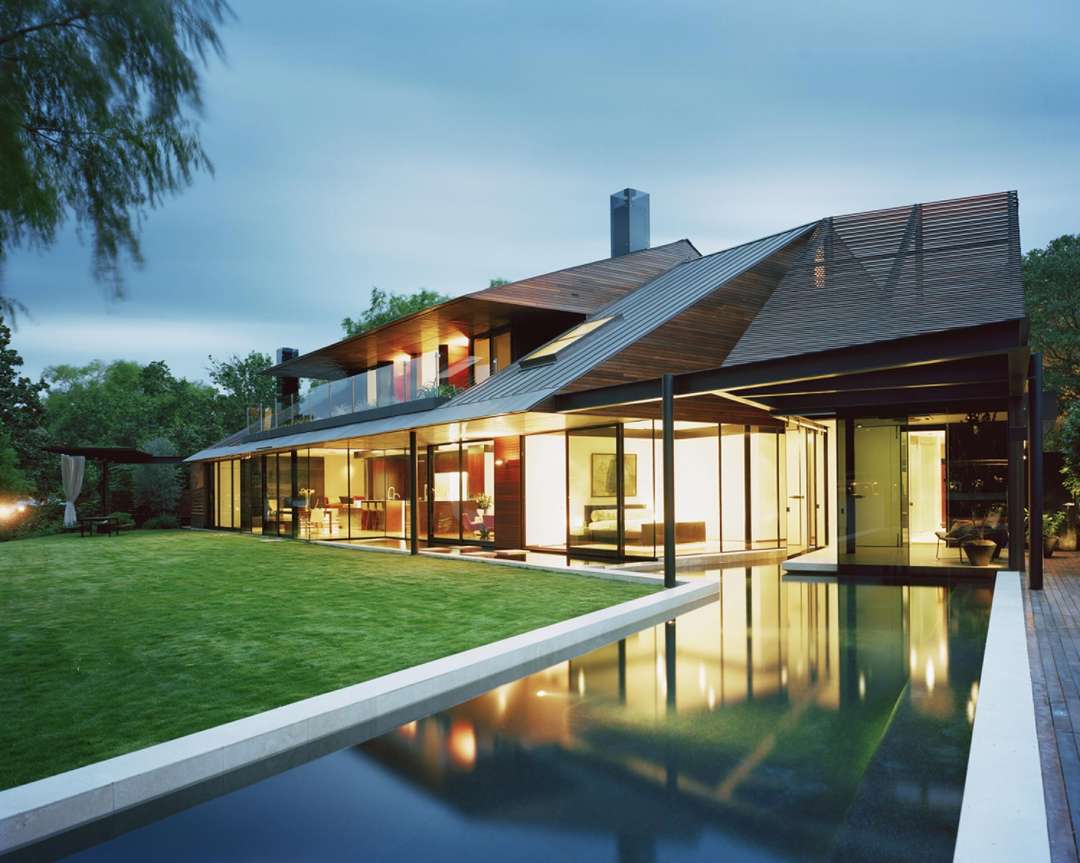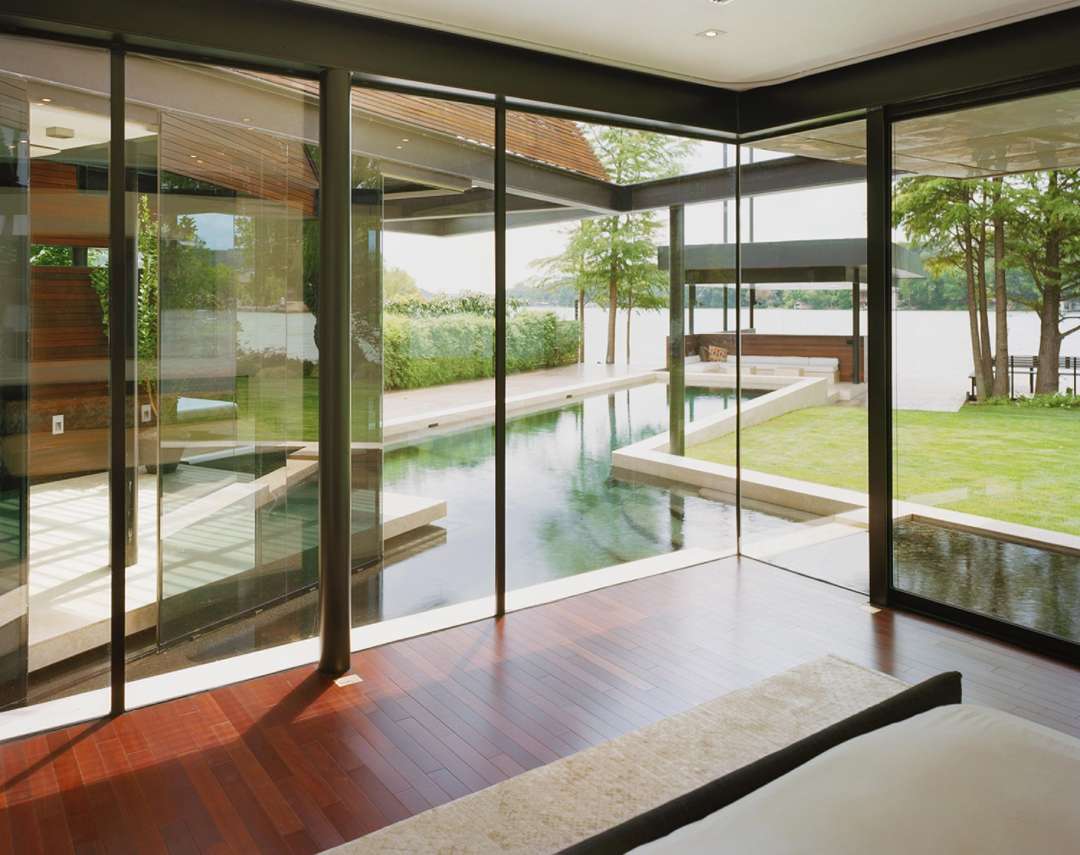 Lake|Flato's house maximizes views at the confluence of Lake Austin and Hog Pen Creek. Celebrating outdoor living, the design was carefully situated between setbacks, easements, and a flood plain. A stair-stepping boardwalk spine connects all elements of the house to the lake while craft, details, and a reverence for materiality create a unique architecture.
The Peninsula Lake House by Bercy Chen Studio, Austin, TX, United States
A renovation of a 1980s home-builder house on Lake Austin, Peninsula Lake House respects the site's ecology while harnessing views to the lake. Materials like steel and slatted wood were used to adaptively reinvent the existing structure. Clean lines, refined detailing, and varied levels of transparency are organized to bring natural light into the house and interact with the natural context.
via Architizer