08 Nov

The List: 64 Essential Places For Design, Food And Shopping In NYC

With thousands of stores, restaurants, museums and attractions packed into every block of every borough, NYC certainly has a lot of ground to cover. Sifting through it all, especially if you're just in town for a short while, can be a daunting task. To help weed through the the tourist traps and last-season spots, Here's a guide of the essential things to do, see, eat, and buy while you're visiting the Big Apple.
The Whitney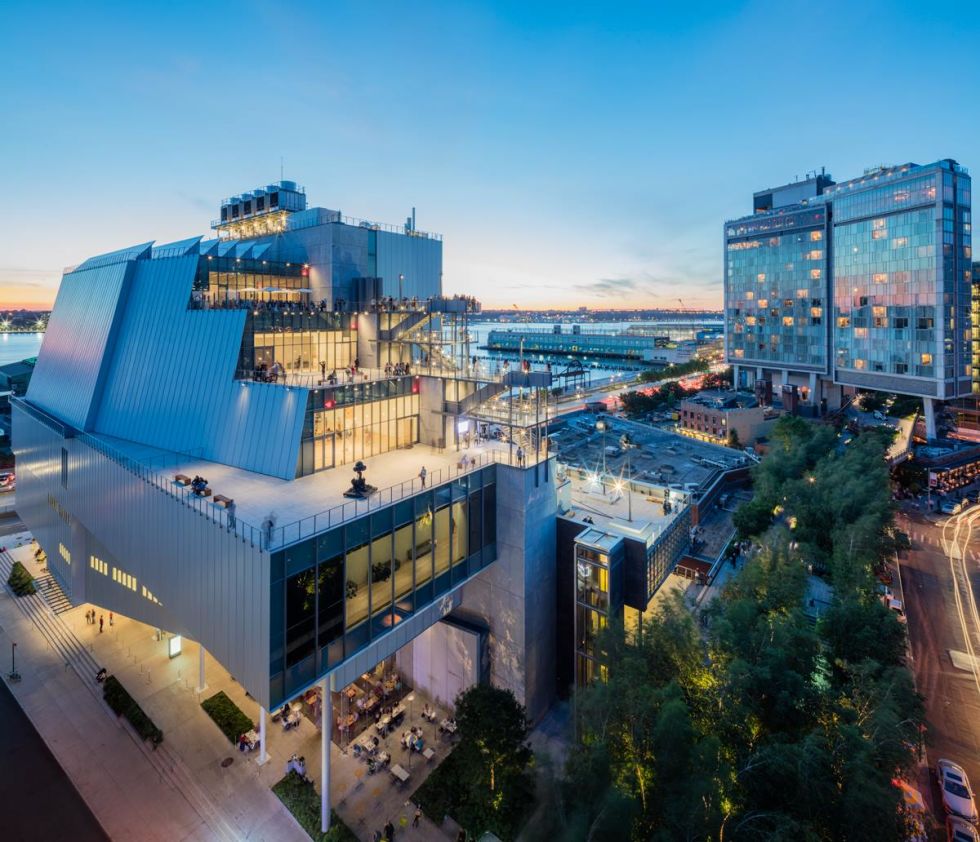 It's been a little over a year since the Whitney Museum of American Art moved from the Upper East Side to its new Renzo Piano-designed home in the Meatpacking District. Now it sits in all its modern, geometric, glass-paneled glory on the southern end of the High Line, beckoning the downtown crowd to come in and view its innovative art exhibitions and impressive 21,000+-piece core collection.
The Whitney
The High Line
Modeled after La Promenade Plantée in Paris, the High Line is a mile-long elevated public park built on abandoned railway tracks that runs along 10th Avenue between the Meatpacking District and the West 30s. The path is punctuated with art installations and stop-offs for food, and the views of the Hudson River are spectacular—especially at sunset.
Chelsea Market
Located in the old Nabisco factory, Chelsea Market is an enclosed arcade of specialty shops and eateries. While seating is limited and crowds are thick, the variety of unbelievably delicious dining options makes it a popular choice for all types, attracting gawking tourists and lunch-hour folk alike. Another fun fact for foodies and fans alike: Food Network's studios are based there.
Chelsea Galleries
No visit to Chelsea would be complete without a stop-in at some of the area's famous art galleries. Gagosian, David Zwirner, Matthew Marks Gallery and Luhring Augustine are among the top spaces in the Chelsea neighborhood and offer a unique way to experience art beyond the city's notable museums.
Luhring Augustine
PH-D Rooftop Lounge
Rooftop bars, as you can imagine, are NYC nightlife's prime real estate. PH-D at Dream Downtown is a playground for celebrities, models, and the about-town NY scenesters who come for the cool vibes and killer views and stay for the buzzy energy that doesn't die down until 4 a.m.
PH-D
The Top of the Standard
In the penthouse floor of one of Chelsea's premiere hotel, The Top of the Standard at the Standard Hotel is a dazzling space that boasts a seriously chic nightlife scene. The interiors are the pinnacle of opulence and luxury, and the views are second to none.
The Standard
Cafe Cluny
This classic West Village brunch spot combines the best of French and American fares. The morning crowd loves to bask in Cafe Cluny's Parisian ambience (complete with Breton-stripe-clad waitstaff), and the brioche French toast is definitely worth waking up early on a weekend morning for. When in doubt at dinnertime, order anything on the menu–you will not be disappointed.
Cafe Cluny
Barneys New York
In addition to their New York flagship on the Upper East Side, Barneys New York recently reopened its original downtown location in Chelsea, and made sure it was top-of-the-line all the way. The space is modern and sleek, letting the clothes and accessories do all the talking. In the center is a massive white spiral staircase that serves as a centerpiece for it all—and makes for a very cool Instagram shot. After a leisurely jaunt through the racks, stop in at Barney's famous eatery, Fred's, for a coffee or one of their signature salads.
Instagram
ABC Carpet & Home
For those whose love of style extends beyond their closet and to the walls and rooms of their home, ABC Carpet & Home is basically heaven. We could spend hours perusing the vast selection of homewares, furniture, lighting and textiles that fill each nook of this incredible interiors store. Unfortunately, they won't let us just move in (or we probably would).
Instagram
Toby's Estate Coffee
New York City locals take their coffee seriously–very seriously. Instead of stopping in to grab a latte at a run-of-the-mill Starbucks, get your caffeine boost at Toby's Estate instead. Our favorite location of Toby's is located in Club Monaco's Flatiron flagship boutique. There are a few other locations, but this one is probably our favorite–it sits right alongside Club Monaco's chic add-ons to their already well designed shop, which features a Putnam & Putnam flower shop and Strand books for sale all under one well-decorated roof. These guys are one of the few that roasts their own ethically-sourced beans, and the cozy seating area is just too inviting to resist—especially when that 3p.m. feeling comes on.
Toby's Estate
Dover Street Market
Seven floors of the most of-the-moment, avant-garde fashion is what you'll find at Dover Street Market. The shopping destination carries collections from both established and emerging brands—Gucci, Comme des Garçons, Vetements, Loewe, Balenciaga and Supreme to name a few—often showcased in artful installations and creative displays.
Dover Street Market
Gramercy Park Hotel
As expected from a hotel in one of New York City's most exclusive neighborhoods, the Gramercy Park Hotel is a lavish and opulent choice of accommodation. The chic design combines a bohemian flair for color and textures with more serious baroque elements for a wholly regal feel. Plus, the space more or less doubles as an art museum with its constantly rotating collection of contemporary works by Basquiat, Warhol, and others. We could honestly spend hours nursing a cocktail in the elegantly appointed Rose Bar, but prefer to do it before or after a decadent meal in one of the city's best Italian restaurants, Maialino, located just off the lobby.
Gramercy Park Hotel
Strand Book Store
Literary junkies will rejoice as they browse the well-stocked stacks at The Strand. Located nearby bustling Union Square, this legendary NYC shop carries new and used books beyond your wildest dreams. Any 21st century version of Beauty & The Beast's Belle would feel right at home here.
Instagram
Washington Square Park
Washington Square Park is one of Manhattan's prime people-watching spots. The center fountain and large open space invite a plethora of people to hang out in its circular center. It's a melting pot of artists and musicians, kids and families, dog-walkers, skateboarders and chess players. Sit on one of the many benches that line the perimeter—this is what real New York site-seeing looks like.
Tenoverten, Valley & Painbox
Take a break from museums, shopping, and dining and stop in at Tenoverten for a pampering mani/pedi. This upscale nail salon serves up sunny views and endless hues, which the friendly, expertly-trained technicians will lacquer on to perfection. Looking for some show-stopping nail art? Valley and Paintbox both offer nail artists that can paint anything you could dream of on one, every other or all ten of your fingers.
Tenoverten
Comedy Cellar
Catch a show at the Comedy Cellar for a more affordable entertainment alternative. This famous venue is one of the city's best spots for stand-up, drawing big-name comedians like Louis CK, Chris Rock and Dave Chapelle, who have been known to drop by on a whim to do a spur-of-the-moment set.
Paul Stafford/TravelMag.com/Flickr/Creative Commons
PDT
On the hunt for a more unique nightlife adventure? Discover the secret speakeasy PDT (aka Please Don't Tell) hidden behind an unassuming phone booth in the middle of a hot dog shop (and an amazing hot dog shop at that, you can order any of Crif Dogs innovative menu items when sipping at PDT, too). Follow the instructions detailed by the phone to enter this dark, eccentric St. Marks spot.
Instagram
NY Adorned
New York City's hotspot for body art and ink, NY Adorned is helmed by the famed piercing expert  J. Colby Smith. If you're in the market for a new piercing, Smith's artful touch will leave you feeling like the ultimate cool girl. And be sure to check out his Instagram before you go for ample inspiration.
NY Adorned
Bang Bang
How about a new tat to go with your new piercing? Bang Bang's Keith McCurdy is tattoo artist to the stars, counting Rihanna, Justin Bieber, Cara Delevingne and Kylie Jenner among his celebrity clients. If you want to get inked by the owner himself, you'll need to make a an appointment in advance, otherwise walk-ins are welcome.
Assembly New York
Meeting the tastes of minimalists and avant-gardes alike, Assembly New York offers an extensive selection of cool apparel and accessories with that distinctive NYC edge and urban sensibility. Whether you're looking for a cool tee or sweatshirt, a leather jacket, or a sleek new bag—probably in shades of black and white—Assembly delivers the goods.
Instagram
Resurrection
Turn back time as you step into Resurrection. The store is designed with a midcentury modern feel, highlighting the suspended racks of vintage designer wares. This place is a treasure trove of high-end clothes that don't necessarily scream "from another decade." Valentino, Balenciaga, Chanel, Chloé, Dior, Tom Ford, and Yves Saint Laurent are just a handful of the designers on the Resurrection roster.
Resurrection
Bar Pitti
A favorite of stars like Beyoncé, Kendall Jenner and Chrissy Teigen, Bar Pitti is the go-to spot for Italian food that's simple and delicious. When the weather is nice, grab a table on the outside patio—a perfect vantage point to see and be seen.
Tenement Museum
New York is known for its box-like apartments (particularly if you're on a budget), but the Tenement Museum is here to give us all a reality check. Here, visitors are taken on a guided tour through apartments on the Lower East Side that recreate the living conditions many working class immigrants endured in the 19th and 20th centuries. You'll walk away feeling enlightened and lucky as hell.
Tenement Museum
Jack's Wife Freda
If you can't stand the wait at Balthazar for weekend brunch, go around the corner to Jack's Wife Freda instead. The wait here isn't much better–but it's worth it. Order the green shakshuka; order the avocado toast; order the Madame Freda (a pressed sandwich with duck prosciutto, cheddar béchamel, gruyere and a sunny-side-up egg)—it's all so good.
Jack's Wife Freda
The Apartment by The Line
An impeccably executed brick-and-mortar extension of online retailer The Line, this chic concept store poses as the exquisitely designed apartment of your dreams—except that everything you see inside, from the rugs and furniture in the living room to the beauty products on the bathroom shelves (and the shelves themselves), is for sale. This is just another example of a New York City store we wish we could live in.
The Line
What Goes Around Comes Around
The go-to stop for luxury vintage wares, What Goes Around Comes Around has a massive selection of designer and just plain chic pieces from practically every decade you could want. The bag collection at WGACA will make you think you've died and gone to handbag heaven—the vintage Hermès Birkins and Chanel quilted beauties are utterly dreamy and their vintage denim selection is second to none. (Cue the heart-eye emojis.)
WGACA
Opening Ceremony
Opening Ceremony took the fashion scene by storm when it opened its doors on Howard Street over a decade ago. Today, it is still a mecca for the New York style set to get their hands on fresh brands like Adam Selman, Alexander Wang, Yeezy, Galvan and more. If it's lasted this long as a power-player on the ever-in-flux NYC retail scene, and added on a namesake label along the way to boot, you know it's worth a shopping trip.
Opening Ceremony
Kirna Zabête
Another OG member of Soho's shopping scene, Kirna Zabête was opened up back in 1999 by college friends Beth Buccini and Sarah Easley, and it has been a hotspot ever since. The bold, splashy interiors belie the serious brands this place is stocking, which includes a selection of veteran designers and on-the-verge newbies. Now sole owner following Easley's departure earlier this year, Buccini hand-selects every item in the store for one of the most expertly curated assortment in the city.
Kirna Zabete
Black Tap
If you've been on Instagram or Facebook in the past six months, you've probably encountered one of these sugary behemoths from Black Tap. While craft burgers and beer make up its main menu, this Soho spot is best known for its over-the-top milkshakes that feature several desserts stacked on top of a creamy milkshake to become one giant, super-indulgent treat.
Instagram
Le Coucou
A charming spot from superstar chef Daniel Rose (of Spring and La Bourse et La Vie in Paris) and restaurateur Stephen Starr, Le Coucou offers a modern play on refined French fare in a super-chic setting. It's quickly become a favorite among the style set and in-the-know New York diners. You must try the fleurs de courgettes farcies: lobster-stuffed squash blossoms with yogurt, mint, dill and cucumber.
Le Coucou
The Blond
The Blond at the hotel 11 Howard (where Le Coucou is conveniently located as well) regularly plays host to Fashion Week after parties and other chic events, but even on a normal night it's become one of the chic crowd's favorite Nolita nightclubs from cocktail hour on. The ambience and decor oozes luxury and high style with its velvet seating, dark wood finishes and oh-so-flattering lighting.
The Blond
Aire Ancient Baths
When it comes to spas in New York City, Aire Ancient Baths is among the best, and yet isn't wildly busy or overrun—and who wants that when they're there to relax? Enter the moody, low-lit den and take your pick of pools. There are salt baths, hot baths, ice baths—basically everything short of a bubble bath to soothe and soak your weary soul. Then, because hey, you're in pampering mode, enjoy a thoroughly sensational massage treatment to send you off to nirvana.
Aire Ancient Baths
World Trade Center Transportation Hub
The recently-opened transportation hub at the World Trade Center, dubbed the Oculus for its unique design, is an impressive feat of modern architecture that offers a pretty amazing Instagram opportunity—especially if you're already passing through here on your way to visit the 9/11 Memorial just down the street.
New York Public Library
Whether you come for the books, for the quiet, or to simply stare at the impressive ceiling the Rose Main Reading Room at the New York Public Library's iconic Stephen A. Schwarzman Building (the one with the lions, right next door to Bryant Park) is a necessary stop for anyone visiting New York with an appreciation for preserved culture and a love of truly outstanding libraries.
Outdoor Films at Bryant Park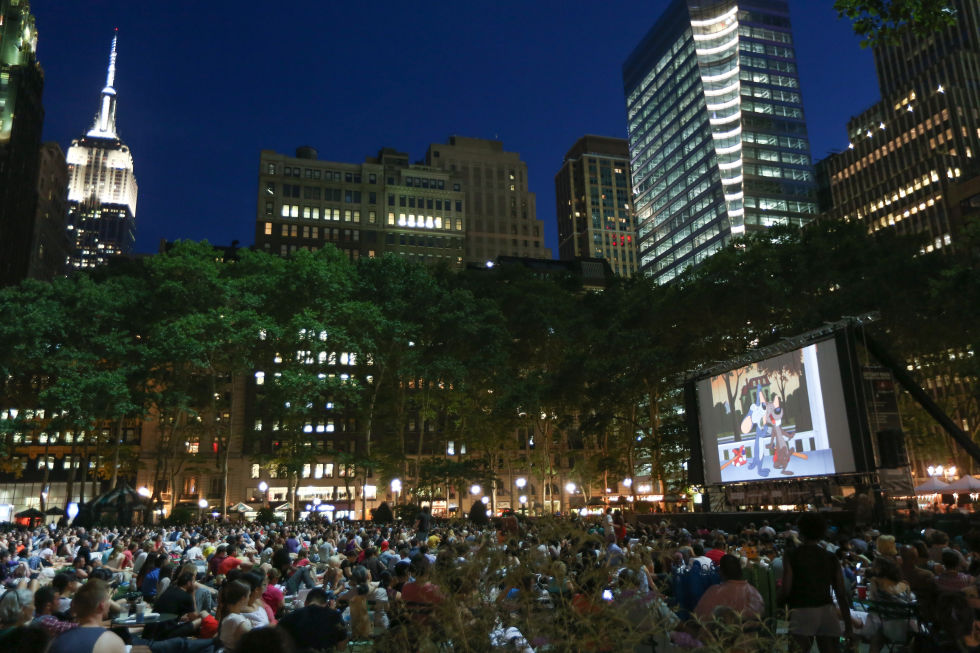 Every year, Bryant Park hosts a Summer Film Festival during which it screens classic and indie films on a large screen on the main lawn. Bring a blanket and a picnic lunch, and watch some of your favorite movies in a way that definitely beats Netflix binging on your couch.
Zuma
Frequented by the likes of Kim Kardashian and Kanye West, Selena Gomez, among other celebs whose Instagram feeds you religiously stalk, Zuma is one of the newer destinations for sushi in NYC (relatively speaking, anyway). This midtown hotspot isn't far from Bryant Park and the Public Library, and it boasts a unique menu offering that ranges from sushi to roasted lobster with shizo-ponzu butter and ribeye steak with wafu sauce and garlic chips. If you have the option, head there during the week–weekends tend to result in this hotspot getting jam-packed with tourists at all dinnertime hours.
Zuma
MoMA
As one of the more popular museums in the city, you're pretty much guaranteed to stand in line for entrance to the MoMA—regardless of when you go. That said, it's arguably worth the wait to view the extensive permanent collection, not to mention the regular contemporary exhibits. Come to MoMA to view Van Gogh's "The Starry Night," Picasso's "Les Demoiselles," and Monet's "Water Lilies," to name but a small few.
Jams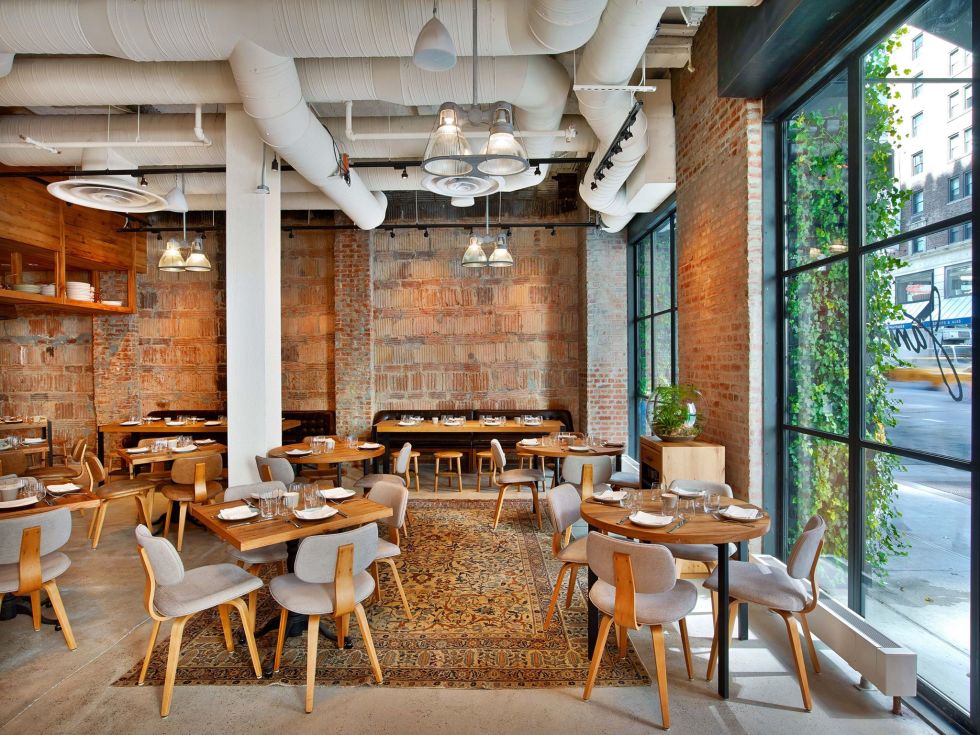 The latest from Jonathan Waxman is a semi-revival of his famous 1980s uptown restaurant of the same name, Jams. Akin to the original, Waxman's new spot is all about organic, locally-sourced ingredients and a fresh California vibe. The ambience of the space (housed in 1 Hotel Central Park) is perfectly suited to the rustic-meets-modern motif with its metal-framed floor-to-ceiling windows, concrete floors, and exposed brick and ductwork. Also present on this menu, the kale salad from Barbuto that we cannot seem to get enough of.
Jams
St. Regis
This iconic New York landmark epitomizes the city's fashion and glamour, from the opulent gold and marble lobby to the specialty themed suites inspired by Dior, Tiffany & Co., and Bentley. The amenities at the St. Regis are also first-rate—guests can make use of the Bentley House Car and enjoy attentive hospitality from the hotel's hallmark Butler Service. When you wake up on the weekends, head to their King Cole Bar for a bloody mary–it was said to have been invented there.
St. Regis
The Polo Bar
The third in Ralph Lauren's restaurant portfolio, The Polo Bar is classic Americana through and through (which is, after all, what Ralph Lauren does best). The designer delivers his signature aesthetic with equestrian motifs, glossy wood and cognac leather. Menu highlights include staples like shrimp cocktail, the corned beef sandwich and the Polo Burger. And it's right beside Ralph Lauren's flagship store at Fifth Avenue and East 55th Street—perfect for a post-shopping meal or drink.
Polo Bar
Fivestory
Housed in a two-and-a-half-story townhouse on the upper east side of Manhattan, Fivestory is the place to go for all the most of-the-moment fashion and accessories from It labels like Proenza Schouler, Off-White, Monse, Rosie Assoulin, and Maiyet. We promise, you will want to move in right away.
Fivestory
The Carlyle
This storied establishment is an icon of elegance and luxury in the city. A timeless capsule of classic New York, The Carlyle oozes 1930s glamour from the moment you step into into the black-and-white marbled lobby. Guests are treated to the utmost in amenities and services, including in-house boutiques for everything from florists to art galleries and nearby designer shopping at Vera Wang, Perrin Paris and more. The rooms are impeccably appointed with posh decor and the luxe bathrooms come fully stocked with a generous range of Kiehl's bath products.
The Carlyle
The Frick Collection
Formerly the Upper East Side mansion of Henry Clay Frick, the Frick Collection is now home to European art, artifacts and sculptures from the Renaissance to the early 19th century. This unique museum is decidedly less busy and bustling than some of its New York City neighbors.
The Mark
The spot where many a celebrity gets ready before the Met Gala each year, The Mark is flawlessly elegant in its Jacques Grange-designed interiors and Upper East Side luxury. Grab one of the hotel's custom bikes or hop in a black-and-white striped pedicab to hit up the nearby 5th Avenue boutiques—though you don't have to leave the hotel for the finest in high-end shopping, pampering and dining. The Mark offers room service prepared by renowned chef Jean-Georges Vongerichten, sweet treats by Ladurée, a Frédéric Fekkai salon, and 24/7 access to Bergdorf Goodman for it's penthouse guests.
The Mark
The Met's Costume Institute
The first Monday in May marks the famous Met Gala, celebrating the featured exhibit at the Metropolitan Museum of Art's Costume Institute. This past year's theme was Manus x Machina: Fashion in the Age of Technology, and although the collection has since closed, other smaller apparel-themed exhibits will fill its place until the next big one is released in 2017.
The Metropolitan Museum of Art
The Guggenheim Museum
At the height of his architectural fame, Frank Lloyd Wright designed the masterpiece that is the Guggenheim museum. Wind your way up the levels of the massive rotunda to the exhibitions and halls that showcase world-class art dating from the 19th century to the present—all illuminated from above by the massive central skylight.
Levain Bakery
Levain Bakery's chocolate chip cookies are absolutely unreal. Double the size of your average cookie, plus infinitely gooier and richer, these massive mounds of magic will ruin you for any other kind of cookie—they are by far the best in the city, if not the country. Their bakery on the Upper West Side is conveniently located should you decide to spend any time visiting the nearby Natural History Museum or the Hayden Planetarium.
Instagram
The Spa at the Mandarin Oriental
The Mandarin Oriental is a sleek, modern hotel perched high above Columbus Circle, which offers an incredible bird's-eye view of Central Park. But, more importantly, the Spa is where it's at. This world-class facility is one of the city's best for luxurious spa treatments and massages—all while surrounded by a serene ambience in the hotel's signature aesthetic. Mandarin Oriental
Lincoln Center
On Manhattan's upper west side, Lincoln Center is home to both the Metropolitan Opera and the New York City Ballet. Get dressed up and enjoy an evening of unrivaled culture at one of Lincoln Center's stunning theaters.
Apollo Theater
Harlem's Apollo Theater has been a New York landmark since 1983, but it's been an historic venue for musicians since the 1930s. The stage has seen such legends like Aretha Franklin, Billie Holiday and Miles Davis, and it's still an iconic theater worth the trip uptown.
The Cloisters
The Cloisters in Upper Manhattan's Fort Tryon Park is as a branch of the Metropolitan Museum of Art that houses over 2,000 European medieval art pieces, including the famous unicorn tapestries. The gardens also serve as one of the most peaceful quiet spots to escape to when you've had enough of the city din.
Walk the Brooklyn Bridge
New York's most iconic and recognizable bridge is, of course, also its most crowded. The bridge offers scenic skyline views that draws a lot of tourists, so aim for early morning if you want to avoid the rush. Though the breathtaking sunset in the early evening might just be worth dealing with a few extra people.
Brooklyn Flea
The Brooklyn Flea is the perfect place to peruse for a great vintage or antique find. The market takes place every weekend (Saturdays in Fort Greene, Sundays in Dumbo) from April through the end of October. Then, starting in November, the Winter Flea begins, bringing vendors indoors at Fort Greene's Skylight One Hanson.
Gran Electrica
For a trendy hipster vibe and high-end Mexican cuisine, not to mention a killer outdoor patio where you can sip on a variety of fresh margaritas, check out Granelectrica in Dumbo. The string lights in the backyard make it a magical date-night spot.
Gran Electrica
Brooklyn Museum
Sitting at the northern edge of Prospect Park, the Brooklyn Museum boasts a massive permanent collection that spans from ancient Egyptian to contemporary art. On Thursday nights, the museum remains open until 10pm, and on the first Saturday of the month, visitors can enjoy free art and entertainment from 5-11 p.m.
Brooklyn Museum
Prospect Park
The slightly smaller, more low-key sister of Manhattan's Central Park from the same landscape architect duo, Frederick Law Olmsted and Calvert Vaux, Brooklyn's Prospect Park was opened to the public in the late 1800s. It features sprawling lawns, woodlands and a massive lake. You can always find people lounging in the grass, jogging and cycling along the paths—and if you ooh and aah whenever you see a dog, prepare to do a lot of that here.
Eli Mergel/Flickr/Creative Commons
Brooklyn Botanic Garden
Tucked in the upper corner of Prospect Park near the Brooklyn Museum, Brooklyn Botanic Garden encompasses 52 acres of lush foliage and flora. Escape the city's hustle and bustle and stroll through the stunning Japanese garden along the tranquil ponds. In the spring, the cherry blossoms bloom, turning the gardens into a breathtaking sea of fluttering pink petals.
Smorgasburg
Every weekend (Saturdays in Williamsburg, Sundays in Prospect Park), this pop-up food fair draws gourmands of all palates and preferences to sample menus from the city's hottest vendors. Here, foodies can taste some of the trendiest bites, like a ramen burger or the Instagram-famous raindrop cake.
Instagram
Mast Brothers Chocolate Factory Tour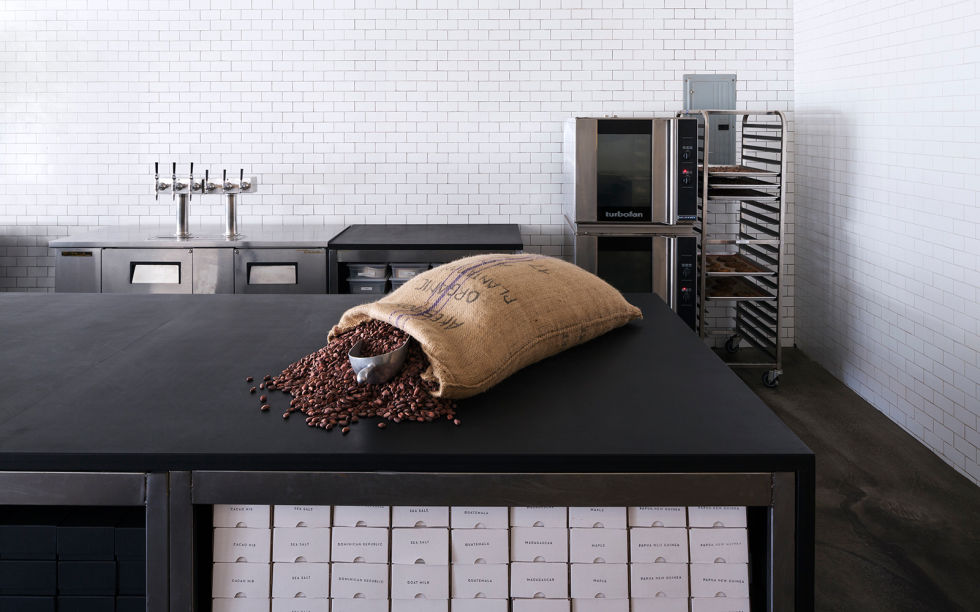 The Mast Brothers rapidly rose to fame as Brooklyn's favorite creative-artisanal chocolatiers. Now, visitors can tour the newly renovated Williamsburg factory to get an inside peek at what exactly bean-to-bar means and how those sweet cocoa treats are actually made—while sampling some damn-good chocolate, of course. Tours take place every hour, so it's an easy and convenient daytime activity that requires practically zero planning.
Mast Brothers Chocolate
Maison Premiere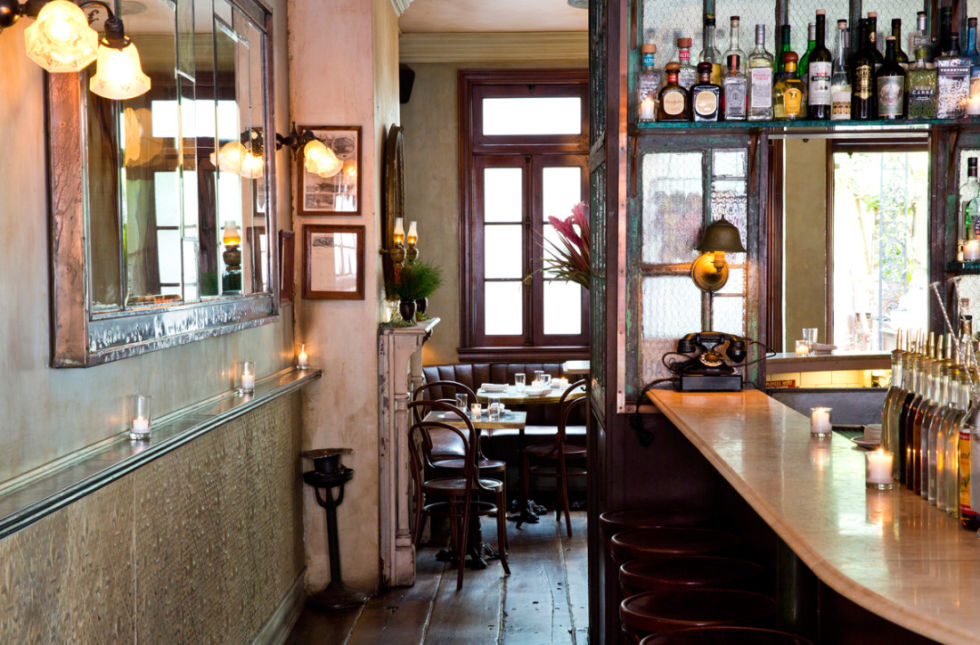 If you're in Williamsburg around happy hour, definitely pop into Maison Premiere for oysters and an elegant cocktail at one of the romantically-lit wooden tables. The place has the feel of a Parisian café where literary minds like Hemingway and Fitzgerald might have gone to brood and sip absinthe (of which this establishment has the largest selection in NYC). There's a covered garden area out back that's absolutely idyllic in the daytime, too.
Maison Premiere
Peter Luger Steakhouse
New Yorkers have been flocking to this Brooklyn institution for years—129 years, to be specific. Peter Luger is renowned for its dry-aged beef and has been named the best steakhouse in all of New York City time and time again. The interiors of this old-school steakhouse are classic and unfussy, leaving you to focus on what really matters: the meat. Be sure to bring cash or a debit card—credit cards are not accepted..
Peter Luger Steakhouse
Nitehawk Cinema
A lounge-restaurant-theater hybrid, Nitehawk Cinema puts a unique spin on the idea of dinner and a movie. The Williamsburg hotspot features a ground-level bar where movie-goers can hang out and grab a drink before the film (often an independent movie or indie flick). There's another bar upstairs with the screening rooms, and once seated, a wait staff is there to serve a full menu of elevated American classics and specialty cocktails.
Nitehawk Cinema
Roberta's
Hiding behind an unassuming industrial door in Bushwick, Roberta's has become one of Brooklyn's most popular pizza spots. It routinely has a wait, but there's an outdoor patio and bar in the back where you can hang out until your table is ready, which helps pass the time. Once you're seated, you can watch your pie get fired up from the open kitchen.  Take our word for it, this casual eatery also makes for an amazing date night.
Roberta's
MoMA PS1
Located in a former Long Island City public school building (hence the name 'PS'), MoMA PS1 is a mecca of experimental and avant-garde art that's always pushing boundaries with its innovative programs.
MoMA PS1
via Elle